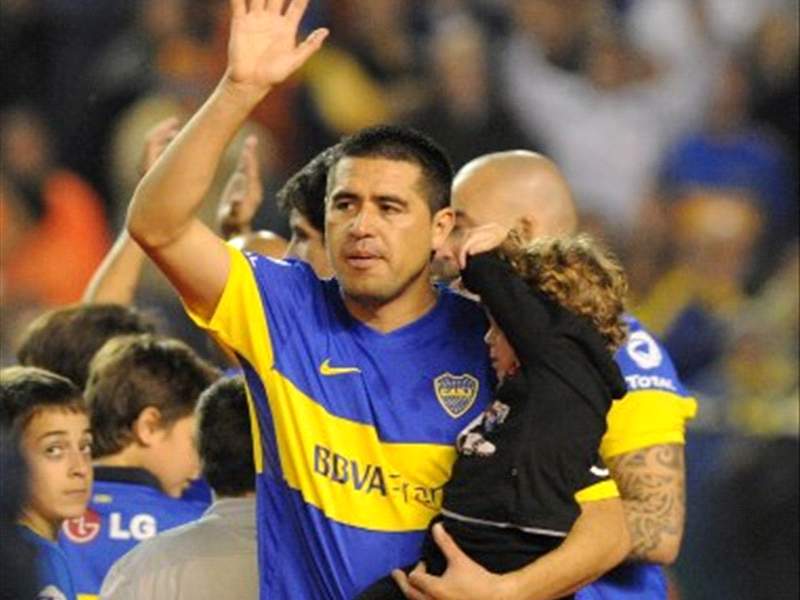 Andres Iniesta
has praised his former
Barcelona
teammate
Juan Roman Riquelme
after the Argentine playmaker left
Boca Juniors
in the summer.
"It is always sad when a world-class player such as Riquelme is no longer in the pitch. If he decides to retire, football has lost one of the best," he told
Augol
.
The pair were at Camp Nou during Louis van Gaal's time in charge of the club, and although they only played together for one year, the Argentine left a lasting impression on the Spain international.
"I was lucky to have met him in my early years at Barcelona. After so many games, after so many good times we enjoyed and we've seen, I can say that I am delighted to have been his teammate," Iniesta said.
"When I played with him and when I've seen him play what I liked most was the class that he had with the ball, the passes he made, the combinations.


He added, "He is a player with whom I identify, in the sense that he gives the football and asks for the ball at all times.
"
Iniesta went on to admit that he remains in awe of the way current Barca colleague Lionel Messi makes things so look so effortless on such a regular basis.
"With Leo I do not see any flaw.
It is impossible to have a defect when you're number one, with each match he can decide what and when he makes the hardest things seem easy," Iniesta stated.

"
I have spent many years sharing a dressing room with him and train every day.
He is very young still, bearing in mind what has been achieved and what remains to be achieved.


"Year after year he exceeds himself.
He is unique.
"
When asked whether he would consider plying his trade in South America, Iniesta insisted that he was focused on matters at Camp Nou, and refused to speculate on a coaching career in the future.
"My dream is to finish my career at Barcelona.
I arrived here at a very young age, and it would be nice to finish my career where I started.
"Today I do have not in my mind that I will be a coach.
I'm sure I will continue to be linked with football, because this is my life and without it I do not really know what I would do.
But I do not envisage the idea of management at the moment."


Follow GOAL.COM USA on