Dec. 15, 1995 is one of the most significant dates in football history. For some, it was the day on which footballers were finally empowered. For others, it was the day on which the game stopped being a sport and became a business. As with any dramatic shift in power, the truth lies somewhere in between. What is beyond dispute, though, is that the old system had to change.

In the spring of 1990, Jean-Marc Bosman's two-year contract with SA Royal Club Liegois was entering its final few months. The Belgian was offered a new deal that would have seen his weekly wage reduced by 75 percent. Unsurprisingly, Bosman rejected it. He was promptly placed on the transfer list.

In May of the same year, Dunkerque made the then 26-year-old a better offer but the French outfit was unable to agree a fee with RC Liegois. Consequently, Bosman, having refused to accept the massive wage cut put to him by RC Liegois, was suspended indefinitely by the Royal Belgian Football Association, leaving him in limbo. It was at this point that Bosman boldly decided to challenge the legality of a system at odds with the European Union's laws on the free movement of workers.

"I went with someone I knew from my neighborhood to the law firm," he explained. "Liege had 15 days to respond and they did not answer. We contacted the Belgian federation and they did not respond. And so the court case started."

It would last five years, meaning Bosman spent what should have been his prime taking on lawyers in a court house rather than opponents on a football field. His sacrifice would not prove in vain, though, with the European Court of Justice eventually ruling in his favor.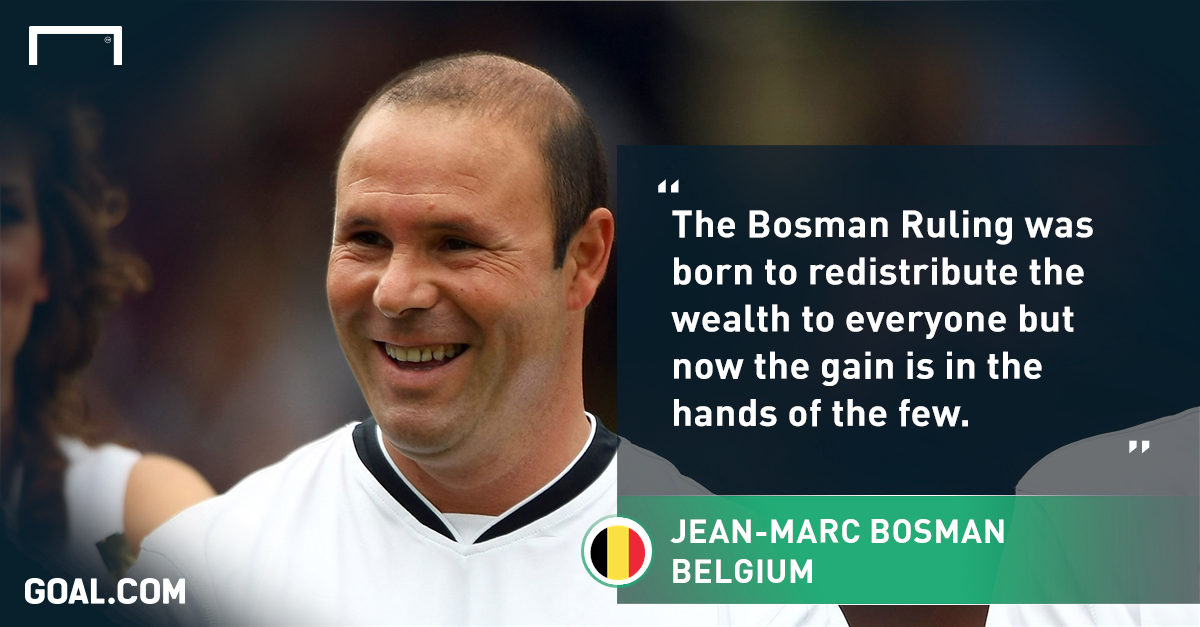 The ramifications were huge. Players were now free to leave a club upon the expiration of their contracts and join another. In addition, restrictions could no longer be placed upon the amount of EU players in a starting lineup. As a result, the Bosman Ruling completely changed the game. For better or for worse.

The effects of the Bosman Ruling were felt almost immediately. In 1995, Ajax won the Champions League with a team with an average age of 23 - despite the presence of two veterans, Danny Blind and Frank Rijkaard, in the starting lineup. This was a side founded on academy products. However, within three years, Patrick Kluivert, Edgar Davids, Michael Reiziger and Winston Bogarde had all left on free transfers. As former Ajax captain Frank Arnesen lamented: "After the Bosman Ruling, the rich countries came in and took their players."

"Everything changed after the Bosman Ruling," explained former Ajax president Michael van Praag. "We lost Patrick Kluivert on a free to AC Milan. But he wasn't successful, so they sold him [to Barcelona] a year later for 12 million euros ($13.23M). Yet we had educated Patrick for 12 to 13 years and received nothing."

Of course, measures have since been introduced to compensate clubs that lose out-of-contract players that they have developed but it offers scant consolation. Gone are the days when sides such as Ajax, Red Star Belgrade and Steaua Bucharest could hold onto their best players long enough to win the European Cup.

Players are now being pilfered at a younger age than ever before and then being loaned out to feeder clubs, allowing Europe's elite to monopolize top talent, thus creating an ever-expanding chasm in class between the haves and the have-nots. Chelsea, for example, sent a staggering 33 players out on loan at the start of the current season.

In addition, contracts are no longer worth the paper they're printed on. The top players can now easily hold a club to ransom over a new deal. Either they are given the wage they want or they go somewhere else to get it.

"It's a paradox," Bosman admitted to the Gazzetta dello Sport on Friday. "The Bosman Ruling was born to redistribute the wealth to everyone, especially the poorest players, but now the gain is in the hands of the few. I think of PSG, who are one of the richest clubs in the world. I have read in the papers that they would like to offer Cristiano Ronaldo €350,000 a week. Good for him, but the Bosman Ruling was meant to bring happiness and rights to all footballers. They were caged animals. I freed them.

"I still think that the decision of the Court of Justice was right. It was a positive law but it's now been distorted. Unfortunately, football is not healthy now. Players are earning astronomical sums of money. Contracts are not respected."

Of course, in business, employees have basic rights. They deserve to be protected and nobody could dispute that footballers were exploited for many years. The maximum wage (£20), after all, was in place in England until 1961. Even after that, players across Europe had a legitimate gripe with the way in which they were treated. They were controlled by their clubs. Careers were shorter and there was less money to be made. Players, therefore, wanted to make the most of their time at the highest level.

As Dutch legend Johann Cruyff put it, "When my career ends, I cannot go to the baker and say, 'I'm Johann Cruyff, give me some bread.'" It was a view echoed by Italy icon Paolo Rossi during his contract extension negotiations with Juventus. "I cannot feed my child on glory," said the 1982 World Cup winner.

However, professional players complaining about their working conditions has long been a divisive issue - even among their own. "Some people tell me professional players are soccer slaves," Bobby Charlton once mused. "Well, if this is slavery, give me a life sentence!" The England and Manchester United hero said that in 1960, so, for a multi-millionaire like Cristiano Ronaldo to claim in July 2008 that he felt like a "slave" was downright offensive.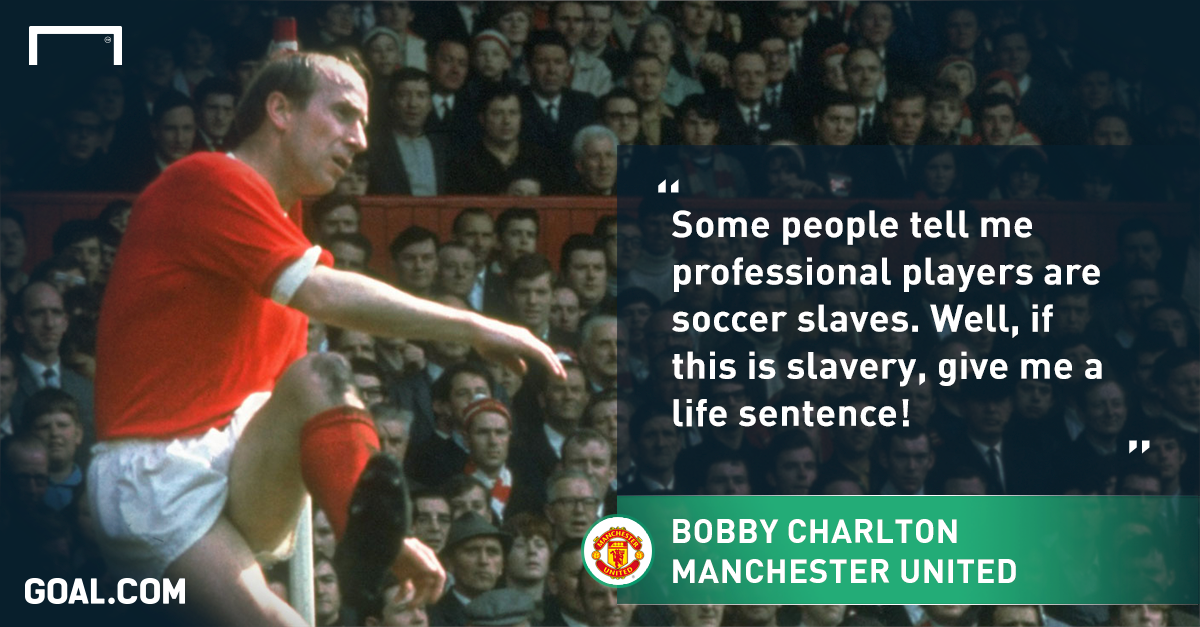 Indeed, it feels as if the pendulum of power has swung too much in the players' favor. We have now reached a point at which the wages being paid to players are difficult to justify. Twenty years ago, the Vatican labelled Gianluigi Lentini's €13M transfer from Torino to AC Milan as "an offence to the dignity of work" but the transfer market has become even more ludicrous today, with Gareth Bale becoming the first €100M player two years ago and recent reports claiming that Manchester City would be willing to pay Barcelona talisman Lionel Messi over €1M per week to move to the Emirates.

Of course, the argument can be made that football is now part of the entertainment industry and that players deserve everything they get given that they are the stars of the show. However, it is not just the players who have made millions from the Bosman Ruling but also agents.
Players require proper representation but there is surely something very wrong with a system which resulted in Premier League clubs handing over €180M in agents' fees this year alone? That figure is only going to rise, too, with agents becoming more and more prominent and powerful (see Jorge Mendes' influence at Valencia), making it difficult not to think of super-agent Eric Hall's famous quote: "The terrible thing about my job is that players get 80 percent of my earnings."

Given the money to be made on controlling players, is it any wonder that third-party ownership has now become a major problem. "This also blocks the free movement," Bosman points out. "At times, the players are hostages to bureaucracy. At times, they are not paid, and in these cases, FIFPro, the world union for players, must intervene in order to enforce the contracts of professional players, supervise them and make them feel protected."

Bosman fought the good fight - and won. Footballers everywhere owe him a debt of gratitude. But, 20 years on, football has yet to really come to terms with the fallout or to adequately deal with the repercussions. The Bosman Ruling created more problems than it solved. It was certainly not a disaster for football as Aigner claimed.

"If I could go back, I would not change one iota of what I did," he said last week. "It's important that the battle continues and that's what FIFPro is doing to look after the rights of players. We've won a battle but we haven't won the war."

Bosman was certainly right to take on the system - it's just a crying shame that healthy competition has been a casualty in the continued pursuit of freedom.