Sebastian Giovinco signed away his career Monday. He gave up his footballing soul in return for the most lucrative contract in Major League Soccer history.
Giovinco's five-year contract with Toronto reportedly hands him a reported base salary of over $7 million a season. With add-ons, he will almost quadruple his $2.5 million wages in Turin and will now earn more than any current player in Serie A. His total compensation could award him even more money than Kaka will make at Orlando City or David Beckham made with the Los Angeles Galaxy.
Unlike Kaka and Beckham, though, Giovinco is not an aging 30-something chasing a lucrative Indian summer. There have been many examples of those during the last 40 years – from Pele and Franz Beckenbauer in the 1970s to Thierry Henry, Robbie Keane and Jermaine Defoe in recent times. There have also been examples of European football's lesser lights striking out to MLS - last season's top scorer Bradley Wright-Phillips a case in point. There have also been all-American heroes returning to boost their domestic league and enjoy life at home, such as Clint Dempsey or Michael Bradley.
Giovinco is none of these, aged just 27 and a regular in Antonio Conte's Italy squad. He has made four appearances for the Azzurri this season, most recently in the 1-0 friendly win against Albania in November.
Although the former wonderkid has never fulfilled his potential
and is a step below the standard required for Europe's very best teams, he is easily good enough to star at most Europa League level sides. His two goals for Juventus against Verona last week demonstrated what a dynamic force he can be.
It is no surprise that many clubs competing in continental competition – including Fiorentina, Torino and second-placed Bundesliga outfit Wolfsburg – wanted to sign the player whose contract expires at the end of the season. Fiorentina coach Vincenzo Montella, in particular, was desperate to buy the forward.
VIEW FROM TORONTO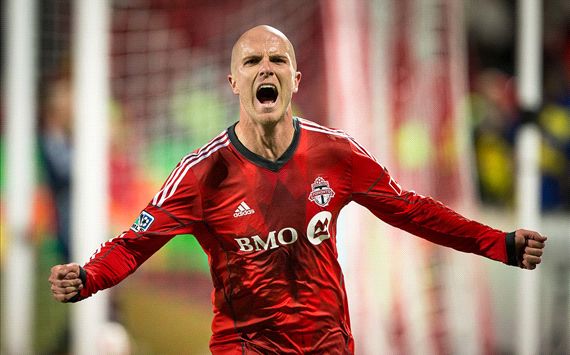 Rudi Schuller | Goal Canada Chief Editor

Last year, Toronto FC promoted Jermain Defoe's signing as a 'Bloody Big Deal'. A well-known English international, just slightly on the wrong side of the proverbial 'hill', was going to suit up for a TFC side that had never tasted success in its seven years in MLS.

To everyone involved, it was considered quite a coup for the club. Fast forward a year, and we all know how that turned out — Defoe is already back on home soil with Sunderland.

With Giovinco, TFC has eclipsed its own Bloody Big Deal with an even bigger one. It took a monstrous amount of money to do it, but Toronto has thrust itself into the big leagues with this move.

READ MORE
"I am excited to sign with Toronto FC and look forward to joining the club this summer," Giovinco said Monday. "I have heard so many great things about Toronto over the years and I know that it will be a city that I feel right at home in."
Giovinco signifies a historic coup not only for Toronto but also for MLS. For soccer fans in North America, this transfer is great news.
Toronto's general manager Tim Bezbatchenko insisted that Giovinco "wanted to be a trailblazer" – the man to encourage more players in their prime to cross the Atlantic Ocean.
But the chances of the MLS developing into a top-class league on the back of Giovinco's arrival seem slim under current regulations. Squads are restricted by a stringent salary cap and are only permitted to have three Designated Players who are exempt from this rule.
In the mid-1990s, Ruud Gullit, Gianluca Vialli and Fabrizio Ravanelli were heavily criticized for their multimillion-pound transfers to the Premier League – at the time a relatively modest competition. But the Premier League was clearly going places, funded by Sky television and improving commercial deals, and unhindered by transfer rules. It was also the dominant sport in its home country. Gullit, Vialli and Ravanelli were true trailblazers – even if they were remunerated handsomely along the way.
Let's not pretend that Giovinco falls into the same category. He doesn't even compare with Samuel Eto'o's shocking decision to quit Inter for Anzhi Makhachkala after a 37-goal season in 2011 in order to become the world's highest paid player. It may have proved a disaster, but at least Anzhi could claim to have a project, bankrolled by billionaire Suleyman Kerimov, with the intention of eventually challenging for the Champions League. And Eto'o was arguably at the start of his decline as a player.
If David Beckham and Pele were unable to crack the American code, then we can't expect a fourth-choice Juventus forward to - regardless of his age. Giovinco's move to Toronto is more comparable to Asamoah Gyan's transfer to Al Ain in 2011. The Ghanaian's switch from Sunderland shocked everyone when an €8m salary was revealed.
Gyan was just 25 at the time, with his best footballing years ahead of him. He is now in his fourth season in the United Arab Emirates Pro League and he has already scored well over 100 goals.
Giovinco could post similar figures in the MLS, but unlike Gyan - who can easily command a Ghana place despite playing in a fourth-tier league - his international career is now almost certainly over. As one of the few Italian pinch hitters capable of beating his man, and a favorite of Azzurri boss Conte, Giovinco was in a strong position to go to the Euro 2016 finals providing he made the right move this summer. He has now arguably thrown away his final chance to make his mark for Italy on the international stage.
His decision to join Toronto at such a young age sends out a terrible message to all football lovers. It communicates that it is acceptable to sacrifice your career in exchange for money, and demonstrates that there is no limit to the greed of some footballers. Giovinco was already set up for life based on his career earnings but, like many millionaires, he wanted more and more – regardless of the long-term implications.
He may go on to become a hero in Toronto and a darling of Major League Soccer - and if that makes him happy then good luck to him - but, to most European football fans, Sebastian Giovinco will now be remembered as the unfulfilled youngster who preferred money to top-level football.
Follow Carlo Garganese on