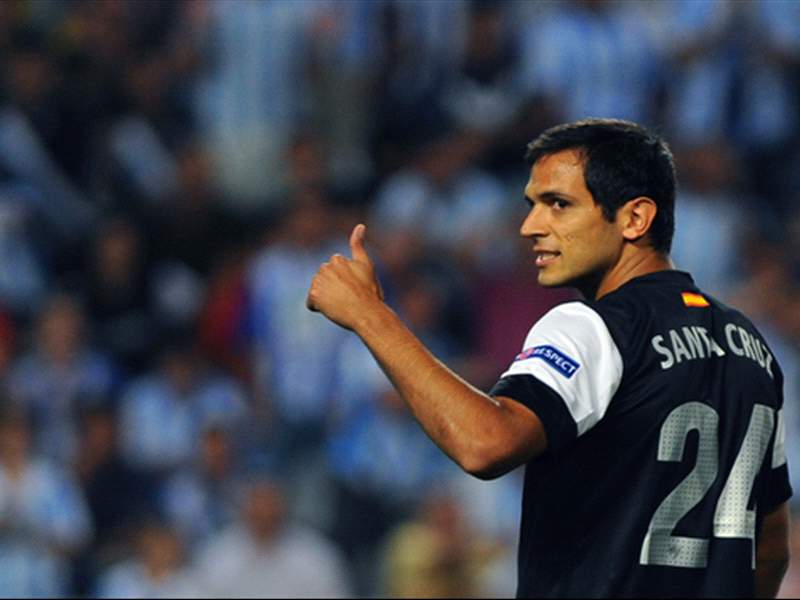 Roque Santa Cruz
has admitted his
Manchester City
career is finally over and his future at on-loan club
Malaga
is in serious doubt beyond the end of this season.
The 31-year-old, who was signed from Blackburn for 17.5 million pounds in 2009, hardly featured at the Etihad Stadium but has rebuilt his reputation with a successful spell in southern Spain.
In an exclusive interview, Santa Cruz told Goal.com he bears no grudges over his treatment by City, which has previously loaned him out to Blackburn and Betis.
"At City I had an excellent relationship with the coach, first Mark Hughes and then Roberto Mancini, and with the club. I knew the situation when I arrived there," he said. "Mancini was honest with me. I don't blame anyone. They made big investments. I didn't get to play much, but there's no blame.
"During my season at Manchester City I wasn't 100 percent right, physically. Now I am. But I won't be going back there. In June, I'm no longer a Manchester City player. My contract finishes."
Santa Cruz, who is the joint-top scorer in Paraguay's history, now faces an uncertain club future despite making a strong impression with Malaga. Although owned by a Qatari billionaire, the club's free-spending days appear to be over. The sale of left back Nacho Monreal to Arsenal in the January transfer window was another setback for the club.
"It's a difficult situation here. I'm happy playing here. But further ahead I'll see what's best for me and what possibilities there are," said Santa Cruz. "The financial situation has an influence on the future of the club, on me and on the other players.
"There's no security about which players arrive or leave. It's a difficult situation which the club has to resolve as soon as possible."
Santa Cruz also defended his former City teammate Mario Balotelli, who joined AC Milan from the Etihad Stadium for over 20m euros on transfer deadline day.
The striker added: "Balotelli is a young player, one of the most talented young players, and has a lot ahead of him in his career. He's made a lot of mistakes for his young age, both on and off the pitch. He's not a bad kid. He's a good person, really.
"But he experienced a different youth to what others do, and it shows. I think he will still show what he can do and he can still achieve a lot at his new club. I hope it works out well for him there after everything that has happened to him."
Santa Cruz scored twice in Malaga's 3-2 defeat of Real Madrid last December, and the Paraguayan is looking on the bright side despite their financial difficulties.
"Things are going well. I had a good first half of the season. We qualified for the next phase of the Champions League. The team's playing very well," he said. "Although we lost against Barcelona in the Copa del Rey, we're still fourth in the league and we can finish in the top four. We believe we have enough to get there."
Malaga has qualified for the knockout phase of the Champions League for the first time this season and will face Portuguese champion Porto in the last 16.
"It will be a tough game against Porto. We're preparing very well and are looking forward a lot to the game, as are the fans. We hope to play well and get through," he said. "Jackson Martinez is playing again for them after the injury he had for a short time. He's a top player for them. But we have to concentrate on ourselves and not on them.
"We're confident we can progress. It's a huge thing for the club and we want to make the fans happy. It would be great to continue our good run."
Follow GOAL.COM USA on