In what is undoubtedly one of the more intriguing and somewhat eyebrow-raising moves of the January transfer window,
Thierry Henry
has now completed a sensational return to
Arsenal
after his two-month loan deal from
New York Red Bulls
was officially rubber-stamped on Friday.
Henry had long secured his place in Gunners' folklore before this latest chapter in his career and having cemented his name at the top of the club's all-time leading scorers chart during a hugely successful eight-year spell in north London, fans of Arsene Wenger's side may just be treated to a few extra on top of the staggering 226 he has already amassed for the club.
Since leaving the Emirates back in 2007, Henry has gone on to secure a Champions League winners medal and two La Liga titles with Barcelona before embarking on an American adventure with the Red Bulls in New York - but at 34 years of age could one of the greatest players to have ever graced the Premier League really take England's top flight by storm once again?
Goal.com
canvassed the opinion of three MLS experts to get their thoughts on just what sort of impact the Gunners legend could have now he is back on British shores.
THE VIEW FROM THE MANAGER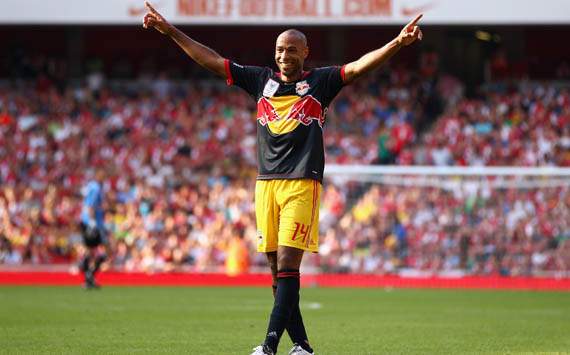 Former Colorado Rapids boss Gary Smith, who won the MLS Cup with the Denver club during a successful three-year spell, has witnessed first-hand just what Henry is capable of and told
Goal.com
that he is adamant that the loan move is "win-win" for both parties and that the one-time Juventus man is capable of showing all his past qualities upon his return to the Premier League.
"For Arsenal, this is a win-win deal," Smith said. "For what they are paying, where else would you get a player of Thierry Henry's experience and quality for two months?"
"There is no doubt in my mind that for the limited period he is going back that he can show all the qualities he has shown in the past.
"

There is no doubt in my mind that for the limited period he is going back that he can show all the qualities he has shown in the past

"





- Former Colorado Rapids manager Gary Smith

"He has been a revelation over here, although there were one or two frustrating moments. All of the qualities and attributes that everybody had seen in his Arsenal, Barcelona and international days were still there to see.
"He has still got that turn of pace and the power that defenders were always concerned about. He scored against us in New York when we drew 2-2 and looked extremely bright and exciting that day.
"He had a really good partnership with Luke Rodgers, who came from Notts County and has made a massive impact in this league. Thierry played nine out of 10 games up front as part of a two-pronged attack. He would occasionally drop back to find space or pick a pass but not necessarily as a withdrawn striker.
"His technique and distribution is still great and he scored some fabulous goals. I'm sure Arsene Wenger took a look at him and thought that he can still make an impact at Arsenal, especially at a time when they have lost players to the African Nations Cup and there are injuries."
THE VIEW FROM THE TERRACE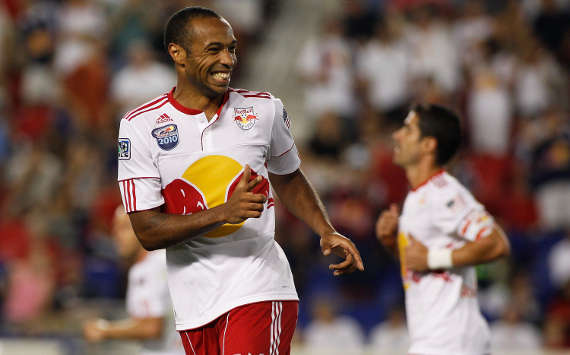 New York Red Bulls fan and founder of the
Seeing Red New York podcast
Mark Fishkin discusses how the former Barcelona man has endeared himself to supporters of the MLS club and, as well as explaining the key role he is playing as a mentor to the Bulls' younger players, he touches on the fiery side of Henry that's been on display in the US and how he all but refuses to play on artificial pitches.
| | |
| --- | --- |
| | HENRY'S POTENTIAL ARSENAL FIXTURE LIST |
| Jan 9 | Leeds (H) FA Cup |
| Jan 15 | Swansea (A) Premier League |
| Jan 22 | Man United (H) Premier League |
| Jan 28 | FA Cup fourth round |
| Jan 31 | Bolton (A) Premier League |
| Feb 4 | Blackburn (H) Premier League |
| Feb 11 | S'land (A) Premier League |
| Feb 15 | Milan (A) Champions League |
| Feb 18 | FA Cup fifth round |
| Feb 26 | Tottenham (H) Premier League |
"Thierry Henry, in his short season-and-a-half with the club, has raised the profile of the Red Bulls and the league significantly," Fishkin enthused. "While he's certainly not a celebrity like Beckham, 'Titi' is just as well known by American soccer fans who have followed his career at Arsenal and Barcelona.
"He is the face of a franchise that is still looking for its first trophy (no, the Emirates Cup doesn't count) in its 16-year history, and his professionalism, comfort with the media, and his on-field performance (17 goals in 41 appearances) have endeared him to Red Bulls fans. Henry was an MLS All-Star and member of the league's Best XI in 2011, his first full season in MLS.
"Henry has been a wonderful mentor to younger Red Bulls players. Under his tutelage, speedy Jamaican winger Dane Richards has found a confidence not seen in his four years with New York, and teen US National Team striker Juan Agudelo has benefitted from training with Henry as well.
"Henry's stay in New York hasn't been all roses, however. He spends many matches berating his team-mates if they don't provide him quality service. He whines incessantly to the officials. Henry all but refuses to play on the few remaining artificial surfaces in the league. And this past season he was ejected twice, each time after stomping or striking an opponent in anger.
"In short, Thierry Henry is still Thierry Henry. He is still a fiery player that knows how to score goals. Enjoy him during his short loan. Don't break him, please. We need him healthy and ready to go for our season opener in Dallas on March 12."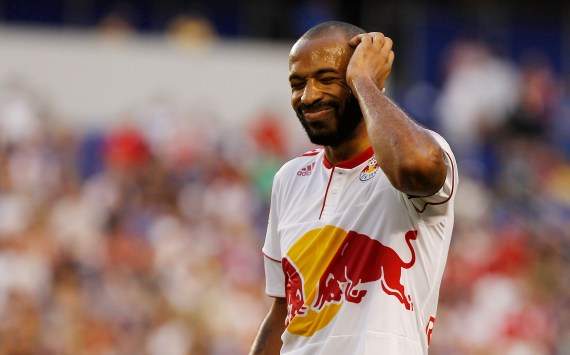 Goal.com USA deputy editor Alex Labidou is skeptical over the impact Henry could have upon his return to the Premier League, suggesting that for the Gunners to reap the maximum rewards from the loan deal, he will have to play more minutes than perhaps had originally been anticipated: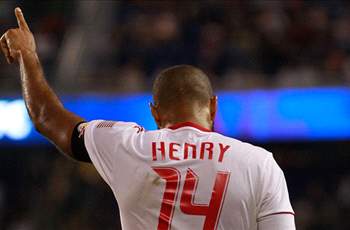 "
I'm not sure Henry will make an impact from the bench after being a key player for so long
"
It will be interesting to see what Thierry Henry's performance level will be playing for the Gunners in the Premier League. Henry is a much different player than the one that left the Emirates in 2008," Labidou said.
He lost the breakneck pace that made him so deadly but has added some muscle which has made him durable in the physical MLS. For the Red Bulls, he plays more of a deep lying forward/attacking midfielder role as he is one of the team's facilitators on offense.
There are only two concerns I see with this move. I'm not sure Henry will make an impact from the bench after being a key player for so long. As I mentioned before, he doesn't have that game changing speed anymore so if he comes on late, defenders will likely close him down.
He will be more successful if he plays a lot of minutes. Yet, that leads to another concern. Can he stay healthy? Galaxy fans were furious when Beckham got injured at Milan, I'd imagine Red Bulls fans being very disappointed if Henry misses time.
-Labidou
Wayne Veysey contributed reporting to this article.
Follow Stephen Darwin on