Once a dominant Major League Soccer forward, Eddie Johnson might return to the North American league after struggling to find a home abroad.
Johnson, who signed with Premiership club Fulham three years ago and has been loaned to various clubs, has had a rough run in Europe and his agent Richard Motzkin says the 27-year-old American is looking for a place where he can play an important role.
"Eddie is taking some time off after the season to get in the right frame of mind when making this decision," Motzkin told Goal.com. "We are speaking to various clubs around the world that have expressed their interest and he wants to make sure that he makes the right choice."
Johnson struggled to find the offensive touch in Europe that saw him score 41 goals in 127 MLS games. Once a prolific U.S. national team stalwart - Johnson scored seven goals in seven 2006 World Cup qualifiers - he has all but excluded him from international consideration.
It might make sense to return to the league that brought him his early career success.
Motzkin says that Johnson would be open to rejoining MLS if the opportunity fit what he was looking for. Motzkin, however, claims that Johnson still has an option to play in Europe as offers from Scandinavia to Germany have materialized.
Motzkin believes that his client will make a decision in the next two weeks.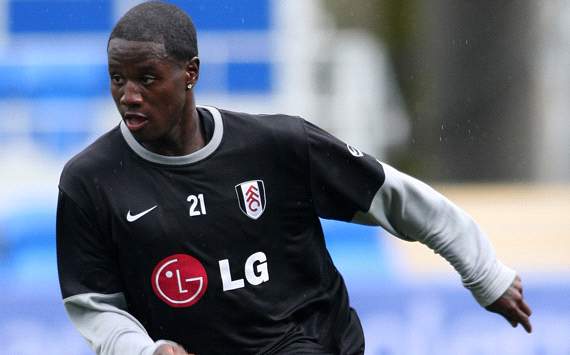 Eddie Johnson | Spent most of his time at Fulham on the sidelines
Here are the top options for the forward who has scored 12 goals in 42 appearances for the U.S. national team.
1. English Championship:
After a successful loan with Preston North End, largely coming off the bench in a wing position, there are several clubs in England's second division that could be interested in bringing Johnson on. He has shown that he can be successful in the Championship. But there are downfalls: Is he willing to sign for teams in a random English town without any guarantee of playing in his preferred role at forward?
Likely Destinations:
Blackpool, Portsmouth, Burnley
2.
Major League Soccer:
Following in the path of Charlie Davies and Benny Feilhaber, Johnson could flourish in a return stateside. Having a chance to go back to where he was most prolific, success could mean a return to the national team if he can replicate his previous MLS form.
Considering his salaries both in MLS and England, he will most likely want to be a Designated Player and there aren't many MLS teams that have those financial resources. DP status would allow Johnson to choose the club that he wants to play for, whereas going through the allocation process could see him tied to a team that doesn't fit his strengths.
However, rejoining MLS would signal to some observers that he couldn't succeed abroad. Entering his prime, Johnson might not want to give up on his European dream quite yet.

Likely Destinations:
Houston Dynamo, Seattle Sounders FC, Chicago Fire
3.
Germany:
An athletic league that is usually friendly towards Americans thanks to a relaxed policy toward work visas, Johnson could find a spot on a newly promoted Bundesliga side or a second division side like fellow U.S. international Edson Buddle.
However, signing with a German club presents some issues. Johnson would not likely get a guarantee of his role in Germany. Would he want to face a similar situation to the one he had at Fulham in which a bad start could see him spend years on the bench? Very unlikely.

Likely Destinations:
Various.
Follow ALEX LABIDOU on



Follow Goal.com on

to get the latest soccer news directly. Check out Goal.com's

page; be part of the best soccer fan community in the world!