The emotion was too much for
Roberto Soldado
to take. As he wheeled away in celebration, White Hart Lane rose to its feet to sing the Spaniard's name. A mere 60 seconds later the halftime whistle blew and Soldado felt the tears coming. "It was very special," the striker said afterward.
At Tottenham, this was the striker's zenith. Signed for 26 million pounds ($38M) from Valencia, Soldado was meant to be the archetypal No. 9, scoring 20 goals a season and propelling Spurs into the European elite. But he hit roadblock after roadblock and was unable to recover any semblance of the form that saw him net 82 goals in 141 games in La Liga.
Soldado's goal against Everton was his last in the Premier League, and also his only league strike in 2014-15. He was suffocated, intoxicated by a poisonous blend of misses and managerial distrust. In his final 15 league games for the club he played over an hour just once.
An £11 million move to Villarreal, and a welcome return to his native Spain, offered a clean break last summer.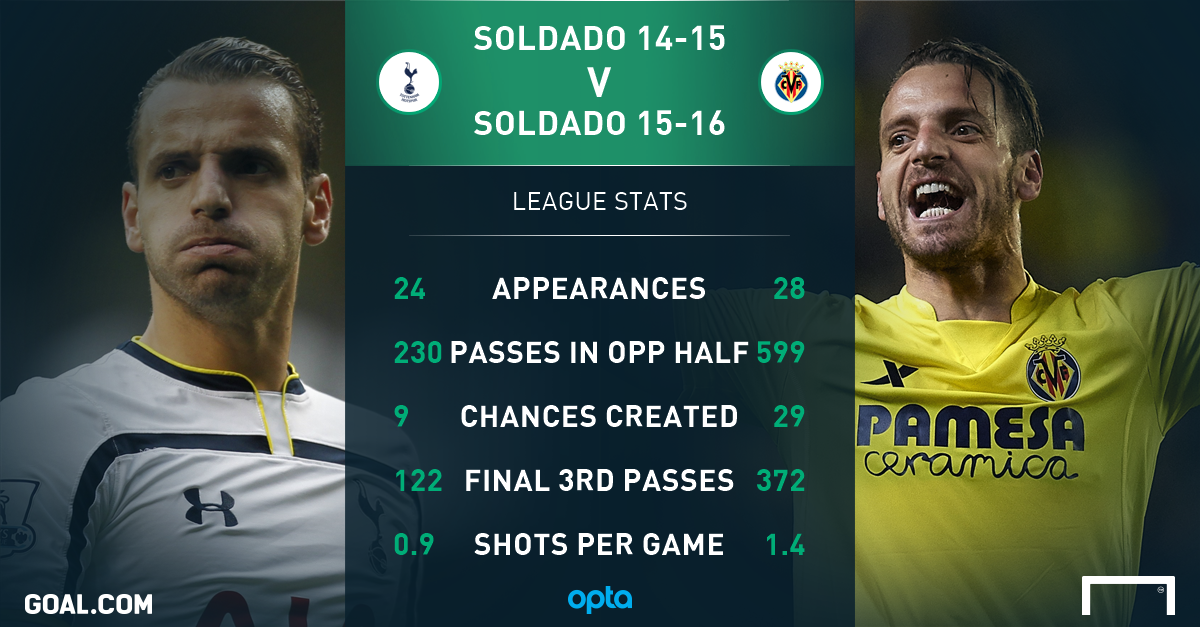 Since then he has gone from a poacher to the club's creative hub, creating 29 chances following his return to Spain. On average he lays on at least one chance per game and leads Villarreal's assist charts. His time at Spurs, he says, played a key role in his change in mentality and style.
"I think the change came from my time at Tottenham," he tells The Guardian. "English football is a lot more physical and I knew I couldn't be as static as at Valencia because I'd get overpowered in the physical duels. Maybe it's because of that – plus the bad luck, the misses – that I didn't score so many.
"I thought I could achieve more avoiding the physical duel with bigger defenders, seeking space elsewhere. And I've brought that [new] way of playing here with me."
Soldado is waif-like, but his soccer brain transcends his slightness. There are few players with sharper movement than Soldado and it was never his failure to get into the right position at Spurs that cost him, merely his inability to finish.
One pass all but sealed his Tottenham exit. In a Europa League game against Fiorentina, Soldado made a superb run through the middle to latch onto a delicate Erik Lamela through ball and was one on one with the goalkeeper. Nacer Chadli was in support, perhaps in case his teammate forced a parry. Instead Soldado attempted a pass, did not get enough on it and steered the ball into the grateful palms of Neto. Spurs lost 2-0.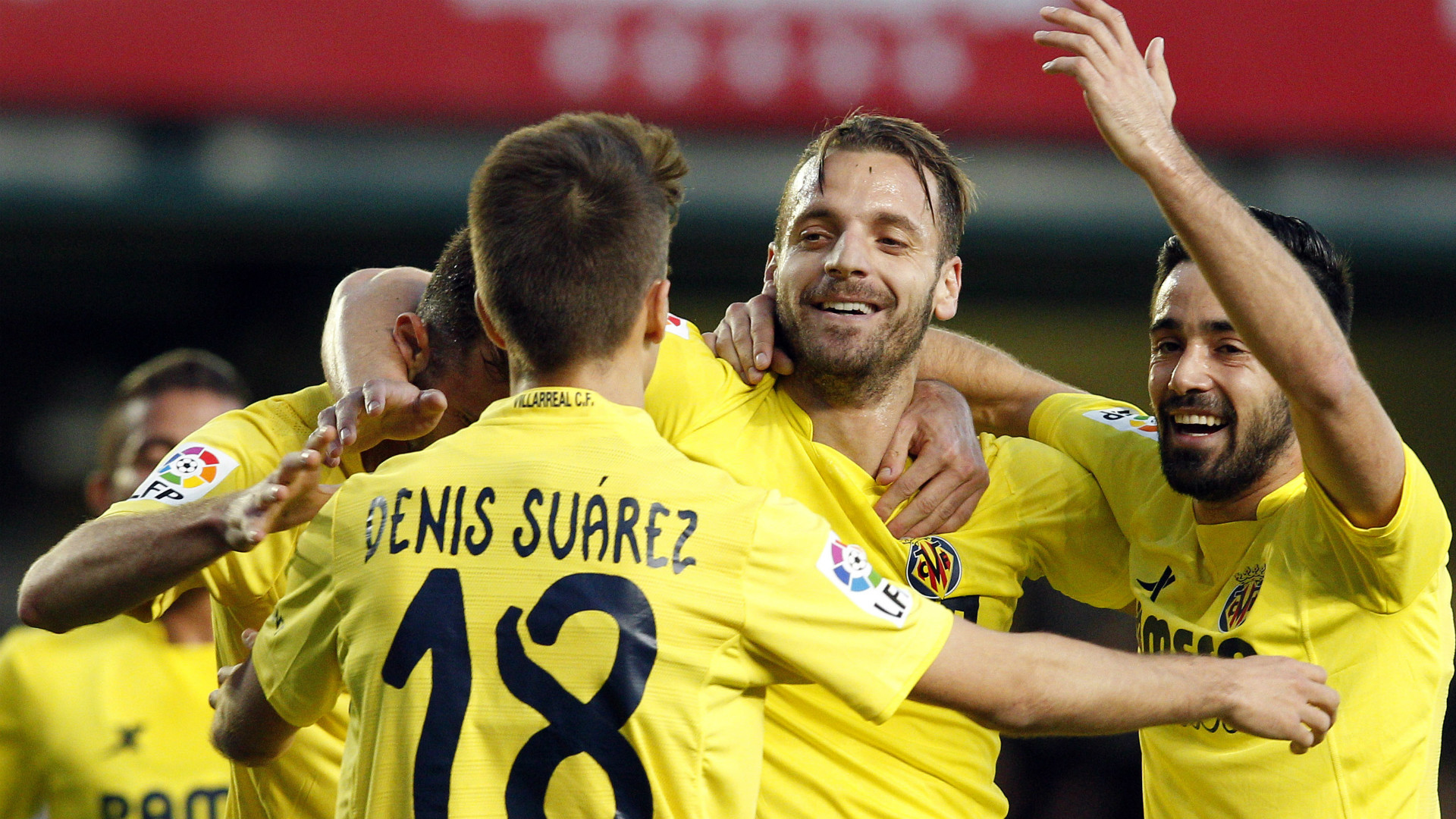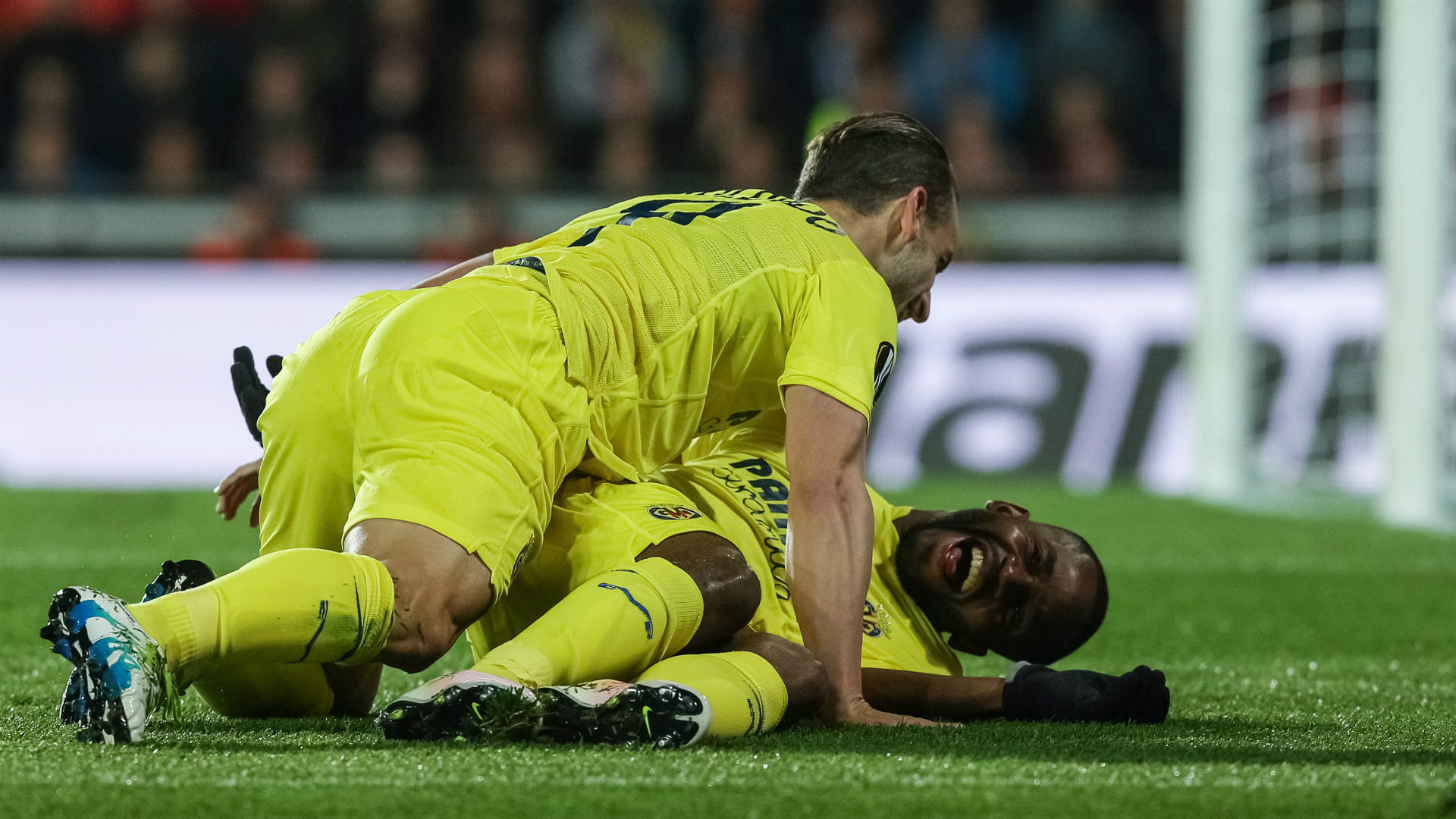 Now, though, he has found his range. He has shelved the goal-scoring accolades for the joy of assists. He has laid on 10 goals in La Liga and three in Europe — over twice as many as any other Villarreal player.
The striker's passing stats also show his change in mentality. In 2014-15 he attempted 230 passes in the opposition half. This season he has tried 599. His accuracy is worse — 64 percent compared to 73 percent — while he has attempted, staggeringly, 250 more passes in the final third. His average position, too, has altered — he now sits nearer the halfway line, instead of lurking on the edge of the penalty area.
Soldado is also lucky to play alongside a striker who offers both brains and brawn. Cedric Bakambu is blessed with pace, power and a clinical eye for goal — he has scored 22 goals in all competitions this season and Soldado offers the perfect foil. Only three duos have been more prolific in La Liga.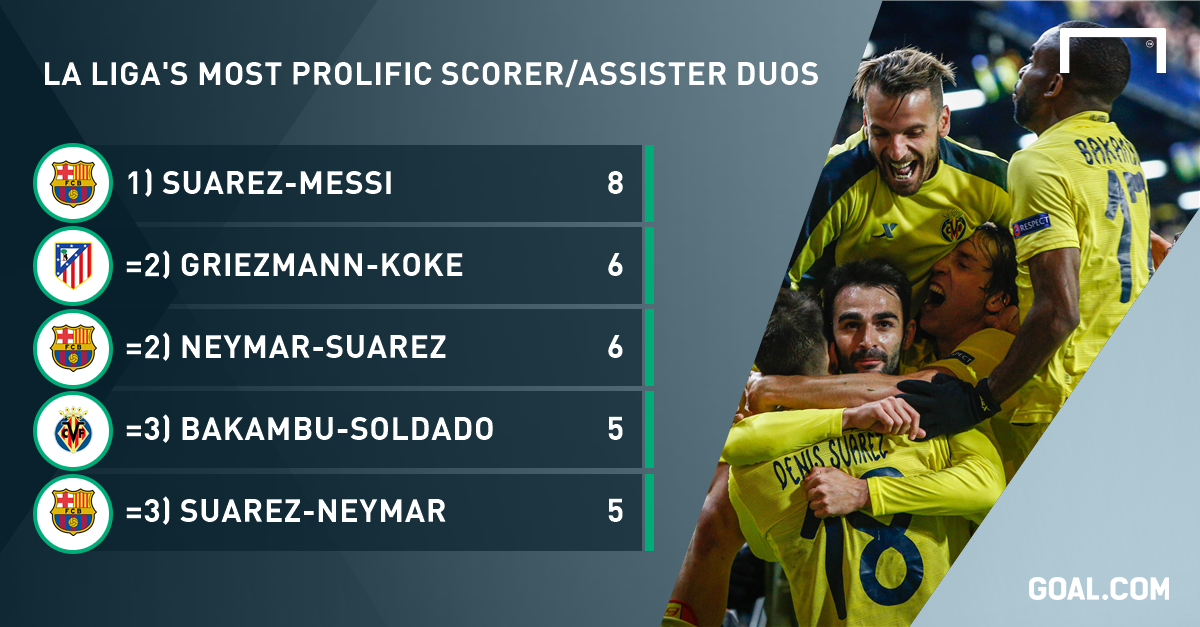 "My football now is nothing like what it was at Valencia," he says. "I was a pure striker who played only in the area and didn't participate in the buildup — now I'm far more involved in the play.
"At Valencia, we played with a No. 9 and a No. 10. Here, we play 4-4-2 and one of us needs to drop between the lines. That's become the job I do. Bakambu is very powerful and loves to run in to the space, so I play the other role: You have to complement your partner."
Villarreal faces Liverpool at Anfield on Thursday, having won 1-0 in the first leg of the semifinal. History is against the visitors – they have lost in three previous European semifinals – but Soldado hopes that, like he has done, his side can exorcise a few demons.
"Villarreal have been stopped at the gates three times," he says. "Hopefully we can take a step further this time."
Soldado was on the wrong end of a 4-0 scoreline on his last visit to Anfield, but he is a different player now. He has revived his career and, while he might not score, there is little doubt he will have an impact on who travels to Basel on May 18.