When
Serhiy Rebrov
was appointed coach of
Dynamo Kiev
last April, there was some scepticism. He had no front-line coaching experience and was just the latest in a series of former Valeriy Lobanovskyi players to try to reignite old fires at the club.
Dynamo hadn't won the league since 2006, and hadn't won anything since the Ukrainian Super Cup in 2011. A year on, the club sits seven points clear at the top of the Ukrainian table and is in the Europa League quarterfinals after a 5-2 second-leg demolition of Everton.
Of course the team's position domestically has been helped by the struggles of Shakhtar, forced by the conflict in Donetsk to leave its home and play on the other side of the country in Lviv, but the European progress confirms what a fine job Rebrov has done. He is an unapologetic Lobanovskyite, having emerged as a player under the Colonel, reaching the Champions League semifinal in 1999, when the club was beaten by Bayern.
Lobanovskyi was a pioneer of computer modeling and data analysis in football. His teams pressed hard and were supremely adept at achieving attacking fluidity without a loss of defensive rigor: the "coalitions" between players, Lobanovskyi always said, were as important as the players themselves. Rebrov espouses a similar philosophy.
"Previously," he explained, "Dynamo's footballers played for themselves, being only focused on either defence or attack. Now, there are glimpses of a team game: We defend and attack together. Every player has to understand what he does on the field, and at the same time they must improvise.
"I need creative people, but they have to understand the basic schemes of players' formation. The team plays as the coach wants it to play. There are only few teams that have stuck to the same style of play over the years despite changing coaches — Barcelona or Ajax, for example."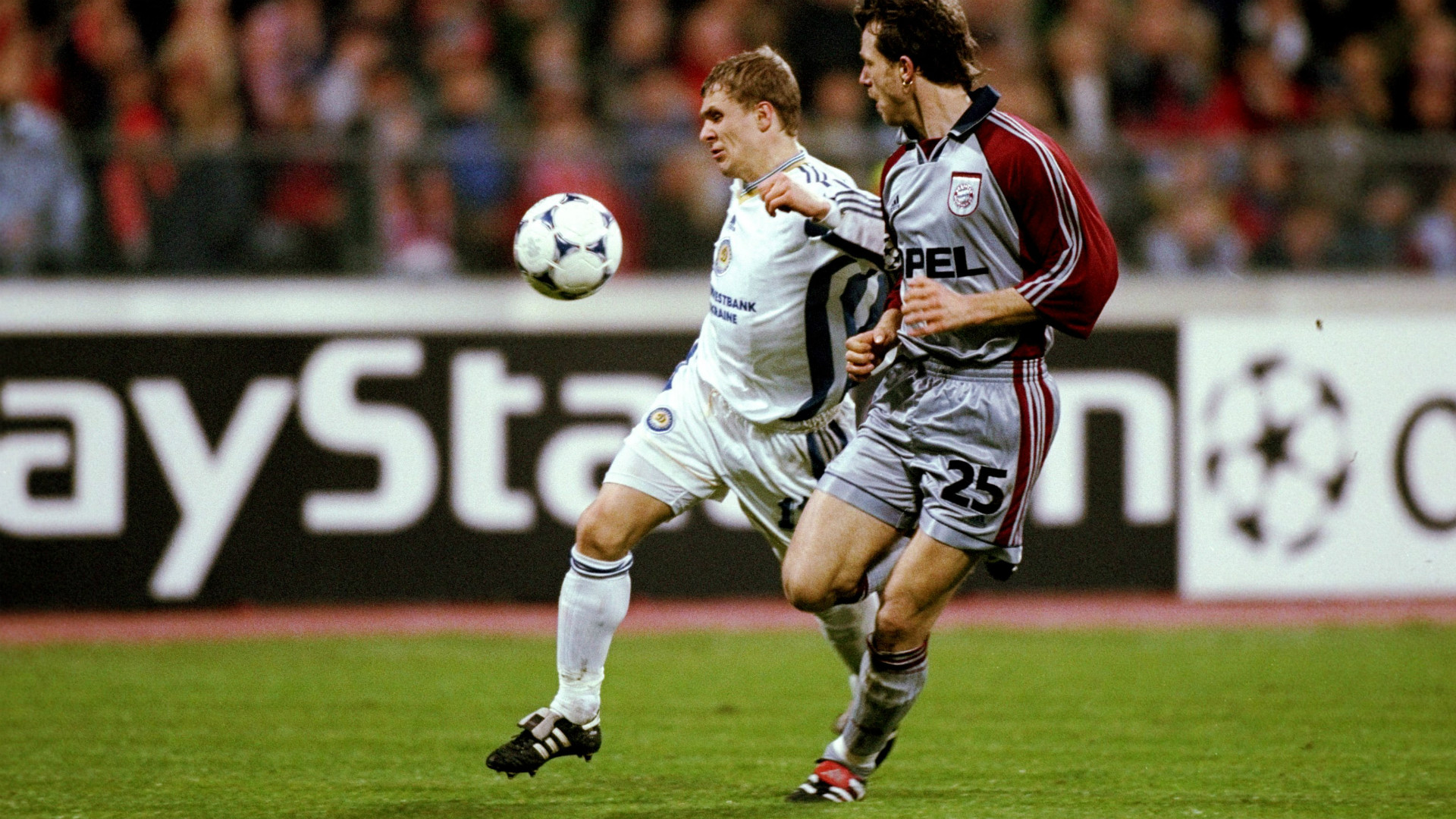 Icon | Rebrov was a star of the Dynamo team that reached the 1999 Champions League semifinals
The problem many of Rebrov's predecessors found, though, was that Lobanovskyi was such a dominant presence – he coached Dynamo, on and off, for almost 30 years before collapsing in the dugout during an away game in Zaporizhzhya in 2002 and dying soon after – that the club was constantly referring back to him, wondering what he would have done.
Such was the sense of stagnation that there was even a brief period of de-Lobanovskyification under the Russians Yuri Semin and Valeri Gazzaev.
Part of Rebrov's success has been to acknowledge that Lobanovskyi was always evolving: As football changed, so he changed.
"Many things are developing," Rebrov said. "Under Lobanovskyi, we did a lot of work without the ball, whereas now there are more exercises with the ball. When players run with the ball, they don't even notice that they're covering a greater distance than during the monotonous work without the ball."
When the Brazilian defender Betao returned to Dynamo after spells at Evian and Ponte Preta, he was struck by the "completely different mood" at the club to when he'd left in 2013.
"Rebrov is a promising coach and a wonderful person," he said. "He is closer to the players – he communicates with us, gives useful advice."
Stamina remains a vital component in Dynamo's football. "Lobanovskyi understood that in Europe we managed to achieve success only thanks to functional training and counterattacks because we did not really have outstanding players in terms of technique," Rebrov said. But he has also looked beyond Ukraine, spending time watching Manchester City's training over Ukraine's winter break.
It's Borussia Dortmund, though, that really fascinates him.
"I was interested in how they managed to play so well without having the stellar players that Bayer, Real Madrid, Barcelona had," Rebrov said. "I like the style of play of Atletico Madrid and Real Madrid. Barcelona's football – total control of the ball – does not suit Dynamo, but Atletico's football – aggressive, compact - is something that characterizes us too."
It's an approach that has already seen off Guingamp and Everton. An in-form Fiorentina may be a sterner test, but as Dynamo rediscovers the old verve, a second European semifinal — 16 years on from the one he played in — is within Rebrov's reach.