After every World Cup, FIFA's technical study group, a mysterious cabal with fantastic expense accounts, releases their awards, a meaningless list conferring nothing more than global prestige and legendary immortality. But in my estimation, they don't really tell the whole, more interesting story of the World Cup. With that in mind, here are Goal.com's alternate World Cup awards:
Team of the Tournament: New Zealand
They were the only undefeated team in the entire tournament. As nobody was able to beat them, I'm unilaterally awarding them the World Cup title. And Mark Paston the FIFA World Player of the Year Award. And the Nobel Peace Prize. And the Hurt Locker's Oscar for Best Picture.
Breakout Star: The Vuvuzela
Who would have thought that such a humble bit of molded plastic would grab such worldwide attention? Surviving more calls for it to be banned than Mark van Bommel, it made it all the way to the final, unlike 30 of the teams in the tournament. And it was heard on more youtube videos than Justin Bieber holding a sneezing kitten.
Top Scorer: Paul the Octopus
Thomas Mueller, David Villa, Diego Forlan's abs, and Wesley Sneijder all scored 5 goals. But Paul made 8 predictions, and got all 8 right. He gets the golden boot, er, suction cup, for his performance.
Game of the Tournament: Portugal 7-0 North Korea
Who doesn't like goals? And seeing horrifically brutal regimes embarrassed on a global scale? Plus, the match was your best chance to see Cristiano Ronaldo before Spain bored him out of the tournament.
Most Exciting Team: France
Was there a more interesting storyline than the French squad imploding upon itself due to its volatile politics? It was impossible to look away, like watching a train crash, if the train was made of bad karma and Irish schadenfreude.
Most Boring Team: Spain
Every knockout game involving Spain ended 1-0 in favor of the eventual champions. Their commemorative DVD will be almost as exciting as my Special Commemorative Edition of "Watching Paint Dry, volumes i-xxiv."

Fair Play Award: Mark van Bommel, Netherlands
Although defensive midfielders are often a magnet for bookings, van Bommel was so clean he didn't see his first yellow card until the semifinals. A fine, clean player by all accounts.
The Harry Kewell Award for Best Cameo Performance: David Silva
The Spanish midfielder waited almost 10 minutes to come on against Chile while his teammates passed the ball around midfield. The whistle blew before he could enter play.
Best Goalkeeper: Robert Green, England
Plenty of goalkeepers save goals, but how many can say they were responsible for creating them?
The Joan Rivers Award For Best Dressed: Bob Bradley, USA
Boring designer suits are out. Business casual is sooo European Championships. USA manager Bob Bradley is on the bleeding edge of the avant-garde in his sharp standard-issue tracksuits.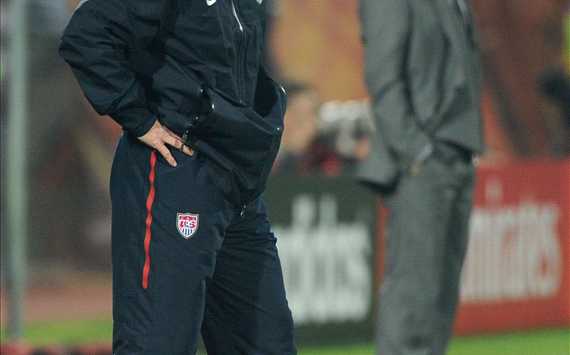 Keith Hickey is a Goal.com contributor. For more not-quite-PG humor, follow him on Twitter @usarsnl
The 2010 World Cup is finally here, so keep up to date with all the news at Goal.com's World Cup homepage and join Goal.com USA's Facebook fan page!