Uruguay may have lost 3-2 to the Netherlands in Cape Town this evening to see their World Cup dreams come to an end, but they will return to their homeland after Saturday's third-and-fourth playoff as heroes.
When the finals began three-and-a-half weeks ago, no one could have predicted
La Celeste
progressing all the way to the last four. After all, this Uruguay team had only qualified for South Africa via the Concacaf/Conmebol playoff against Costa Rica, and were appearing in just their second World Cup since 1990. It had been 40 years since they last reached the semi-finals.
And, indeed, only some small, controversial details tonight prevented them from going a step further and contesting Sunday's final in Johannesburg against Germany or Spain. After Diego Forlan had canceled out Giovani van Bronckhorst's wonderstrike with a long range goal of his own, Uruguay had the Netherlands wobbling in the second half. Forlan went close with another free kick, and Alvaro Pereira saw his chip cleared off the line before Holland scored with a controversial Wesley Sneijder sucker-punch.
The current interpretation of the offside law is that if any part of your body is offside and you are interfering with play, then it is an infringement. Robin Van Persie's foot was offside and, as he was standing right in front of Nestor Muslera, Sneijder's goal should have been chalked off.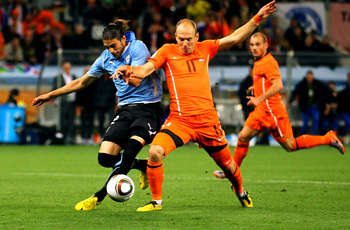 As should van Bronckhorst's opener, as the dirtiest and most dislikeable player in world football Mark van Bommel executed a leg-breaking tackle on an opponent just seconds earlier that went unpunished and should have resulted in a red card.
Due to Luis Suarez-gate in the match against Ghana, there will be absolutely no fuss made in most places about the fact that Holland's first two goals shouldn't have stood tonight. But, we won't hide away from the facts. To put it simply, Uruguay would have won 2-1 with proper officiating.
After Arjen Robben had headed home an excellent team goal to put Holland 3-1 up, Uruguay displayed the impressive character that has got them this far by pulling a goal back in the 91st minute through Maxi Pereira and then peppering the Dutch goal before the final whistle.
Despite their controversial exit tonight, Uruguay should not dwell too long on what might have been. Diego Forlan, coach Oscar Tabarez, and the rest of the gang have well and truly put the South Americans back on the map after 40 years in the shadows and they should savor every minute of the heroes welcome they receive back in Uruguay next week.
The 2010 World Cup is finally here, so keep up to date with all the news at Goal.com's World Cup homepage and join Goal.com USA's Facebook fan page!