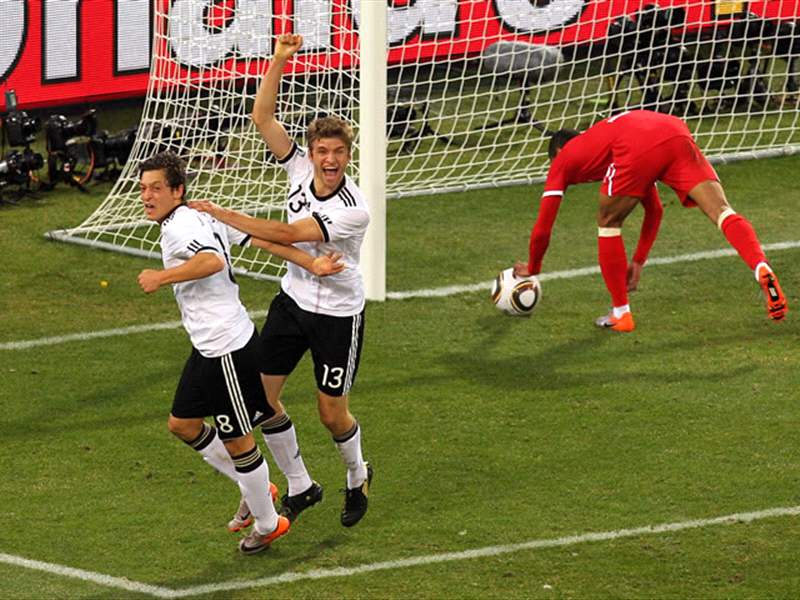 Kick Off: Saturday, July 3, 2010. 16:00 CET
Cape Town Stadium, Cape Town

Hoping For A Better Fate
There's been a sense of deja vu about Argentina's World Cup campaign to date, and that will only heighten when they meet Germany in Saturday's quarter-final encounter in Cape Town. Just like in 2006, Diego Maradona's side have made a good start to the competition, and just like in 2006, they follow a last 16 victory over Mexico with a testing encounter against die Mannschaft.
Four years ago in Berlin, Germany stifled the potent attacking threat of the Albiceleste to pinch a late equaliser through Miroslav Klose, before winning on penalties. Typical Germans.
Maradona's reign has been punctuated by bizarre tactical decisions, leading the Argentines to really stumble through to finals. The mercurial coach has certainly got something right in the early stages of the tournament, though there's still an air around the camp that suggests they can self-destruct at any moment.
The coach was in typically forthright mood when discussing the fixture with the media last Sunday. "We know Germany are a different team to the side we faced in Mexico. They are stronger, but we will field the right players to beat them," he opined.
"I feel like pulling on the jersey and playing myself. It is beautiful to be involved with this group of players, I feel proud to share these moments with them.
"They said I had no idea about how to coach, but suddenly I am winning matches and I am still the same guy."
No doubt the world will truly sit up and take positive notice of Maradona and his side if they can overcome an impressive looking outfit on Saturday afternoon.

Now For A 'Big Team'
It's a mistake not to fancy the Germans. Even with a supposedly average and inexperienced batch of players, as they were billed in some sections of the media before the tournament started, they have progressed to the quarter-finals once more, maintaining a streak that dates back to pre-World War II.
Die Mannschaft smashed England 4-1 in the round of 16, confounding expectations that a tight game might be in store. Captain Philipp Lahm has refused to read too much into that success, hinting that the Three Lions were an over-rated force in the tournament.
"We will be playing against one of the top favourites to win the World Cup, no one is underestimating this opponent, there is no way we can go into this game with over-inflated optimism," he is quoted by FIFA's official website as having told
AFP
.
"We have to show the world we can beat a team like Argentina. Now the big teams are waiting for us and it would be great if we can beat a big opponent. Teams like Brazil, Spain, Holland and Argentina are definitely stronger than England."
Germany's brand of counter-attacking football in their latest victory was pleasing to watch, with many of the nation's young stars particularly impressive. Mesut Oezil and Thomas Mueller were standouts, while Miroslav Klose maintained his fine record of scoring at the World Cup finals.
Underestimate die Mannschaft at your peril.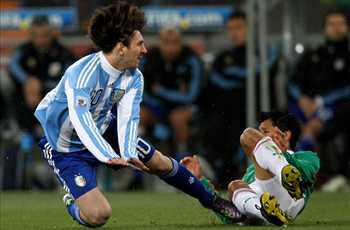 FORM GUIDE

Argentina
WON 3-1 (n) Mexico (World Cup, June 27)
WON 2-0 (n) Greece (World Cup, June 22)
WON 4-1 (n) South Korea (World Cup, June 18)
WON 1-0 (n) Nigeria (World Cup, June 12)
WON 5-0 (h) Canada (Friendly, May 24)

Germany
WON 4-1 (n) England (World Cup, June 27)
WON 1-0 (n) Ghana (World Cup, June 23)
LOST 1-0 (n) Serbia (World Cup, June 18)
WON 4-0 (n) Australia (World Cup, June 13)
WON 3-0 (a) Hungary (Friendly, June 3)
TEAM NEWS

Argentina
Walter Samuel missed out on the victory over Mexico due to injury and there is still a degree of doubt surrounding his fitness ahead of Sunday's tie.
There have been reports in the press that Diego Maradona is considering introducing Javier Pastor into the side, though it would be something of a surprise move, even for the unpredictable coach.

Probable Starting XI:
Romero; Otamendi, Demichelis, Burdisso, Heinze; Rodriguez, Mascherano, Di Maria; Messi; Tevez, Higuain

Germany
After the rout over England there are few reasons for Joachim Loew to make any big changes to his side. There have been no reports of new injury problems and die Mannschaft don't have any suspension issues either.

Probable Starting XI:
Neuer; Lahm, Friedrich, Mertesacker, Boateng; Khedira, Schweinsteiger; Mueller, Oezil, Podolski; Klose

PLAYERS TO WATCH

Argentina

Lionel Messi
may not have scored for the Albiceleste in this tournament as yet but he has been one of their main performers. The diminutive dribbler continues to astound spectators with his close control, balance, technique and imagination. The Barcelona star has been unlucky not to get his name on the scoresheet in this tournament to date and he will fancy his chances of breaking that duck against the Germans.

Germany

Thomas Mueller
struck twice as die Mannschaft defeated England last Sunday, and the young Bayern Munich star is already looking every bit adept on the international scene as he has in the Bundesliga and Europe with die Roten. A dynamic attacking midfielder who is frequently found playing on the right side of an offensive four, he already has three goals to his name in this tournament and is set on adding to that tally over the weekend.

PREDICTION

The Castrol World Cup Match Predictor draws this one almost down the middle. Germany are given a 48 per cent chance of success compared to the Argentines' 52 per cent chance. Much depends on how Argentina's supposedly suspect defence fares. If they can thwart die Mannschaft's counters successfully, it will be another South American success, but if not, Joachim Loew's side will continue on their impressive run. Diego Maradona's reign over Argentina hasn't yet brought a draw, but it might on Saturday.

Argentina 2-2 Germany (aet – Germany to win on penalties) The 2010 World Cup is finally upon us, so keep up to date with all the news at Goal.com's World Cup homepage and join Goal.com USA's Facebook fan page!