PRETORIA, South Africa -- After conquering Group C, the United States Men's National Team turn their attention to Ghana. Bob Bradley only has two days to prepare his squad to face the last African nation remaining in the 2010 FIFA World Cup, but he's not worried. He and his assistant coaches have been scouting potential second round opponents for months.
"Our staff's done an incredible job," the coach said at a Thursday afternoon press conference. "Everyone one of these guys -- Mike Sorber, Jesse Marsch, Pierre Barrieu, Lubos Kubik, Jack Abdul, Mike Jefferies, all these guys -- the work that's been put in. We've had people at games. We've been going through stuff. We had an idea of the crossover possibilities. We've seen these teams play, so it's a credit to the preparation and the work that all these guys have done. They've been super in all the work they've done."
While the U.S. team awaits their match with the Black Stars, their exploits are making waves back home. The manager believes his players deserve to understand the support they are receiving.
"It's important for the players to have a feel for what's going on. I don't have any doubts that in their worlds with their ability to have access to friends, family, media, the whole bit, that they are on top of that," Bradley said. "The only thing we try to do is to balance that out."
He also values when a small cadre of men join together and accomplish an impressive task.
"I'm old school and they know that and, for the most part, they hate that, but the bottom line is that there is something special when a group of people have an opportunity to share an experience, to share on the inside, work, communication, laughs, and to know that at the end those are experiences that no one can ever take away from you," he said. "You want them to be special. You want them to understand going in that you're not trying to take away everything that they enjoy, but you want them to see something and fell something that's different." During the qualification cycle, the U.S. excelled in tournament settings. Bradley credits them with helping to establish a unified squad.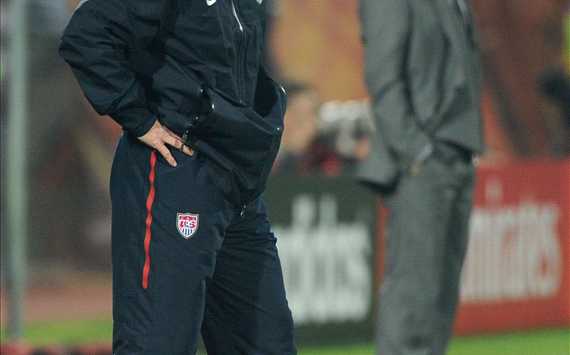 "The tournaments along the way are important because it's time together," he said. "From the time that the group got together last year before the qualifier in Costa Rica and then through the game in Chicago through Confederations Cup, that's a lot of time together so you have a chance to prepare for what it's going to be like."
"Our goal was very simple," the coach continued. "You talk at the very beginning of the cycle you want to make sure that the experiences along the way mean that when you get to the World Cup, things are solid, that there's a foundation. It's not like you're trying to come up with new things at the end. There's a trust. There's an understanding. There's a way of working. That's what you try to accomplish during the previous years and in this particular case, I think that the leadership of the team understood that. These guys have taken ownership in terms of how we do things and they get the credit."
Noah Davis (@noahedavis) covers the United States Men's National Team for Goal.com and is reporting from the World Cup in South Africa.
Become a fan of Goal.com International on Facebook! Just click onto Facebook.com/Goal to join the beautiful game's leading fan community...