When Landon Donovan tucked away the winner against Algeria in the 91st minute, a sea of red, white and blue roared in Pretoria, South Africa, but more importantly, across the United States, bars, living rooms, and undoubtedly offices exploded with the same jubilation.
For United States players, their 1-0 victory over Algeria and the accompanying ticket to the knock-out stage of the World Cup are more than a win and advancement in a tournament – they won their group over England, and with that, utmost respect and support from their country.
"It's unbelievable," said USA midfielder Benny Feilhaber, who replaced Herculez Gomez at halftime. "Obviously, it's got a lot of significance to us - it's the first time we've ever done that, I think. We definitely never doubted it was possible."
In a moment of joy and celebration, Feilhaber can be excused for his lapse in memory. The United States had finished first in its World Cup group before – in 1930. But few will argue the country's accomplishment 80 years ago matches this year's group win in terms of significance to the sport in this country.
Included in that small group of people would not be United States head coach Bob Bradley, who praised the passionate United States fan base that has arrived in South Africa this month in decorated, spirited droves. He believes his team's recent form, including today's victory over Algeria, has created a strong American support and appreciation for soccer.
"One of the nicest things tonight was when we were going to the stadium, and the street was lined with U.S. supporters, waving flags, dressed up, chanting 'U.S.A.,' knocking on the bus, and you don't always have that," Bradley said. "And to have that happening at the World Cup in South Africa… I think that was a really special thing. So to finish the night with a great win, we go hand-in-hand with the kind of support that we do have and that shows that we're making big steps."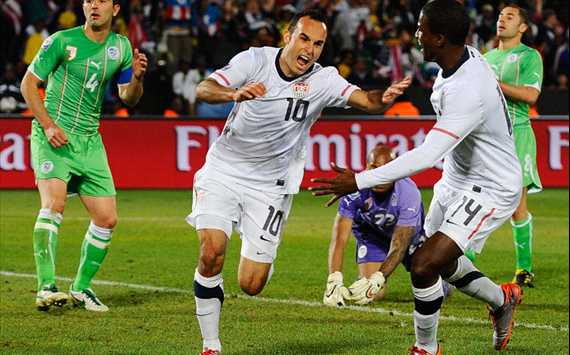 But while fans in South Africa and the United States cheered alike, the real celebration was down on the pitch. After unjustly disallowed goals, shots ringing the posts and dozens of almosts, the United States players had finally broken through their group.
"I don't know if I can really describe that feeling," Feilhaber said. "I just remember we had a pretty good run. I think we had three or four against two. I was just trying to keep up with the play in case the ball got loose. It did, and Landon (Donovan) was there. As soon as he put it in, the only thing I thought about was to celebrate and enjoy it right now."
And celebrate it he did, along with Donovan and the rest of his teammates from both the field and the bench. From their passionate celebration, any spectator, American or not, could see what the moment meant to the United States players. In what will surely go down as one of the country's most historic matches, these players stamped their ticket to the knock-out phase in almost mythic fashion . While the moment was vital for their tournament life in the World Cup, Feilhaber and company also understand what it meant for their sport in the eyes of a country on the edge of its seat.
"It was really important – for us, for soccer in our country, for our fans," Feilhaber said. "I think we proved that we're a difficult country to beat, and we're going to keep growing as a soccer nation."
The United States will have its next opportunity to grow as a soccer nation against Ghana in the round of 16. After a controversial penalty saw the United States exit the 2006 World Cup at the hands of Ghana, the Yanks will have not only a thirst for revenge spurring them on, but the eager, impassioned support of an ever-growing soccer nation.
USA vs. Ghana will kick off Saturday at 2:30 p.m. ET.
The 2010 World Cup is finally upon us, so keep up to date with all the news at Goal.com's World Cup homepage and join Goal.com USA's Facebook fan page!