Though he didn't score in the USA's 3-1 victory over Australia, Landon Donovan did enough to be considered the main threat England must face in their upcoming World Cup opening match.
It wasn't as if Donovan could expect to fly under the radar, given that he is the all-time USA goalscorer and assist leader for the American side.
In his column for the
Sunday Times
, Everton coach David Moyes. who brought Donovan to Merseyside for a ten-week loan, highlighted specific qualities of the Galaxy midfielder.
"For the United States to have a good World Cup, they'll need Landon to do well," Moyes wrote. "He's the one who can give them some special moments.
Moyes praised Donovan's work ethic while at Everton.
"He's the kingpin of the American team, the closest thing his country have to a big soccer star, yet he has no ego," Moyes attested. "You noticed it after about a minute of his first game for us, away to Arsenal. He was playing on our right. The ball got knocked down the line, Gael Clichy set off on the run and he turned and tracked Clichy, step for step, for 70 yards."
Americans are not a foriegn element for the Scottish coach, who previously brought in Brian McBride on a loan and installed Tim Howard as his #1 goalkeeper. It was the American work ethic that Moyes believed would serve the USA well versus England.
"Landon epitomises the total-effort, team-focused American attitude that will confront England on Saturday," Moyes claimed. "Landon is not Wayne Rooney and he's not Lionel Messi, in that he's not going to beat you single-handedly, but if there are good players around him who can give him the ball in the right areas, he will hurt you. The problem for the USA is supplying Landon properly."
Moyes also highlighted Clint Dempsey as a player who adds a different dimension to the attack of the Stars and Stripes side.
However,
Telegraph
writer Harry Winter didn't bother considering anyone other than Donovan as a real risk to England.
"For all Clint Dempsey's bright forays down the left and Edson Buddle's eye for goal, the Americans' real danger emanates from the quick feet and clever mind of Donovan," Winter surmised.
Winter observed how Donovan created attacking moments versus Australia.
"Donovan drifted inside, doing much of his most eye-catching work in playing little triangles, particularly with Fulham's Dempsey and Buddle, his Galaxy buddy," Winter wrote.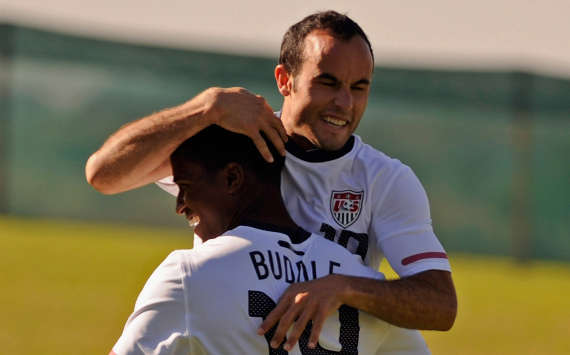 Howard, however, was also singled out by Moyes.
"He's a fine lad and a really good keeper," Moyes praised. "I can only think of one mistake he made in the whole of last season, which shows his consistency."
Yet Moyes had a specific message for England concerning Howard.
"I have a warning for Frank Lampard: we've done a lot of work with Tim on penalties. As proved by his performance in the shootout in our 2009 FA Cup semi-final and a couple of saves from the spot last season, he's excellent at saving them."
Visit the U.S. national team page on Goal.com for more and join Goal.com USA's Facebook fan page!