For many people it's hardly fun jumping into a month of watching a sporting event if they don't really know what's going on or know who they might like to see play, or which teams are worth checking out.
I mean, I watched parts of the Winter Olympics, but curling? Other than Canadians, few people know what the rules to that game are or why one team is better than the other.
When I think of it that way, I understand the plight of the die-hard American sports fan, the one that doesn't watch much soccer, but would hate to miss out on the biggest sporting event in the world. And luckily for that fan, Goal.com is here to help.
What you really need to know to enjoy an event is who fits into the mold of your favorite teams. Maybe you're a National League fan and still hate the DH, or you're a fan of grind-it-out American Football. Don't worry, we will point you in the right direction. Maybe you love to see the LeBron Jameses of the world take over games, or to watch the Saints air it out over and over again. We've got you covered, too.
What you'll find below is a style guide. A little something to help you see some of the teams from an American sports perspective and point you to the squads you'll want to keep an eye on. We'll start close to home and work our way through most of the favorites.
USA

Style: Effort over technique, power over precision
The USA wins games because they outwork other teams. The fitness regiment Bob Bradley's team goes through is absurd, bordering on crazy, but it works. While the team has a number of players with nice skill sets, they rely on playing as a team and working hard to overcome their shortcomings.
American Sports Comparison: Ohio State University Football
Like the Buckeyes, the USA has been a power in their region for a while now. Both teams play hard and come prepared to win, but on the biggest stage, they're usually not the most talented team on the field.

Mexico

Style: Technique over torque, skill over size and power.
Mexico usually puts forth a team very adept at keeping the ball in their possession and controlling the pace of the game. They lack in front of goal from time to time, but generally can go toe to toe with anybody in the middle of the field.

American Sports Comparison: 1990's Nebraska Cornhuskers Football.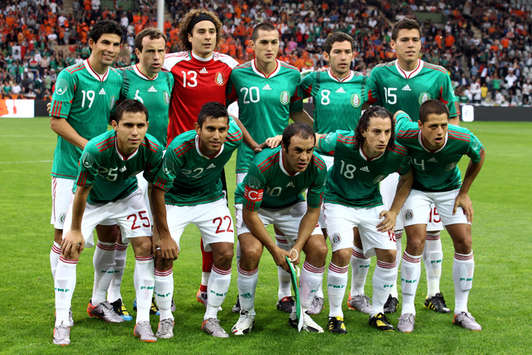 Mexico wants the ball, and they want to pressure the ball when they don't have it. They're completely content to hold the ball, pass it sideways and slow the game when it suits them. Sure, they have the ability to break out and go up-tempo, but like the Tom Osborn option teams, they win as much by controlling the game as by overwhelming opponents with attacking prowess.
Brazil

Style: Free flowing attacking soccer, with a bit of punch on the defensive end.
Like Mexico, the Brazilians want the ball. Unlike Mexico, they like to drive at goal every chance they get. A star-studded lineup mixes size and speed with almost unrivaled technical ability. If the Brazilian's have a fault, it's that they don't throw as many people forward as they once did, but are still susceptible to the counterattack.

American Sports Comparison: Indianapolis Colts
Superstar Kaka, who always seems to be more dominant with Brazil than with his club teams, plays the part of Peyton Manning, keying the attacking. Robinho and Luis Fabiano provide plenty of weapons around him. There is no doubt they'll score goals in South Africa, and they'll do it with style and class. What is still in question is if they can be had on the defensive end. Like the Colts they have some superstars, but their defense often relies on the team controlling the pace of the game.
Spain
Style: Calm and controlled, with the ability to strike at any moment.
The Spaniards are like an extremely lethal version of Mexico. Fernando Torres, when fit, is among the best strikers in the world and he might not even be the best on the team if David Villa is on top of his game. The midfield is the best in the world, and the defensive line is big, fast, and good enough to spark the attack. Did I mention their starting goalkeeper might also be the best in the world?

American Sports Comparison: 2007-2008 New England Patriots.
Best players, lethal offense, solid defense, favorite to win it all, impressive record over the last couple of years. Sounds a lot like the Patriots that went undefeated in the regular season back in 2007. Want to know what else makes this comparison great? The Patriots coughed up the title in the end, and the Spaniards have a history of doing that in World Cups.
Argentina/Portugal
Style: Speed kills, and having the best player(s) in the world never hurts.
The debate goes on about who is the best player in the soccer world. Is it Lionel Messi (Argentina), or Cristiano Ronaldo (Portugal)? No matter which side you fall on the end result is the same. These teams are fast, love to run right at opponents, and have phenomenal players to spark the attack. Neither really enters as a tournament favorite, but both could be good enough to make waves.
American Sports Comparison: Cleveland Cavaliers
For those of you looking to see a LeBron James on the soccer field, check out Messi and Ronaldo. These guys are freaks of nature, much like King James. Unfortunately, like Cleveland, neither of these two sides boasts a strong enough supporting cast or a great enough coach to put them over the top without something special from the superstars.
England

Style: The neighborhood bullies. Bigger, faster, stronger.
Most teams on the world stage struggle to match England for size and speed. What the Brits do well is move forward in numbers quickly. Led by the bulldog that is Wayne Rooney, the Three Lions are always a threat on set plays and counterattacks, and they're never afraid to give a hard foul if things aren't going their way. It's a direct approach that goes against what Spain and Mexico do, but it can be very exciting to watch.

American Sports Comparison: USC Trojans Football
They'll bend a rule from time to time, put forth talented players with questionable character, and outmuscle opponents whenever possible. They may not win too many titles, but like the Trojans, they're always a tough out.
Italy
Style: You can't beat us if you don't score on us.
The Italians are old school. They defend better than anybody else and are completely content to do so. Goals come when they come, from whatever place they come from, and a 1-0 win is still a win the Italian people can be happy about. Throughout the years the game has changed, become faster and more attack oriented, and yet the Italians hold strong to their defensive ways.
American Sports Comparison: Syracuse Orange Basketball
It's not Jim Boeheim's 2-3 zone, but the Italian defense is just as hard to figure out and break down. What makes it even more difficult, much like Syracuse, is that you don't see it done that way too often, at least not with the discipline Marcello Lippi's squad has.
Holland

Style: Technical genius mixed with tactical awareness and good athleticism.
The Dutch are masters at their game but consistently underperform on the big stage. This group should be a powerhouse and will undoubtedly provide some moments of brilliance in South Africa. What make the Dutch a threat is that they can play many styles and never look out of their comfort zone. With good athletes and great technical skill, they pose a real threat to any team on any day.
American Sports Comparison: San Antonio Spurs
You always expect the Dutch to be in the running for a title and they can be dangerous playing any style. You want to make it a fast game? They have players who can match you and exploit that. You want to slow it down and try to beat them in the middle of the field? They can do that too. Like the Spurs, you never want to see Holland on your side of the bracket.
Germany
Style: Limit mistakes, force mistakes out of the opposition.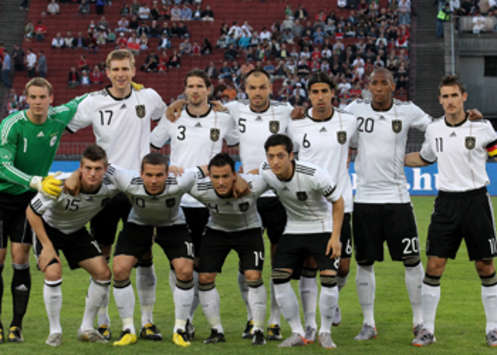 The Germans are known for being gifted, but their true gift is in not making mistakes. Like the Italians, Germany's defense is always solid. They'll be big, fast, and well versed in playing as a group rather than as a collection of parts.

American Sports Comparison: Baltimore Ravens
Germany will play good defense, try to turn their defensive pressure into points, and limit mistakes. Unfortunately their Ray Lewis, midfielder Michael Ballack, will miss the World Cup with an injury. But the Germans always have enough talent to be a threat and will have plenty to say about the outcome of the World Cup this time around as well.
The 2010 World Cup is fast approaching, so keep up to date with all the news at Goal.com's World Cup homepage and join Goal.com USA's Facebook fan page!