The U.S. national team took a tour of the White House today, meeting President Barack Obama, former president Bill Clinton, and Vice President Joe Biden along the way.
The 23-man roster which will travel to South Africa to compete in the 2010 World Cup on Sunday received a guided tour by Biden before meeting Obama. Clinton is a member of the U.S. bid for the 2018 or 2022 World Cup.
"We are privileged to represent the United States in the 2010 FIFA World Cup, and that honor has been magnified many times over by the welcome we received today by President Obama, Vice President Biden and President Clinton at the White House," said U.S. Soccer president Sunil Gulati. "Our country's leaders clearly understand and appreciate what the World Cup means to all people of the world. The support they've shown, along with the American people, for our journey to this historic World Cup as well as our bid to host the tournament in 2018 or 2022 has been immense and inspirational."
On Wednesday, U.S. head coach Bob Bradley sliced his preliminary 30-man roster down to 23 names. That final list will play one last friendly on U.S. soil on Saturday before embarking for South Africa.
"It was a great honor for our team to visit the White House and meet President Obama, Vice President Biden and President Clinton," said Bradley. "We are proud to be representing our country in South Africa, and there is no greater way to reinforce that message than to hear it directly from the President of the United States."
Full RosterGoalkeepers:
Brad Guzan, Marcus Hahnemann, Tim Howard.
Defenders:
Carlos Bocanegra, Jonathan Bornstein, Steve Cherundolo, Jay DeMerit, Clarence Goodson, Oguchi Onyewu, Jonathan Spector.
Midfielders:
DaMarcus Beasley, Michael Bradley, Ricardo Clark, Clint Dempsey, Landon Donovan, Maurice Edu, Benny Feilhaber, Stuart Holden, Jose Francisco Torres.
Forwards:
Jozy Altidore, Edson Buddle, Robbie Findley, Herculez Gomez.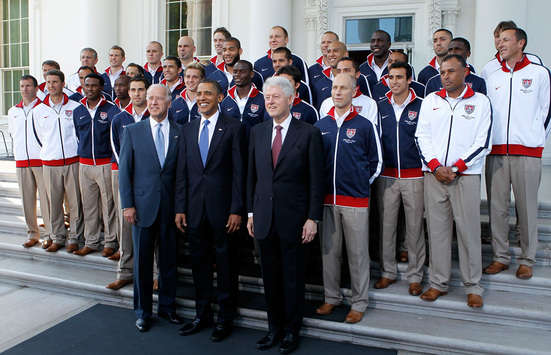 Visit the U.S. national team page on Goal.com for more and join Goal.com USA's Facebook fan page!