Few footballing greats are lucky enough to retire from international football on a high note. Off-pitch controversies saw Stefan Effenberg and Roy Keane end their international careers prematurely. More recently, Oliver Kahn missed out on a clean sheet in 2006, one day before the great Zinedine Zidane was sent off as France lost to Italy in the World Cup final.
Michael Ballack makes no exception. In his last club match of the year, the Germany captain suffered ankle ligament damage that has ruled him out of the World Cup. This summer's competition was likely to be Ballack's final tournament for country, but a disgraceful challenge from Kevin-Prince Boateng has denied the Chelsea midfielder a swansong.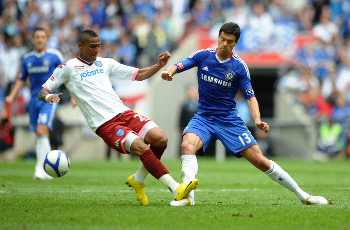 Already,
queries are being raised
as to who can take over for Ballack, both as a player and a leader. Heiko Westermann, Sami Khedira, Christian Traesch, and Torsten Frings have been suggested, but none of these holding midfielders offers the versatility of the injured captain. Each would satisfy Joachim Loew's need for a new #6-type midfielder, but Ballack's combined attacking and defensive prowess can only be replaced by one man: Bastian Schweinsteiger.
Of course, when it comes to players of Ballack's stature, there never is a like-for-like swap. Still, as the only true box-to-box midfielder available in Joachim Loew's squad, Schweinsteiger most closely fits the mold of his injured compatriot. The Bayern Munich star is a bit more apt to dribble than Ballack and will direct die Mannschaft's build-up at a higher tempo, but will otherwise offer the same ball control and distribution that has characterized Germany under Ballack's captaincy. That much we know after watching Schweinsteiger reinvent himself as a holding midfielder this season, a position in which he has established himself among Europe's finest.
The only thing left for Schweinsteiger to do is make the jump from "star player" to "team leader." Having already earned 73 appearances for Germany, the 25-year old is well on his way towards eclipsing Lothar Matthaeus' record of 150 caps. That fact alone strongly suggests that he will, one day, captain die Mannschaft. He likely will not be given the armband for the upcoming World Cup, but the title is not necessary for "Schweini" to have such an effect: as vice-captain of Bayern Munich, he has already become a leader. Now, he will have to replicate his transformation on the grandest stage of all.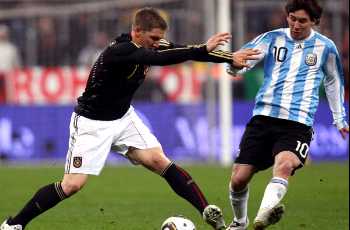 On this day, we can pay tribute to Ballack for all he has done in for his country. A leader like him comes perhaps just once per decade. As the 2010's begin, Germany will hold its collective breath, hoping that Schweinsteiger will become the next such kapitaen. We will soon find out whether he has the mettle to take the reins for country. But first, he has a Champions League final to win.
For all the German news you can handle, check out Goal.com's Germany homepage and join Goal.com USA's Facebook fan page!