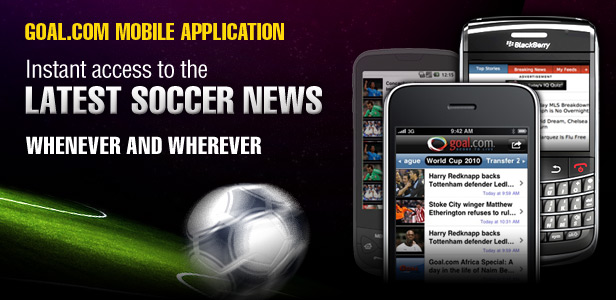 As the FIFA World Cup finals close in on us,
Goal.com
and Handmark®, the leading creator and distributor of mobile applications and services, are pleased to announce the popular Goal.com mobile application is now available for smartphone users around the world in four different languages - English, Spanish, French, and Italian.
The new mobile application delivers instant, real-time access to breaking Goal.com soccer news, including the most extensive coverage of the FIFA World Cup finals.
The entire World Cup is at your fingertips, but that's not all. Whatever your soccer passion is, the mobile application is here to satisfy them all. The application features easy-to-navigate tabs, including:
Breaking News from across the world, fully illustrated with photographs
World Cup 2010 updates
All the Champions League action
News from the major leagues of England, Italy, Spain, and many more
The famous Goal.com Transfer Zone - get informed in time for the summer transfer window
With so much on offer, you need to get to the heart of what you want. For your benefit, the application also features a customizable "My Feeds" tab, where you can access your own favorite news feeds or follow the team you support.
Share your soccer interest with the world. Articles from Goal.com Mobile can be shared or saved via social bookmarking, email and social networking sites.
If you're a loyal soccer fan, you want the news when
you
need it. We dedicate this to supporters around the world who need to have round-the-clock instant access to the latest soccer news and updates, especially during World Cup season.
More, this mobile application is available on more than one edition of Goal.com. Besides Goal.com USA (in English), the application is available for Goal.com UK (in English), Goal.com International (in English), Goal.com USA Latinos (in Spanish), Goal.com Latin America (in Spanish), Goal.com Spain (in Spanish), Goal.com France (in French) and Goal.com Italy (Italian).
The Goal.com application is available to download for Nokia (S60 5th edition), iPhone, BlackBerry, Android and Windows Mobile smartphones free at www.handmark.com or by going to http://m.goal.com/app directly from a mobile browser.
Additionally, the application is featured in Nokia's Ovi Store and available to download through the Apple App Store and BlackBerry App World.
Then, that's it! You have Goal.com Mobile Reader – all the latest news at your fingertips and in your pocket.