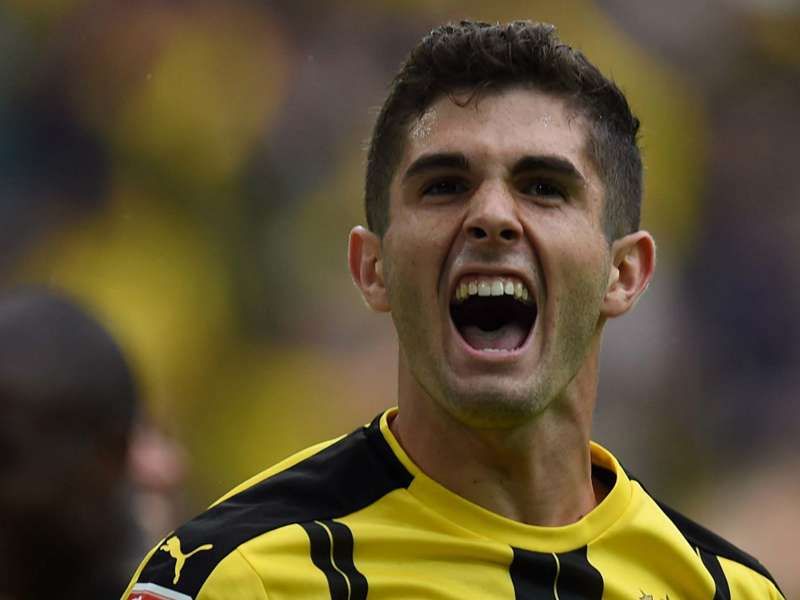 To put the year Christian Pulisic just had into proper perspective, you have to consider where he stood when 2016 began.
Pulisic was a Borussia Dortmund youth player who earned an opportunity to train with his club's first team during its winter break. Even that accomplishment alone seemed like a big step for the then-17-year-old American, but little did we know it was just the beginning.
POLL: Who is the most influential person in U.S. soccer?
As the year comes to a close, Pulisic has made history on multiple fronts for club and country. He played his way into minutes for Dortmund in the spring, and eventually a starting role in the fall. He stepped up against high-level competition in the UEFA Champions League. His rise on the national team level mirrored his club success, as he made his U.S. debut in the spring before breaking out in the fall and establishing himself as a national team starter, setting new marks as the youngest player to play for, and score for, the United States.
Now, that player who hadn't even made his professional debut 12 months ago is finishing 2016 as a player who has boosted his stock more in one year than any American before him. Now, a who's who of top European clubs are showing interest in his services, some even making sizable transfer bids only to have Dortmund make it clear Pulisic is staying put for now.
That meteoric rise has helped Pulisic claim the 2016 Goal USA award as the most influential person in American soccer. Chosen as the winner by Goal USA editors, Pulisic earned the honor over U.S. Soccer president Sunil Gulati, former Swansea City manager Bob Bradley, Atlanta United owner Arthur Blank, Seattle Sounders rookie Jordan Morris and members of the U.S. women's national team.
"If you asked me last November where I thought I would be, I would not say where I am now, so obviously I wasn't expecting it to all go so fast with things at Dortmund and then with the national team," Pulisic told a roundtable of reporters back in November. "But it's not like I can't believe it, because it's my dream. It just came faster than I thought it would. I know that I completely deserve to be here."
Pulisic's on-field accomplishments are enough to earn him the nod, but it has been as much about what he represents. He has become the great American hope for a U.S. national team program in a state of flux after the firing of Jurgen Klinsmann. U.S. fans have been yearning for a world-class talent to emerge, and the national team program still hadn't found a star to replace Landon Donovan or, more recently, Clint Dempsey. Pulisic's success with the U.S. and Dortmund made him an easy player to anoint as the next big thing in American soccer.
Pulisic has done his part to justify the hype, showing well against the likes of Real Madrid as he continues to earn minutes on a Dortmund squad loaded with elite-level attacking options.
The buzz started building early in the year, when he first started earning minutes for Dortmund, and especially after he became the fourth-youngest player to score a goal in the German Bundesliga. Then-U.S. coach Klinsmann wasted little time bringing him into the fold, giving him his debut in Columbus, Ohio, in a World Cup qualifying win against Guatemala.
Just eight months later, at that same stadium in Columbus, Pulisic earned a starting nod against archrival Mexico and was even the subject of the pregame tifo unveiled by U.S. fans, many of whom could be found wearing jerseys with his name printed on the back. The display showed just how much American fans had embraced Pulisic as the future, and even the present, of the national team.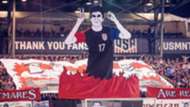 It does seem like a lot for an 18-year-old to handle, but Pulisic has shown incredible poise and maturity in the face of mounting expectations.
"Mentally it can be a lot. I think for young players it is tough at such a young age dealing with the pressures," Pulisic said. "Luckily I've just had a lot of people around me that have helped me through it because I wouldn't even be close to where I am if I didn't have the support system I do. I wouldn't be able to do it on my own. That's the really important part about it."
As for dealing with the pressure that comes with being, in the eyes of some, the future of American soccer, Pulisic insists he isn't fazed.
"The pressure I give myself from within is what drives me," he said. "I've always been hard on myself, so I expect so much out of myself that that pressure can be inspiring at time."
Pulisic is no stranger to the pressure to perform, having left the U.S. at the age of 16 to make his way through the difficult youth ranks at Dortmund. Many an American has made the move to Europe as a teenager only to fall well short of his dreams. Pulisic not only succeeded in navigating past the point where many had failed, he has now set about blazing new trails for future Americans to aim for.
He has done all that in just 12 months, which has to leave American soccer fans drooling at the prospects of what he will be able to do now that he has a year of professional experience under his belt.