JACKSONVILLE Fla. — Trinidad and Tobago coach Stephen Hart isn't generally one for hyperbole. So when he reacts the way he did when asked about Christian Pulisic, the 17-year-old American sensation who could be lining up against Hart's team on Tuesday night, you could tell he was genuinely impressed. His eyebrows raised and he nodded his head before saying what most observers believe about Pulisic after his most recent appearance for the U.S.
"He's the real deal," Hart told Goal USA. "That's easy to see."
Pulisic's two-goal, one-assist cameo in last Friday's World Cup qualifying win against Saint Vincent and the Grenadines was enough to impress Hart, and U.S. fans alike, and has pushed him in line to earn his first national team start in Tuesday's qualifier against Trinidad and Tobago.
While Hart believes the U.S. will start Pulisic, U.S. coach Jurgen Klinsmann spent part of Monday continuing his campaign to calm expectations about the young midfielder, even though he never actually came out and said he wouldn't start Pulisic on Tuesday.
"We're looking at the strongest lineup to beat Trinidad and Tobago," Klinsmann said. "This is it. This is World Cup qualifying. This is not the time to experiment. We can talk about that when everything is done and we have friendlies, but not World Cup qualifying. We take this very seriously.
"The guys were very professional and very focused going into Saint Vincent and the Grenadines" Klinsmann added. "It's not easy. There are a lot of new guys coming with us. They got the job done and we expect the same approach and the same attitude from the first second (on Tuesday night). It will definitely be the strongest lineup that we think is right to get the points."
When asked directly about Pulisic's role for Tuesday, Klinsmann repeated many of the same comments he made after last Friday's match, but again, made no direct comment about whether Pulisic would or wouldn't start on Tuesday.
"I think in general it's important to give younger players time and have that patience, and when the moments are there, give them minutes," Klinsmann said. "You have to make sure it all comes at the right time. We are all excited about a very special talent when he comes through there. He has a long, long way to go and he hopefully goes a long way with many, many years to come."
"We make sure that he's comfortable in our group and we make sure he grows with experience with the older players," Klinsmann continued. "It's wonderful to see that. There will be setbacks throughout his career, but right now it's going very smooth for him. We're hoping that, when he gets back to Dortmund, he gets his minutes there too. It's not easy. They are fully loaded on their roster."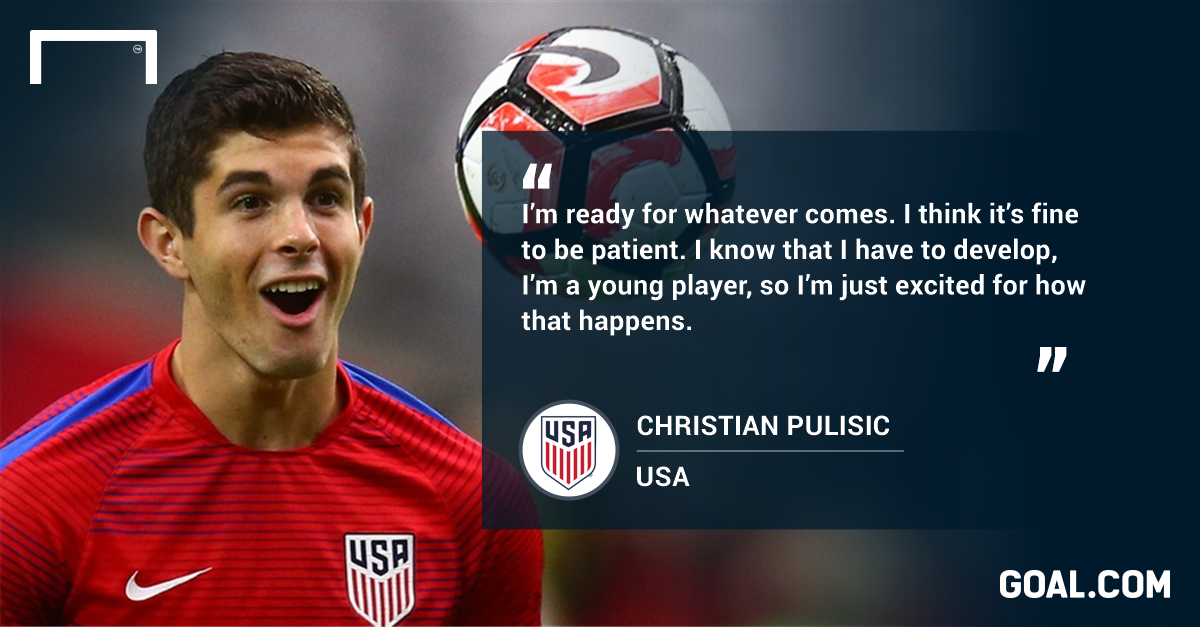 Just six months removed from his national team debut, Pulisic is still searching for his first start, and it could come Tuesday. He has embraced the role of national team newcomer, even admitting to having pranks played on him by national team veterans, who he says have embraced him and made him feel welcome. As for whether he will start, Pulisic says he is fine trusting in Klinsmann's approach.
"I'm ready for whatever comes," Pulisic said Monday. "I think it's fine to be patient. I know that I have to develop, I'm a young player, so I'm just excited for how that happens."
Pulisic has impressed his U.S. teammates, who have praised his maturity and humble demeanor, as well as his prodigious skill.
"(Pulisic's) comfort level, on and off the ball, and movement off the ball, and the way he sees things and the way he calms himself down in the final third and still puts the final play together is at a really high level, especially for a 17-year-old," Sacha Kljestan told Goal USA. "It would be a high level for a guy who's played 10 years. He's got a bright future, and we're all very excited. Linking up with him, even in training yesterday, is easy. He reads the game well and it's easy to play with him."
Pulisic has found himself stuck in a fierce battle for playing time at Borussia Dortmund, which bolstered its midfield options with the likes of fellow teen sensation Ousmane Dembele and World Cup winners Andre Schurrle and Mario Goetze, along with the continued presence of star winger Marco Reus. That logjam led to reports of transfer bids made for Pulisic, and even claims that he was unhappy at the club. When asked about whether his fight for minutes at Dortmund was a negative, Pulisic made it clear he doesn't believe it is.
"It's not frustrating. I think it's good to have competition," Pulisic said. "I think it's normal to have competition once you get to the professional level. I'm just ready for it and I'm just excited for the challenge."
The fight for a starting role on the current U.S. team is a bit less demanding. With Gyasi Zardes and Clint Dempsey not in the squad, there are more minutes to go around in midfield. Veteran Graham Zusi started against St. Vincent and the Grenadines, but Pulisic looked more impressive, albeit after the U.S. already held a 3-0 lead and the opponents were worn down. Fabian Johnson was another midfielder in the last U.S. game, but Klinsmann could be tempted to play him at left back to help deal with Trinidad and Tobago's dangerous wingers.
That leaves Pulisic as a logical starting option on Tuesday, and having his first national team start come in front of a pro-U.S. crowd eager to see him play, and against an opponent expected to field a young team after having already qualified for the Hex, makes plenty of sense.
"When I have the feeling that I need to hold him back a little bit, I will hold him back. When I have the feeling that I need to let him go, I will give him a go," Klinsmann said on Monday. "Having him now and seeing that learning curve also throughout the Copa America, as coaches, it's important to see every training session and how he progresses and how he gets more confident and takes people on. It's fun to watch."