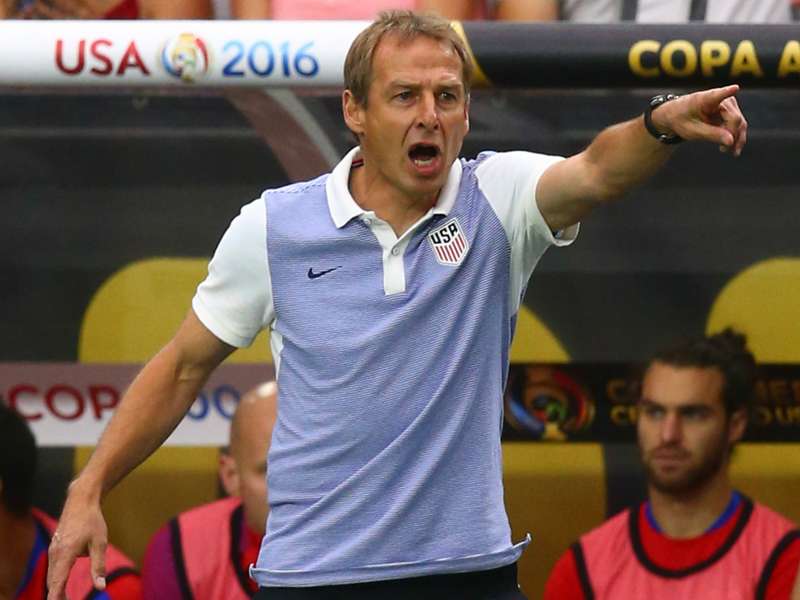 You may have spent the past week hearing about how important the U.S. national team's next two matches are. Yes, World Cup qualifiers are inherently important, particularly when the team playing in them hasn't qualified yet, but it might feel just a little bit phony to some who look at a game against Saint Vincent and the Grenadines, then one against Trinidad and Tobago, and feel like the U.S. winning them should be a foregone conclusion.
There have been plenty of examples of seemingly easy matches winding up much tougher than expected, such as the U.S. team's loss in Guatemala in March, and Jurgen Klinsmann has reminded his players of that very fact. The thing is these matches are about more than just the six points on the line, or even about the need to avoid an embarrassing result. The real value is in the opportunity these matches give the U.S. to build confidence and momentum in a team that will find itself in some truly difficult qualifiers in just a few months.
For those who have not looked ahead, if the U.S. wins its qualifying group — and a pair of wins in the coming days would do just that — then the U.S. will begin the hexagonal round of World Cup qualifying by hosting Mexico and traveling to Costa Rica in November, which is just three months away.
That Mexico-Costa Rica double is as tough a start to the Hex as the Americans could face, but Klinsmann and his team would likely embrace that early challenge if they could ride into November on a winning streak, playing good soccer and polishing up new contributors to the lineup.
That is what Friday's visit to Saint Vincent and the Grenadines can help provide, and what Tuesday's clash with Trinidad and Tobago also can deliver. As easy as these matches may seem, they still carry the added difficulty World Cup qualifying also provides, and both matches almost certainly offer a tougher challenge than the looming friendlies in October against Cuba and New Zealand. Easy qualifying wins haven't exactly been a hallmark of Klinsmann's tenure as U.S coach—even against weaker opposition. That is why a pair of convincing qualifying wins to start September, after a respectiable Copa America, would have the U.S. primed for a chance to kick off the Hex in strong fashion against their toughest competition in the region.
On some level, Klinsmann is probably relishing the chance to see how his team performs without the experience and quality of Clint Dempsey, Michael Bradley and Jermaine Jones, or the athleticism and dynamism of John Brooks and Gyasi Zardes, in the lineup on Friday. He has spoken recently about wanting younger players to step up and take on bigger roles on the team. Well, now there are five of the team's Copa America starters who won't be on the field in Saint Vincent, so several players will have their chance to step in and try to keep the U.S. from taking a step back after taking a step forward at Copa America.
Does that mean Klinsmann is going to turn to young faces on Friday? It's possible, but it his track records suggest he will lean on a veteran group, and this is what his lineup could look like: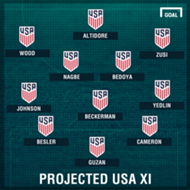 This lineup would give Klinsmann the speed he needs on the flanks to deal with Saint Vincent and the Grenadines' quick attackers, while also giving him midfielders who can win the possession battle and provide service to Jozy Altidore and Bobby Wood.
So why Nagbe over Sacha Kljestan? Nagbe has been in with the team over the past year and shown well when given opportunities. Kljestan has been away for more than two years so it's tough to see him get the nod in this qualifier, though you could see him against Trinidad and Tobago.
And Matt Besler over Steve Birnbaum and Omar Gonzalez? This one is much trickier. Besler hasn't been in the best of form this season with Sporting Kansas City, but he's the one true natural left-footed left center back on the roster. Klinsmann has partnered right-footed center backs together before, so it's not as if we couldn't see someone other than Besler, but if we do, it will more likely be Birnbaum than Gonzalez. Birnbaum has looked sharp when given chances by Klinsmann, and Klinsmann probably hasn't forgotten how bad Gonzalez looked in Guatemala last May.
Klinsmann already announced that Altidore would start, and be captain for Friday's match, leaving the big question to be whether Altidore would be the target striker in a 4-3-3, or if he would be partnered with Bobby Wood in a 4-4-2. In this projection, it's the former. Klinsmann can go with either Bedoya or Zusi on the right wing. Some might ask for Jordan Morris, but it's tough to see someone with his lack of experience starting on the road.
This brings us to Christian Pulisic, who U.S. fans can't wait to see take on a bigger role with the national team. Wait they will though, because Pulisic hasn't been playing for Borussia Dortmund and it makes much more sense to bring him off the bench than start him on the road in Saint Vincent. For players like Pulisic and Morris, the Trinidad and Tobago qualifier makes more sense, especially if the U.S. already has secured a place in the Hex.
Will Klinsmann have any wild card lineup moves? If he does, it could be Michael Orozco starting at right back and DeAndre Yedlin playing in a more advanced role, or possibly being on the bench. Orozco has been starting regularly at right back for Club Tijuana, while Yedlin has yet to start a match since Copa America as he sorted out his club situation. Klinsmann could choose to split starts between the right backs.