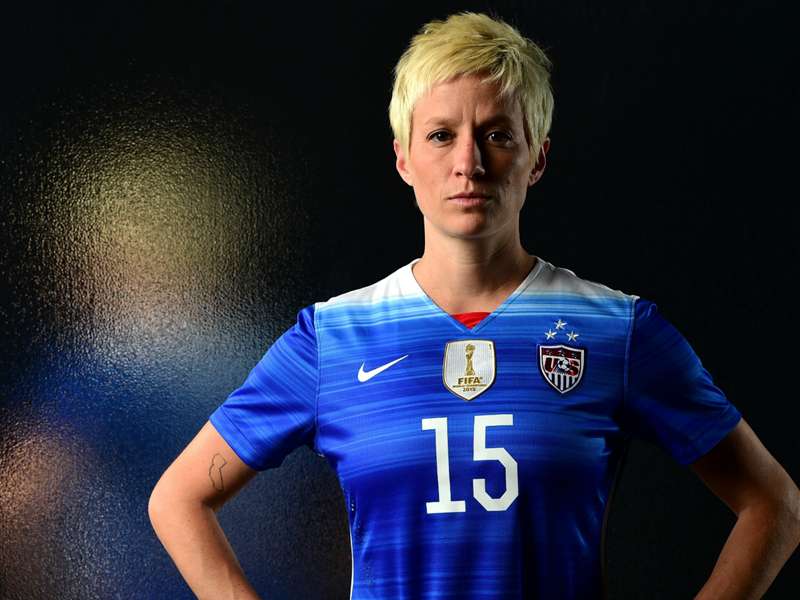 ---

EXCLUSIVE
---
Megan Rapinoe doesn't fancy herself as a particularly prolific mathematician, but it didn't take her long to crunch the numbers upon tearing the ACL in her right knee in December.
Looking ahead to the Summer Olympics in Rio de Janeiro, the U.S. national team midfielder promptly pinpointed the magic number: eight months.
Then an expletive or two came to mind. "That," she thought, "is not enough months."
So she buried the tournament in the back of her mind. Get healthy first, then take it from there. If she could recover from surgery, trudge through rehabilitation and get back on the field in time to impress U.S. coach Jill Ellis, her flickering Olympic dream just might endure.
With the Americans' opener in Brazil just a week away, the 31-year-old still hasn't played in a match for club or country since suffering the injury during a U.S. training session in Honolulu. But Rapinoe hit a key milestone when she returned to full training earlier this month ahead of an Olympic tune-up against South Africa on July 9 in Chicago.
Three days after that game, Ellis rolled the dice and named Rapinoe to the 18-player squad for Rio.
"I'm not just trying to say, 'Oh I thought I wasn't [going to make it] and now I'm here and it's amazing,'" Rapinoe told Goal USA. "That wasn't my mindset at all. I knew how close it was and of course I wanted to go, but I really didn't focus on the Olympics. I focused on my rehab that day, and I really tried to keep that mindset and keep that perspective because otherwise you drive yourself absolutely insane."
As Rapinoe watched from afar this year, the U.S. team evolved. A first-place finish at CONCACAF's Olympic qualifying tournament came in February, followed by a triumphant SheBelieves Cup run in March.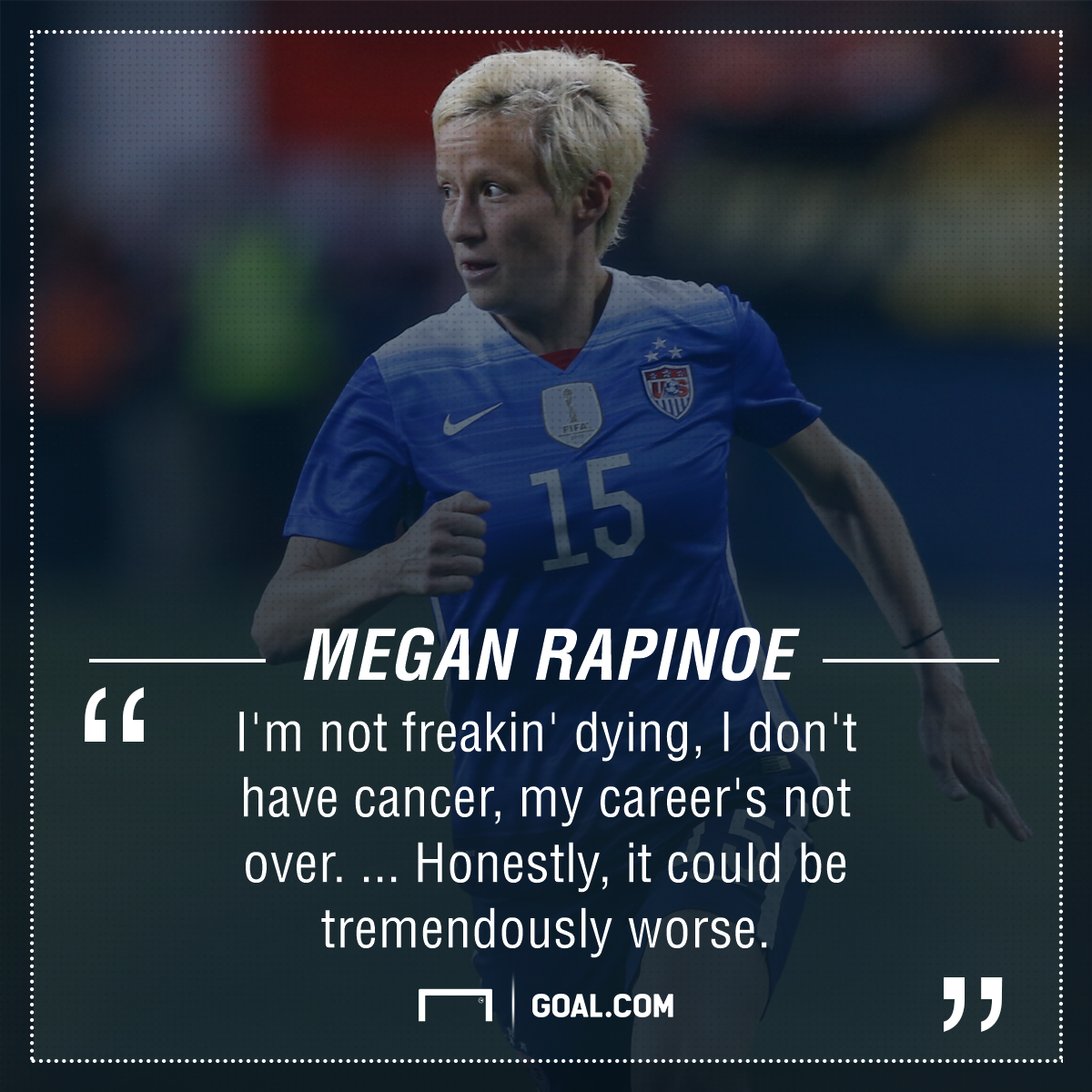 While the youthful likes of Crystal Dunn and Mallory Pugh thrived on the flanks in Rapinoe's absence, there always was a sense that the 113-cap veteran shouldn't be counted out. For all of the talent at Ellis' disposal, replacing a Golden Ball finalist from a Women's World Cup champion is easier said than done.
"Right when her injury happened, I watched and I thought, 'She's 100 percent going to make it back for this Olympics,'" U.S. forward Christen Press said. "I saw it in her eyes. I saw that she wasn't going to doubt herself, she wasn't going to pity herself. Even within a day she was already speaking positively about coming back and had a smile on her face and really carried herself in a way that I really did believe she was going to make it the whole way."
Rapinoe harvested optimism from a variety of sources. Having twice torn the ACL in her left knee during college, Rapinoe approached the rehabilitation process free of the "low-lying, anxious energy" that comes with unfamiliar ailments. She also said the injury was as simple as ACL tears come, with no notable damage to the rest of her knee.
After Michael Morris — the Seattle Sounders' chief medical director and father of U.S. men's national team striker Jordan Morris — performed the ACL reconstruction, Rapinoe worked with physical therapy group G4 Athlete, the Seattle Reign staff and trainers from U.S. Soccer to ensure she had a well-rounded recovery.
"I had bad days, I had frustrating days and days where I was pissed off, days where I asked the 'Why me?' question," Rapinoe recalled. "But I think overall you really do have the option or the choice in at least how you approach the situation. It doesn't mean that you have to be happy every day, but this happens and I can't do anything about it and there's not really any productive way to dwell on it, so you just get on with it."
Rapinoe grasped silver linings wherever she could find them. She took the time away from the field to travel, and was able to rest several minor injuries that had been lingering for years. She also poured more time into Rapinoe SC, a youth soccer organization run on a day-to-day basis by her sister, Rachael. As the creative director, Rapinoe has helped host clinics and contributed to the company's apparel line.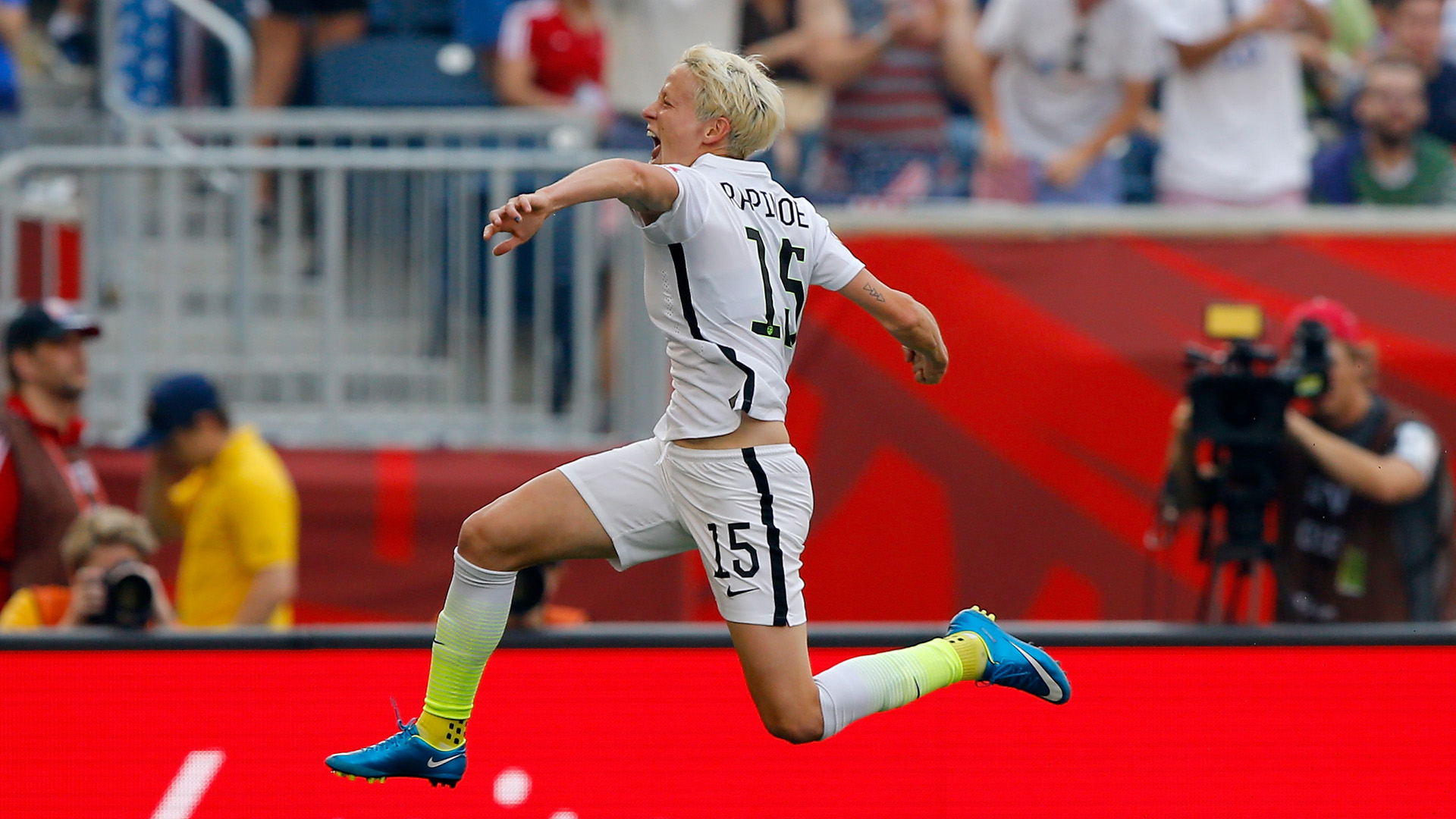 All the while, a "litany of emails" were exchanged among the various personnel evaluating her recovery. As well intentioned as that communication was, the level of scrutiny at times left Rapinoe flustered.
One person who did keep her distance? Ellis, who checked in once a month or so but otherwise kept the pressure off Rapinoe.
"She sort of left me alone," Rapinoe said. "Even from the first day that it happened, she's like, 'Listen, we have time. Whenever you're ready you tell me and we'll get you back in.' She was really hands off in a good way."
It wasn't until early June that the conversation between Rapinoe and Ellis turned to the Olympics. Although both parties realized Rapinoe was never going to regain a regular starting spot in time for Rio, Ellis relished the idea of having the winger's skill and service as an option off the bench.
"With Megan, we got her into contact, she played, and I think that's the important piece: Are they willing to take a tackle?" Ellis said. "Megan does have an impact in terms of what she can give us on set pieces and her crossing — she's one of the best crossers in the world. So there were certain qualities in there that if I felt we could utilize them enough, if she was indeed healthy to play, that we could use that."
With the finish line in sight, Rapinoe's road to recovery has presented one final hurdle. After suffering a calf strain in Chicago, Rapinoe was held out of the send-off match — a 4-0 win over Costa Rica on Friday — and doesn't expect to take part in the Americans' Olympic opener against New Zealand on Wednesday in Belo Horizonte.
Having only recently resumed running after that setback, Rapinoe said her return likely will come "toward the end of the group stage" as she sets her sights on truly influencing the all-important knockout round Aug. 12-19. Considering the smaller Olympic squad sizes, spending a roster spot on a limited player represents no minor risk.
As a gold medalist at London 2012, Rapinoe understands the intensity cultivated by such a competitive, condensed tournament. Using Olympic elimination games to shake the rust certainly makes for an unenviable task.
But Rapinoe, true to form, is all about perspective.
"I'm not freakin' dying, I don't have cancer, my career's not over," Rapinoe said. "It sounds, I don't know, maybe stupid to say, but I have a wonderful life. This is a part of my job and it's a risk that we have. Honestly, it could be tremendously worse."