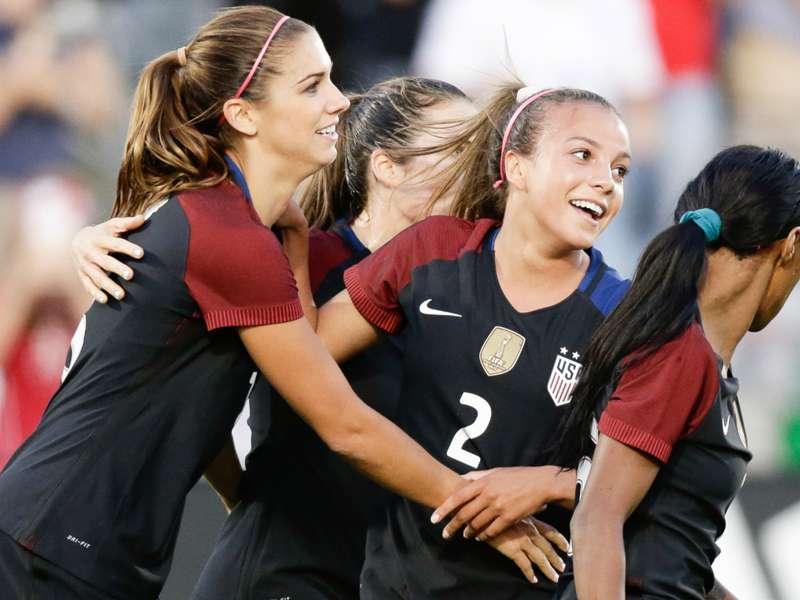 Jill Ellis' squad is selected. The tune-ups are in the books. For the U.S. national team, it's next stop: Brazil.
Bucking the threat of complacency, the U.S. coach has phased out some familiar faces and cycled in a few unexpected newcomers over the past year. She's also pushed aside the systems she leaned on en route to the Women's World Cup title last summer, dropping her 4-4-2 variants in favor of a 4-3-3 formation.
Having picked her 18-player roster earlier this month, Ellis guided the U.S. to a 4-0 win over Costa Rica on Friday in Kansas City, Kansas, to wrap up Olympic preparations that began against the same opponent last August. After 24 matches of evaluation, Ellis has a good idea of what her team will look like when the Americans kick off their pursuit of a fourth straight gold medal against New Zealand on Aug. 3.
What lineups could we see from the U.S. throughout the tournament? Here are three potential permutations: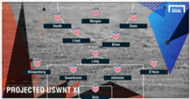 No matter the formation, the defense seems set: Hope Solo between the posts, Becky Sauerbrunn and Julie Johnston in central defense, Meghan Klingenberg at left back and Kelley O'Hara on the right.
Look for more overlapping runs from the fullbacks than we saw last summer, and even the center backs will be expected to take space and join the attack at times. Ellis has placed a post-World Cup emphasis on having her back line more involved in forays forward, which is one reason the more dynamic O'Hara has seized the right back role from steady veteran Ali Krieger.
Ellis' likely starter as a deep-lying playmaker is a name no one would have projected even making the squad a few short months ago: Allie Long. The 28-year-old was looked over for the World Cup, Victory Tour, Olympic qualifying tournament and SheBelieves Cup before earning a surprise recall in April, but she's made the position her own, serving as a slick conduit between the defense and attack.
If 100 percent, Morgan Brian is a lock as well. While she has the soccer IQ to play any of the three central midfield spots, a two-way role is the best fit. After going the full 90 minutes Friday — and finding the score sheet — FIFA World Player of the Year winner Carli Lloyd is set in stone as the No. 10, having recovered from an April knee sprain.
Tobin Heath has played left back, right back, central midfield and on both sides of the front line over the past year, but her best role — when healthy — is wide left. From there, her skill and creativity will be an asset to striker Alex Morgan, who has put her injury troubles of 2015 in the past and scored 11 goals this year.
Speaking of in-form forwards, Crystal Dunn seemingly has the inside track on the final starting spot after racking up 10 goals of her own in 2016 — including strikes in both Olympic send-off matches.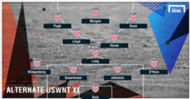 Matters may not be that simple, however. With Brian and Heath limited to late cameos Friday because of hamstring injuries, those players could very well miss out on the starting lineup come Aug. 3.
If Brian isn't ready to go 60-plus minutes, the obvious replacement is Lindsey Horan. The 22-year-old converted forward had a stranglehold on a starting spot before Long came along, and she remains an enticing option as a box-to-box midfielder or in the deeper role.
The absence of Heath, meanwhile, would likely bring Mallory Pugh into the fold, though her blend of speed and awareness has the 18-year-old pushing Dunn for a starting spot anyway. And don't forget about Christen Press, a lethal finisher who provides depth across the front line and as a No. 10.
There also is a notable wild card: Megan Rapinoe. The winger still hasn't played a match since suffering a torn ACL in December, and she'll likely be limited to appearances off the bench in the group stage. Yet if all goes well, she could be in contention to start a knockout round match or two.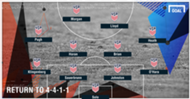 The 4-3-3, of course, isn't the only trick up Ellis' sleeve. Although it's the coaching staff's preferred system entering the Olympics, teams tend to evolve and adjust over the course of tournaments like this one.
If the U.S. has its back against wall, few would be surprised to see Ellis bring back the 4-4-1-1 formation she used in the World Cup semifinals and final. The world saw what Lloyd is capable of when playing close to goal as she claimed the Golden Ball last summer, and she'll probably be picking her moments to push high anyway.
Although this formation isn't as ideal a fit for the likes of Dunn and Pugh, who create plenty of danger in the box themselves, building a team around Lloyd and working from there is a pretty decent approach.