CHESTER, Pa. — It began with the shortlist for the Golden Ball at the Women's World Cup. Next was the all-tournament team. Then the World Player of the Year finalists were revealed, along with the FIFPro XI.
As the international accolades came and went in 2015, Becky Sauerbrunn's name remained unmentioned — and U.S. national team supporters were none too happy about it.
"It's been interesting watching, when I don't get an award, the outcry from fans," Sauerbrunn said. "It's nice to know that people feel very strongly about me as a player, and I get a real sense of satisfaction from that. At the end of the day, what really matters is what my team thinks of me, what my coaches think of me. If I don't make awards, it's completely fine."
While Sauerbrunn boasts 105 caps, she didn't emerge as a regular starter for the U.S. until late 2013. But she made the transition from depth option to defensive anchor a fluid one. When the U.S. posted five straight shutouts en route to the World Cup title last summer, Sauerbrunn served as the glue holding together that stingy back line — even if defensive teammates Hope Solo, Julie Johnston and Meghan Klingenberg drew the external plaudits.
It's within the U.S. program that respect for the unassuming center back increases exponentially. That much became evident when Sauerbrunn finished as the runner-up for U.S. Soccer's Female Player of the Year honors in 2015, and when coach Jill Ellis tabbed her in January as a new co-captain alongside Carli Lloyd.
"Becky has always been that quiet role model, and now that she's actually got the term and label as a captain, I think she finds herself more and more having to express herself and represent the team," Ellis said. "I want her to be our engineer in the back. If there's a problem in our buildup, I want her to be able to solve it, I want her to be able to take control. So I continue to encourage her."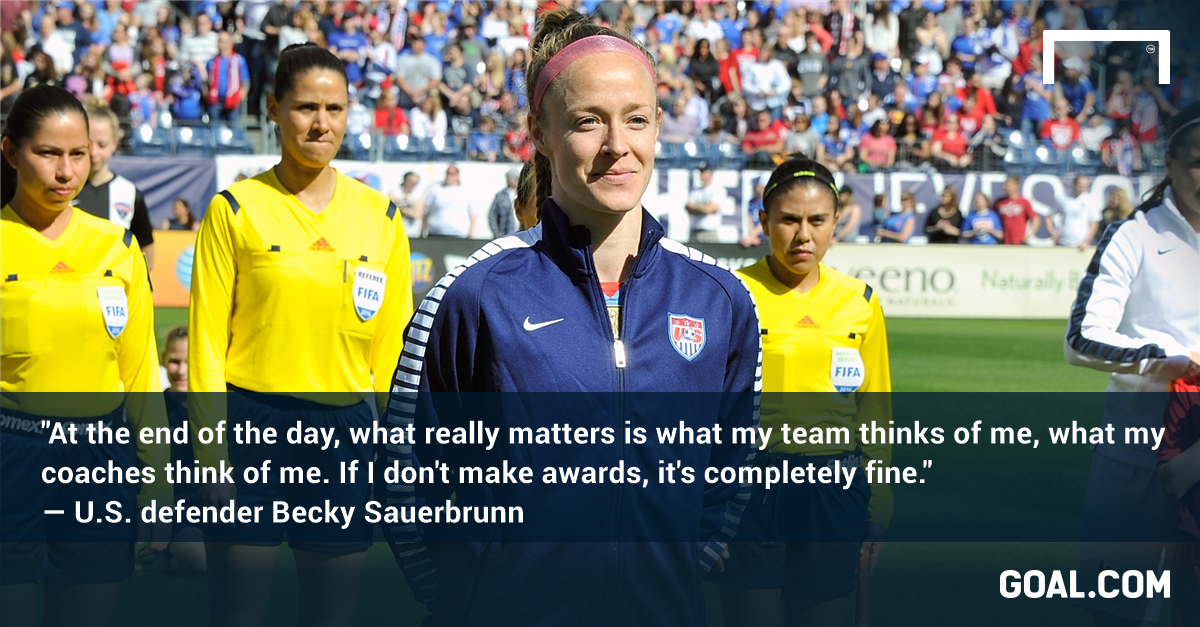 Although longtime captain Christie Rampone remained a key back line organizer through the World Cup qualifying tournament in October 2014, the 40-year-old slid into a reserve role in Canada and has not appeared since September because of injuries. The retirement of deep-lying playmaker Lauren Holiday has taken another influential player out of the equation when the U.S. builds out of the back, placing further responsibility on the shoulders of Sauerbrunn.
As the U.S. recorded a 3-0 win over a bunkered-in Colombia side Sunday at Talen Energy Stadium, Sauerbrunn spent much of her 61 minutes on the field surveying the opponent, directing traffic and pinching into the attack.
"On the field it's gotten better, as far as organizing the players around me in order to follow the game plan that Jill has created," Sauerbrunn said. "I don't know if the players are listening to me more or if it's just I've never really talked as much."
The emergence of Sauerbrunn and Lloyd as co-captains has represented a changing of the guard for the U.S., with Rampone's absence and the retirement of iconic striker Abby Wambach creating a new leadership dynamic. For Sauerbrunn's part, she has been happy to let the likes of Alex Morgan, Kelley O'Hara and Klingenberg take on the "emotional, vocal leader" role that Wambach filled for over a decade.
"Although we are missing those big personalities, we do have people, core veterans, that can fill those spots that maybe Carli and I aren't as proficient at," Sauerbrunn said.
Lloyd added: "Becky and I aren't trying to be people and leaders who we aren't. There's a sense where you have to step out of your comfort zone a little bit, but I think what we do best is lead by example. That's what Becky is doing — she goes out there every day, gives it her all, is very honest and open with people."
While Sauerbrunn isn't one to draw attention to herself, she has had no qualms about being one of five players — joining Lloyd, Morgan, Solo and Megan Rapinoe — who signed a federal complaint last month alleging wage discrimination against U.S. Soccer. It's a responsibility she has embraced, whether she's appearing on NBC's "Today" show to discuss the divide or relaying legal information to the players.
By inking her name to the paperwork on behalf of the full national team, Sauerbrunn found herself taking another step out of the shadows and into the spotlight.
"I feel so strongly about it, and I was very willing to take on whatever came from signing the complaint," Sauerbrunn said. "Maybe getting on television is a little out of my character, but I'm so willing to fight and talk about this issue and bring awareness to it that I don't care."
PODCAST | Sit-Down Special with U.S. national team forward Crystal Dunn