HARRISON, N.J. — Bradley Wright-Phillips could not put the ball in the net on Saturday night.
Not with his feet, or his head. Not from distance, or close range. Not from three yards out, or the penalty spot, or outside the penalty area. He hit everything but the net, but mostly Wright-Phillips hit Sporting Kansas City goalkeeper Tim Melia, who was as much to blame for Wright-Phiillips' anguish as anybody on Saturday.
Melia recorded six saves in Sporting KC's 2-0 victory, four of which were on shots by Wright-Phillips, including a penalty kick Melia swatted away with a perfectly-timed dive to his right. That shot was one of 10 Wright-Phillips took in search of his first goal of 2016.
He's still waiting for that first goal.
"it's very frustrating as a striker when you're getting these chances, you want to put them away," Wright-Phillips said on Saturday. "Again it's not today, it's not the day. I'm not disappointed in the chances, but the penalty I've got to be scoring that one. There's a chance to be getting back in the game. I messed up."
As much as Wright-Phillips has become the poster boy for the struggles of a team that has scored in just one match this season, he is far from alone. The scoring problem is a team-wide issue, and as much as generating chances offered a consolation on Saturday, the fact remains that the highest-scoring team in MLS in 2015 has hit a funk, which is why the Red Bulls have already been shut out more times in the first month of 2016 (four times) than in all of 2015 (twice).
"To be honest with you, I'm not sure how to explain it," Marsch said after Saturday's loss. "I know that when I'm watching my team play that it's a good team and that we're in many ways executing game plans the right way and in a lot of these games I think we come out in many ways as the better team on the day but walk away with not enough goals and giving up too many. So obviously that is the recipe for losses."
Sporting Kansas City has managed its own recipe for success in 2016. Peter Vermes' hard-pressing team has been one of the better defensive units in the league in 2016, and even on days when Sporting KC does surrender chances, Melia has been up to the challenge with some outstanding performances. That combination has helped Sporting KC allow the fewest goals in the league after five weeks, along with sporting the best record in MLS at 4-1.
"You can tell when Tim (Melia) gets going it's pretty hard to beat him," Sporting KC defender Ike Opara told Goal USA. "He's one of the best shot stoppers in this league, and he's proven it over the past year."
Sporting KC needed Melia to step up on Saturday, as he made a handful of top-shelf saves against a Red Bulls team that generated plenty of chances. More, in fact, than Sporting Kansas City did. The visitors didn't create much, but did finish the few chances that came their way.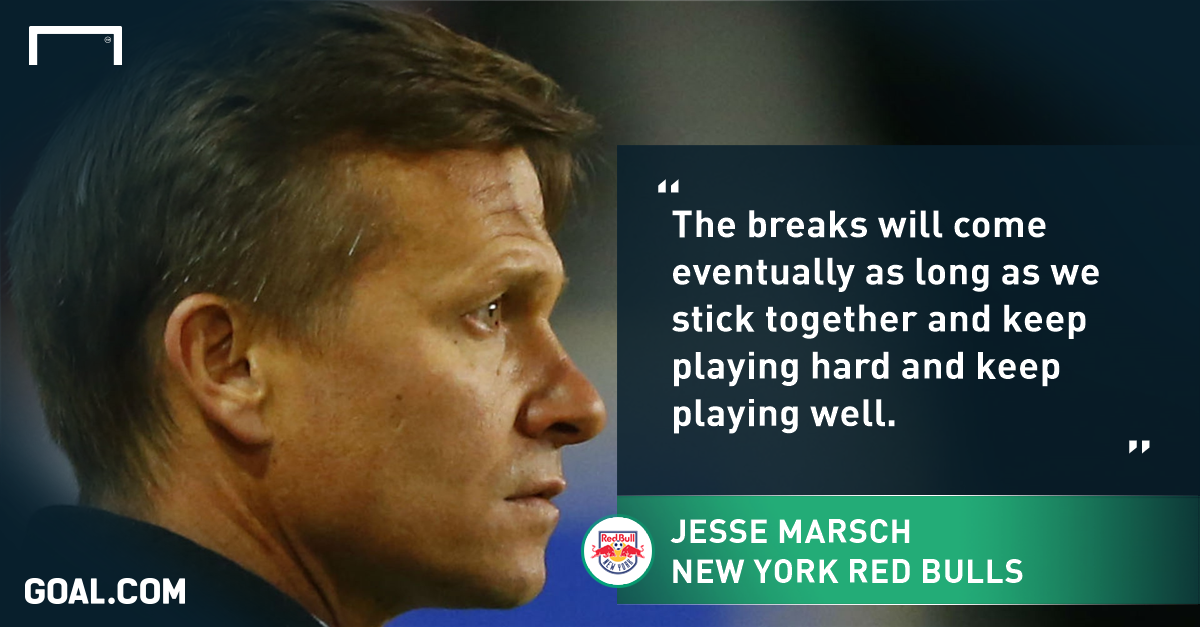 "I'll be honest, they played the game better than we did today, but we had some breaks, took advantage of some poor defensive plays on their side of things, and we're lucky to get out of here with three points," Benny Feilhaber said. "Having said that, at the end of the season nobody's looking back and seeing what kind of game you played six months ago. All that matters is the points. We feel very happy about coming in here. In the second half I think we put a pretty good tactical performance to close down the defensive line and not give them too many opportunities."
Both teams will now turn their attentions to multi-game weeks starting with Wednesday night clashes. Sporting KC plays host to Colorado, while the Red Bulls will hit the road in their search for goals and the type of consistent play that has been lacking this year. They face the San Jose Earthquakes on Wednesday, in search of goals and in search of the form that made the Red Bulls the 2015 Supporters' Shield winners.
Will the Red Bulls hit the road feeling good about having created chances, or will they have nightmares about the missed chances on Saturday? Based on the post-match comments, it sounds as though there is still confidence within the Red Bulls, even if goals and points have been in short supply.
"My belief in our team being a good team hasn't wavered at all," Marsch said. "It's just a funny thing to see how things have materialized in these early parts of the season. I mean, you could almost draw a lot of little cliches and metaphors for what happened tonight as what's been happening in our season.

"So we can't feel sorry for ourselves. The breaks will come eventually as long as we stick together and keep playing hard and keep playing well."