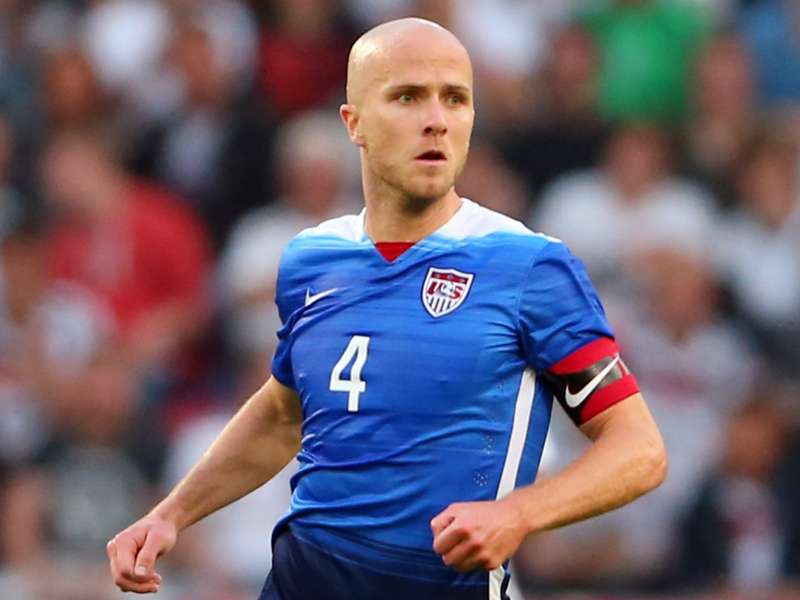 NASHVILLE, Tenn. — United States coach Jurgen Klinsmann said he named Michael Bradley as captain for the CONCACAF Gold Cup to allow Clint Dempsey to step out of the spotlight and train his focus on his performances.
Bradley will wear the armband for the duration of the tournament after Klinsmann opted to give him the responsibility this week. Klinsmann met with Dempsey this week to discuss the furor surrounding his dismissal in a Lamar Hunt U.S. Open Cup match last month and figure out the best way forward.
After speaking with Dempsey this week, Klinsmann said he decided to make the change in order to free Dempsey to channel all of his energy into retaining the Gold Cup this month.
"I think it was just important to take the heat off of Clint," Klinsmann said during a news conference ahead of Friday's friendly against Guatemala. "It was a dramatic moment for him. I just saw it on the Internet -- I was still in Europe after the two games in Holland and Germany. It's nothing you want to go through, and he knows that.
"It was his first red card ever. At the age 32, that's quite amazing. I was at a different number at that time."
"Things happen," Klinsmann continued. "It's important that you talk through that stuff and try to understand the mindset of the player when he goes through a mistake. Coming up so quickly with this Gold Cup, we thought it was best to pass on the captaincy for the next couple of weeks to Michael."
Bradley served as captain for the team in each of the past five matches -- including the victories in Netherlands and Germany last month -- and welcomed the opportunity to wear the armband in his first major tournament.
The 27-year-old midfielder said Klinsmann pulled him aside after breakfast earlier this week to share his decision with him.
"It's a huge honor and a big responsibility, certainly one that I'm very excited about," Bradley said. "But it doesn't change who I am. I've said before that I am who I am, whether I was the captain or not. I always will be."
It is a measure designed to pull Dempsey away from the scrutiny that followed him for much of the past two weeks. Dempsey received a three-game ban from MLS and a six-match (or two years, whichever period is greater) Open Cup suspension from the Open Cup Adjudication and Discipline panel after he reached into the pocket of referee Daniel Radford, pulled out his notebook and ripped it to shreds in the waning stages of a 3-1 defeat to Portland on June 16. In the wake of withering criticism of his conduct, Dempsey issued an apology on Twitter last week.
Dempsey's presence remains vital to the chance of retaining the Gold Cup and securing a place in the FIFA Confederations Cup in 2017. Klinsmann said he wanted to make sure he did everything possible to ensure Dempsey would perform to his usual standards over the next month.
"We need him," Klinsmann said. "We need him on board. We need in a good mood. We need him to be enthusiastic about the next couple of weeks. And we need him to score. Based on all of those things, we thought it was a good move to do that. He's on board with it. Michael is on board with it as well. And then we'll see after how things are going."
Bradley reinforced Dempsey's continued importance within the squad and underscored the presence of several veteran figures within the ranks as the Americans prepare to embark on this journey.
"We're lucky in this team that we have a number of guys with big personalities who come in ready to push each other, ready to compete, ready to lead," Bradley said. "And that's always been the strength of this team. We have guys like Brad Guzan, Clint and Jozy [Altidore] who will be right there with me. There's a feeling amongst us and others that we're all in this together."
Goal.com and FOX Soccer have teamed up to bring you the best in world soccer coverage. Visit FOXSoccer.com, and follow them on Twitter and Facebook.