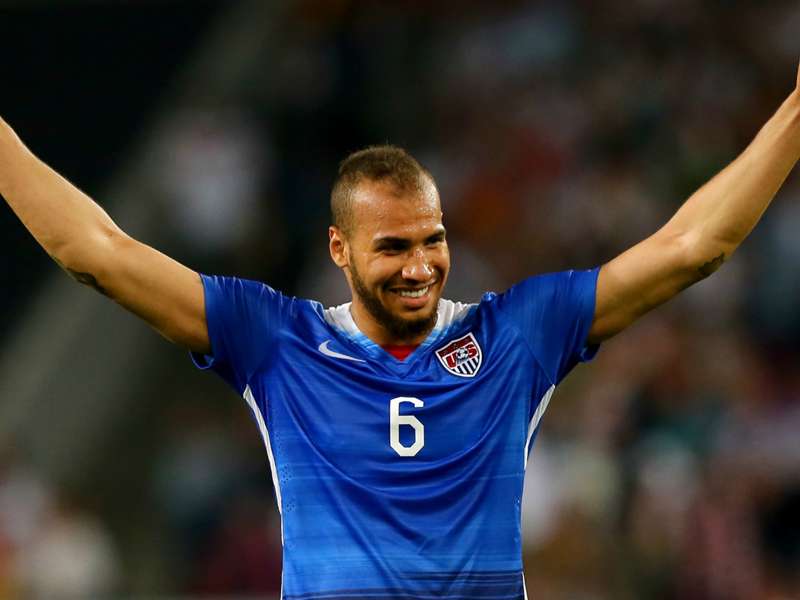 For the first 35 minutes of Wednesday's friendly against Germany, the U.S. national team looked overmatched. The Germans were passing the ball around with deadly precision, leaving the Americans to chase the ball futility in what was looking like a blowout, and just another U.S. loss in Germany.
As discouraging as that stretch was for the U.S., you never got the sense the team lost faith. As soon as the Germans let their foot off the gas, the Americans were ready to take control of the match.
That's exactly what the did. Led by another outstanding performance by Michael Bradley, and another Jurgen Klinsmann master class in effectively deploying second-half substitutions, the U.S. scored a 2-1 victory against the Germans in Cologne. The victory marked the first by a U.S. team in Germany.
Yes, you can argue that Germany came in shorthanded and featured very few of its first-choice players, but the World Cup champion still had more than enough quality to win the match, as evidenced by the dominant first third of the match. That takes nothing away from the fact that a U.S. team stacked with young players took control of the game and outplayed the Germans in the second half on the way to a deserved victory.
The win had to be especially sweet for Klinsmann, who watched his team beat the Netherlands and Germany in a five-day span, effectively erasing the bad taste left by the U.S. team's disappointing post-World Cup record. After Wednesday, matches like last year's blowout loss to Ireland seem a distant memory.
For Klinsmann, who wants to make the U.S. capable of going on deep runs at the World Cup, victories like Wednesday's are the kind he needs the team to produce and experience in order to instill a level of belief the Americans will need.
That, more than anything, is what makes the recent wins so important, and why U.S. fans have every right to celebrate them and enjoy them — even if they were just friendlies. After the run of largely disappointing post-World Cup results, many were wondering whether Klinsmann was making real progress as U.S. coach.
After this past week's results, that isn't such a popular question anymore. Now, the question is just how far can Klinsmann take this team.
As impressive as a win it was for Klinsmann, there were plenty of individual player accolades to pass around, along with a few lingering concerns. With that in mind, here are 10 takeaways from the U.S. victory against Germany:
MICHAEL BRADLEY WAS THE BEST PLAYER ON THE FIELD
With apologies to German winger Patrick Herrmann, who was excellent, no player in Wednesday's friendly was as impressive as Bradley. His pass on Mix Diskerud's goal was exquisite and his work all over the field helped the U.S. take control of the match. He had a golden chance saved well in the second half, but by the end of his second straight Man of the Match performance, you have to wonder if European clubs will start calling Toronto FC with offers. It was clear against the Netherlands and Germany that Bradley can still play at an extremely high level.
GYASI ZARDES KEEPS GAINING CONFIDENCE
The LA Galaxy forward followed up his goal-scoring effort against the Netherlands with another strong outing against Germany. He was especially effective when moved up to forward in the second half, and was once again a handful for opposing defenders. He had a clear-cut chance saved, but played well enough to boost his stock even more in the U.S. pecking order, particularly with Aron Johannsson not showing as well.
KYLE BECKERMAN MAY BE OLD, BUT HE'S INDISPENSABLE
There was an assembly line of younger midfield options poised to replace the 33-year-old Beckerman as Klinsmann's go-to defensive midfielder, but the Germany match offered the latest bit of evidence to show that he remains the best option to anchor the U.S. midfield. His movement, penchant for consistently putting himself in good spots and clean passing help the midfield run smoothly, and he does the dirty work that allows Bradley to shine as a marauding central midfielder. He will eventually be too old, and is probably an unrealistic option for the 2018 World Cup, but for right now, in 2015, he remains the best choice.
JOHN BROOKS AND VENTURA ALVARADO SHOWED REAL IMPROVEMENT
Klinsmann gave the young center back tandem of John Brooks and Ventura Alvarado another start together after the pair looked shaky against the Netherlands, and the response was what Klinsmann had to be hoping for. Brooks was especially effective, showing real confidence on the ball, passing well and keeping himself positioned well to deal with German threats. Alvarado lost his mark on Germany's goal, but eventually settled down and moved the ball around well and stood up to threats. After the recent friendlies, it feels more and more like the Brooks-Alvarado pairing could be the one Klinsmann sticks with on the road to the 2018 World Cup.
MIX DISKERUD NOT READY TO ACCEPT A BENCH ROLE
Heading into the European friendlies, there was little denying that Mix Diskerud was struggling to make an impact with New York City FC after a promising start to the 2015 season. He did not let his club struggles carry over to the national team, as he followed up with a good outing against the Netherlands with a top effort against Germany that included the equalizing goal.
TIMMY CHANDLER CONTINUES TO UNDERWHELM AT RIGHT BACK
Though he had less to do against the Germans than he did against Memphis Depay and the Netherlands, Timmy Chandler still felt like a liability at times at right back. He is often slow to read threatening situations and has to rely on his athleticism to bail him out when he he gets beaten. Chandler had a very real chance to make the starting right back position his for the long haul with these friendlies, but now it remains a wide open race that includes DeAndre Yedlin, Brad Evans and possibly Fabian Johnson. Don't look for Klinsmann to give up on Chandler just yet, but his odds of starting at the Gold Cup are probably less now than they were a week ago.
ARON JOHANNSSON MISSED HIS CHANCE, BOBBY WOOD TOOK HIS
With Jozy Altidore and Clint Dempsey absent, Johannsson had a chance to lead the attack and show that he can generate goals. Instead of an impact, Johannsson was largely quiet over the course of two matches. Rather than close in on the established veterans, Johannsson lost ground to Zardes, and even to Bobby Wood, who scored winners in both matches even as his club situations remains unsettled. Wood had an especially impressive week, and in the process he rewarded Klinsmann's continued faith in him. It is easy to forget Wood's awful finishing in the fall friendlies, which threatened to drop him out of the national team picture entirely.
JORDAN MORRIS NEEDS TO TURN PRO
When Jordan Morris came within inches of scoring just seconds after entering as a substitute, it was a buzz-generating moment that had U.S. fans thrilled at the sight of the young forward once again making an impact. From that close call to his excellent movement on the winning goal, which featured him pulling off a perfect dummy run to create space for Wood, Morris was a difference-maker yet again. After the week he just had, which also included starring with the U.S. Under-23 team at the Toulon Tournament in Franceo, Morris has to be generating interest from European clubs that see the potential, and are aware that he is available via free transfer as an amateur player. Though he still might not make the Gold Cup team, Morris is poised for a big fall as the lead attacker on the U.S. Olympic qualifying team.
YOUNGSTERS MAKE A STATEMENT TO VETERANS
When the roster for these friendlies was announced, the absence of so many key veterans made it feel like Klinsmann was leading a band of youngsters to a harsh introduction to the international game. Rather than crumble, those youngsters took the challenge head on, and in the process positioned themselves to seriously challenge established veterans for starting roles at the Gold Cup. Klinsmann has long yearned for real competition all over the field, and now he has clearly moved a step closer to that. The increased competition for minutes should only strengthen the U.S. heading into July's Gold Cup.
KLINSMANN HAS TURNED A CORNER
After enduring a rough stretch of months after the World Cup, which saw the U.S. pile up the disappointing results, Klinsmann has hit his stride in charge of the U.S., with wins against Mexico, the Netherlands and Germany. He has his young players playing with confidence, and he has shown that he is capable of making good substitutions and in-game adjustments. As much as his young players are growing before our eyes, it feels like Klinsmann is figuring some things out as well. The Gold Cup will provide the real test of how far the Americans have come, but with a pair of confidence-boosting victories, this U.S. team feels every bit like the clear-cut favorite to repeat as Gold Cup champion.