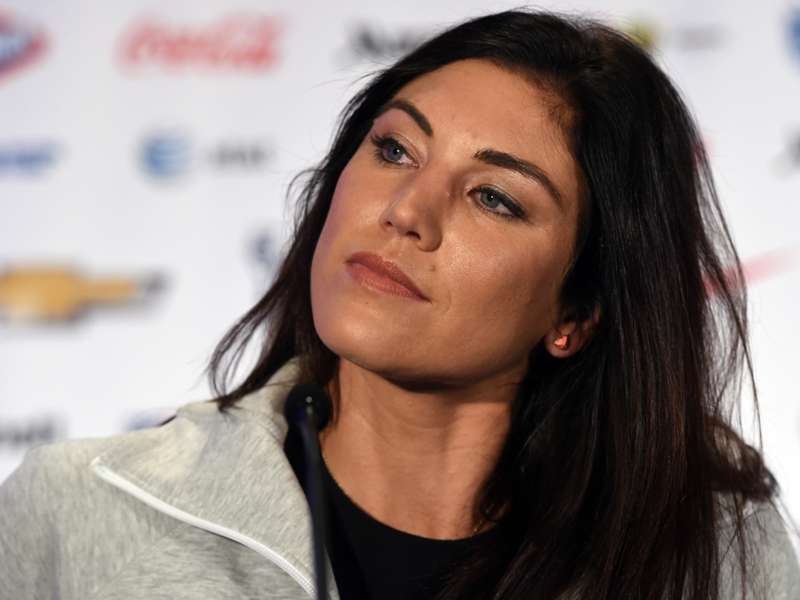 NEW YORK — Legally speaking, Hope Solo isn't out of the woods yet regarding domestic violence charges. But from a mental perspective, the U.S. goalkeeper is doing her best to put the matter in the past.
After a Kirkland Municipal Court judge dismissed the charges against Solo in January, a prosecutor filed an appeal a month later that is poised to keep the case alive beyond this summer's Women's World Cup.
Solo declined to go into detail when asked about the matter during the U.S. national team's media day in Times Square on Wednesday, instead shifting the focus to the upcoming tournament.
"I'm here to talk about the World Cup," Solo said. "But what I can tell is that I'm in the best place in my life, both on the field and off the field. I have great teammates behind me, I have a great coaching staff and I'm just honestly really excited to go to my third World Cup."
Solo was charged in June with two counts of fourth-degree domestic violence assault after being accused of punching and tackling her 17-year-old nephew, as well as striking his mother when she tried to intervene.
The player's attorney has said she acted in self defense after her 6-foot-9, 280-pound nephew struck her with a broomstick.
Solo also served a monthlong suspension earlier this year after her husband, former NFL tight end Jerramy Stevens, was arrested for DUI while operating a U.S. Soccer van in Southern California. Solo, who was with her husband at the time, sat out two matches but returned for the Algarve Cup in March.
The goalkeeper has started all seven games since the suspension and is poised to take part in her third World Cup when the Americans' campaign in Canada kicks off June 8 against Australia.
"I don't feel the excitement in this room — it's been kind of tense," Solo said with a laugh during Wednesday's news conference. "I'm really excited. We're in New York City a couple more days but I think all of us are ready to just fly to Canada, close the doors behind us and just really focus on preparing."