CARSON, Calif. — There can only be one.
While there are multiple slots on the pitch for defenders, midfielders and attackers, teams only get to field one goalkeeper at a time. That means competition for the starting role is always high. That's especially true for national teams and even more apparent at the international level.
The United States has a storied history at position with keepers like Brad Friedel, Kasey Keller and Tim Howard showing staying power and holding off heirs apparent for the starting role. But with Howard on a hiatus from international play and heir apparent Brad Guzan playing in England, it's Real Salt Lake shot stopper Nick Rimando stepping into the No. 1 slot.
Not only is he trying to put his own mark on the team, he's also been tasked with helping to mentor a number of young goalkeepers in the camp, including Sean Johnson, Jon Kempin and under-23 hopeful Alex Bono.
"It's preseason and it's a tough camp, but you want to be sharp, you want to lead these guys in the right direction and show what it's like to be a goalkeeper at this level," Rimando told Goal USA. "Yes, we have a lot of great goalkeepers, and I think all the goalkeepers in this camp understand that. They're hungry and humble, and that's good."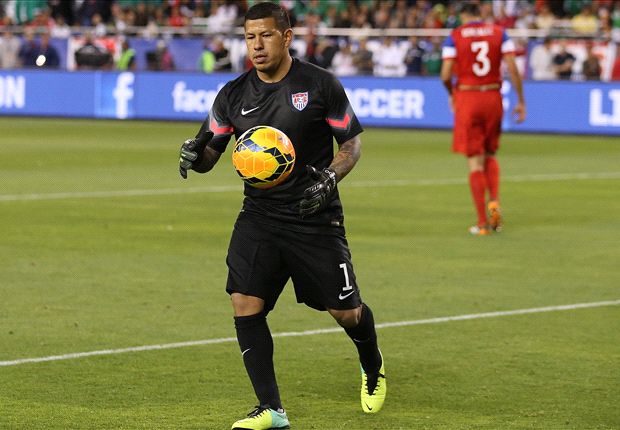 The Real Salt Lake man has 17 national team caps during his 15-year professional career - he started his career with the now long-defunct Miami Fusion - but the 35-year-old had to wait behind a string of other keepers himself, with 11 of the 17 coming since 2013. Rimando has been around the national team and camps before but can empathize with newer players who aren't yet comfortable with the setup.
Confidence is important for goalkeepers, who must communicate with their defense on set pieces and as the match progresses. That's something which can be tough for young players to develop without getting repetitions.
"Coming in here as a young kid, I remember not having a word, not having a mouth out there and kind of just - not that I didn't deserve to be there, but you question yourself being young," he said. "With these new guys, I'm not saying the goalkeepers have that, but I think when they get older and they have more games and they have more confidence they're going to have more of a mouth and more of a presence in camp."
With the Stars and Stripes in a slump, Rimando is ready for a threatening Panama side here in Sunday's friendly, though the fact that the Caneleros will be out for revenge after two goals knocked them out of 2014 World Cup qualifying with only minutes left isn't weighing on the Americans' minds.
"I don't think it plays into this game," he said. "Obviously we're worrying about ourselves and winning the game. We haven't won in a couple games now, and we want to get on the right track again, focus on ourselves obviously playing better on the field and getting the result."