The name Emerson Hyndman is a familiar one in some American soccer circles, but not just because of the fact he made his professional debut with English club Fulham and with the U.S. national team at age 18 last year.
There once was a time when Hyndman was a 13-year-old prodigy in the FC Dallas youth setup, a player with such skill that he could train with the FC Dallas senior team and not be overwhelmed, a time when he was dubbed "the future" of American soccer years before he had even cashed a professional check as a soccer player.
Five years later, thanks in part to the shelter that came with leaving home and avoiding the hype machine by moving to England and developing in the English soccer system, Hyndman has emerged as an outstanding young pro with the skillset to potentially fulfill some of the lofty expectations that were already being placed on him when he was barely a teenager.
Many American fans will get their first extended glimpses of Hyndman in action this month when the young midfielder leads the U.S. Under-20 national team into the CONCACAF Under-20 World Cup qualifying tournament, which kicks off Friday with the Americans facing Guatemala.
MORE:
CONCACAF U-20 preview
"Emerson to me is the ultimate professional," U.S. Under-20 head coach Tab Ramos told
Goal USA
. "He's obviously a very good player, and a better player than people give him credit for."
U.S. SOCCER LATEST

"He's the type of player that makes the other players better," Ramos continued. "He finds open players very easily. He processes information so quickly that when the ball comes to him everything has already been figured out. It's easy for him to come out of crowded situations with a great ball.
"I certainly don't want to put more pressure on him because he's just another player, and this is a team sport, but he's special and has a lot of upside to him."
Though he has been talked about as a prospect for several years, it is the past year where Hyndman's career really took off. Last spring, when Fulham was relegated, Hyndman was still just an academy player, but then-Fulham manager Felix Magath had ambitious plans for the young midfielder. Those plans revealed themselves quickly when Hyndman began the current season in the Fulham starting lineup.
"For all of us young players at Fulham, and quite a few of us stepped up, we had that sense that there was a chance to play here after we got relegated," Hyndman told
Goal USA
. "We saw a lot of players leave pretty soon after we were relegated and I saw an opportunity here, where if we had stayed in the Premier League I don't think we would have had that same opportunity."
Hyndman made his professional debut in Fulham's season-opening loss to Ipswich last August, and while the Cottagers lost, Hyndman impressed. He continued to earn starts in the early part of the season and eventually made his way onto the radar of Jurgen Klinsmann, who called Hyndman into his first senior U.S. camp in September, which also led to Hyndman earning his first national team cap in the U.S. team's 1-0 win vs. Czech Republic.
"I watched them during the World Cup, so to all of a sudden be playing with those guys a few months later really shocked me in a way," Hyndman told
Goal USA
. "As soon as I kind of got to know them, I didn't really think about it anymore. I just knew them as people, not idols. As soon as I settled in it became just a team. Before, I was very nervous and couldn't believe it at the time, but once I settled down it was easy."
Hyndman's growth as a player has been an impressive one for a player who at one time was deemed too small. Growing up, Hyndman was always one of the smallest players in his age group, and his parents even considered looking into seeing if he needed hormone growth therapy similar to what Lionel Messi received in his younger years.
Hyndman eventually grew, and now stands nearly 5-foot-8. He is far from an imposing figure on the field, but his impressive skill and vision allow him to successfully battle in the middle of the field against bigger players.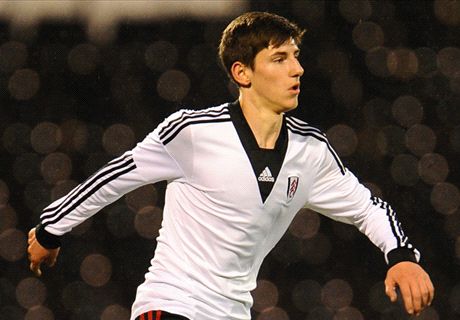 "There's some times when you just have to go for a 50/50 ball, and on a 50/50 ball he's probably going to lose a lot of the times," Ramos said of Hyndman. "It's normal, he's a smaller player, but that's not the player he is anyway. I can tell you that he would normally avoid that situation anyway, and he thinks so fast that he's rarely in that situation anyway."
Hyndman's rapid ascent and long-standing place as a top youth prospect in England has led to growing attention from foreign clubs interested in his services. Sources tell
Goal USA
that multiple clubs in the Spanish first division, including Elche, made transfer bids for Hyndman last August, and even Bundesliga side Borussia Dortmund expressed interest. There is also interest from the Eredivisie.
"I'm getting some time with Fulham and I've been linked with a few other clubs," Hyndman said. "It's been really exciting to hear some of the clubs I've been linked to, but I have a year and a half left on my contract so anything can happen. Right now I'm concentrating on Fulham and playing with the U.S."
Hyndman's focus is now on the Under-20 World Cup qualifying tournament in Jamaica, where the Americans are favored to qualify for the Under-20 World Cup, set for May in New Zealand. Hyndman is expected to be one of the key figures on a team some are calling the most talented American Under-20 team since the 2007 team that featured Jozy Altidore and Michael Bradley.
"It's a good group, a deep group, and if we come together as a team we should be able to take care of business," Hyndman said. "The talent is there, but it still comes down to how we come together, and how we do in the tough games, and there will be some tough games."
Hyndman should play a key role in helping the U.S. Under-20s deal with those tough games, and in the process he should give American fans a good long look at a player who has successfully transitioned from child prodigy with bags of potential to young pro realizing his potential.
Follow IVES GALARCEP
on