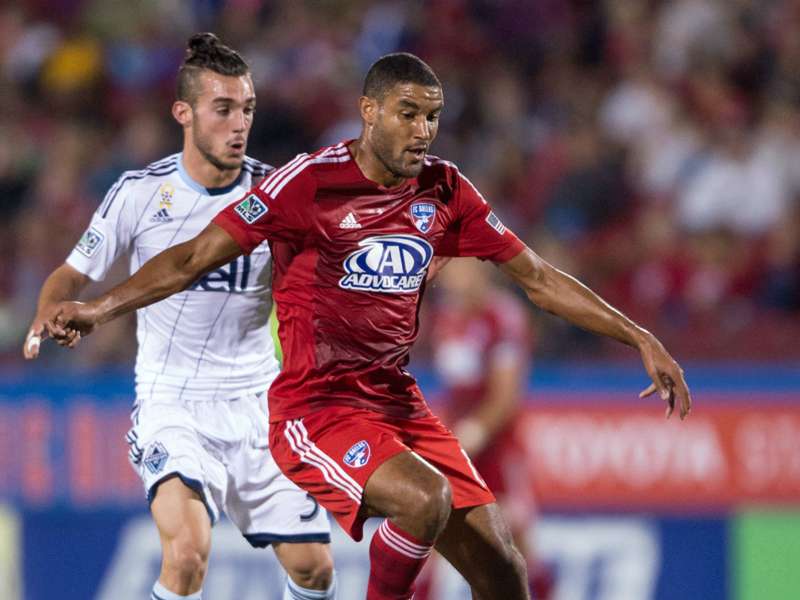 FRISCO, Texas — Suddenly Tesho Akindele's name is on everyone's lips — even if just months ago they had to go into the pronunciation guide to find out exactly how to say it.
The FC Dallas forward made his professional debut in April after becoming the highest Division II draft pick in MLS history when the club selected him sixth in the 2014 draft.
Months later, the Colorado School of Mines product has panned out for coach Oscar Pareja and must feel like the prettiest girl at a dance. He turned down a call-up to the national team of his birth country, Canada, when it faces Panama, and reportedly made the provisional roster for the United States' friendlies against Colombia and Ireland.
But after a few weeks in which it looked like Akindele might make the one-time switch to the U.S. that would be required after representing Canada at the youth level, the 22-year-old has taken a step back.
"It's just crazy. I mean, I couldn't have expected this year for just my name to blow up as big as it has," he told Goal USA as Dallas players cleaned out their lockers Thursday and prepared to begin the offseason. "Like, people know me now, I've had a big year. I'm just trying to kind of process everything slowly, not rush into any decisions.
"Any decisions I make right now affect me for the rest of my career, so I just want to take everything slow and understand where I'm at."
Where he's at feels a bit like trying to choose between his mother and his father, Akindele said. He confirmed that he has had discussions with representatives from both camps but said he hasn't yet worked anything out.
"I kind of explain it like: You have two parents. You have allegiances to both of them," Akindele said. "That's kind of how I feel because I was born in Canada, obviously it's my birth country, most of my family lives in Canada, but also I grew up in the U.S., so I'm pretty loyal to both countries."
His Dallas team was eliminated from the playoffs on away goals, but the defensive effort drew plaudits as it kept the Seattle Sounders' highly rated attack from scoring in the second leg Monday.
Because of that defensive strength, Dallas center back Matt Hedges has emerged as a popular choice among fans hoping to see new faces in Jurgen Klinsmann's January camp. But unlike Akindele, he says he's yet to have any discussions with the Stars and Stripes.
"I've never heard from anybody involved in the national team," he said, pausing. "Yeah. I wish. U-17, U-20, U-23, full? No, never."
Still, the 24-year-old is hoping "it's in the cards" this offseason, and Pareja says the defender would be ready.
While Hedges and Akindele can't compare notes about national team conversations, and Pareja said Akindele is somewhat personal about the decision, the Winnipeg-born attacker does have a teammate that can commiserate about making a national team choice.
Left back Moises Hernandez, a homegrown player who is also eligible to represent Guatemala, has heard from Los Chapines but isn't ready to make a decision.
"Yeah, the truth is we've talked about, but he's the same as me where he hasn't arrived at a decision," Hernandez said. "He has to think about what will be good. It's a big decision in the career of a player, so we'll see what we're going to do."
Hernandez said he would love to represent the United States if the opportunity arose but also said he would be pleased to suit up for Guatemala. At age 22, he isn't rushing to make a decision.
Having so many young players turning the heads of national team coaches is a nice problem to have for Pareja, who says he hopes his players are able to get national team experience.
"I hope so. I hope so," he said when asked about the prospect of Hedges and center back partner Zach Loyd being called by Klinsmann. "We have obviously some communication with the national team coaches, but obviously that is their job. The best thing we can do is just prepare them to be ready.
"I know they're aware. They see the games daily and on a daily basis I know they're capable to make the selection. But the boys will be ready for sure. I can promise you that, and that's something that I can't control. Just help these guys to excel and raise their bar, and I think we have done a good job in that part. So, hopefully they will."