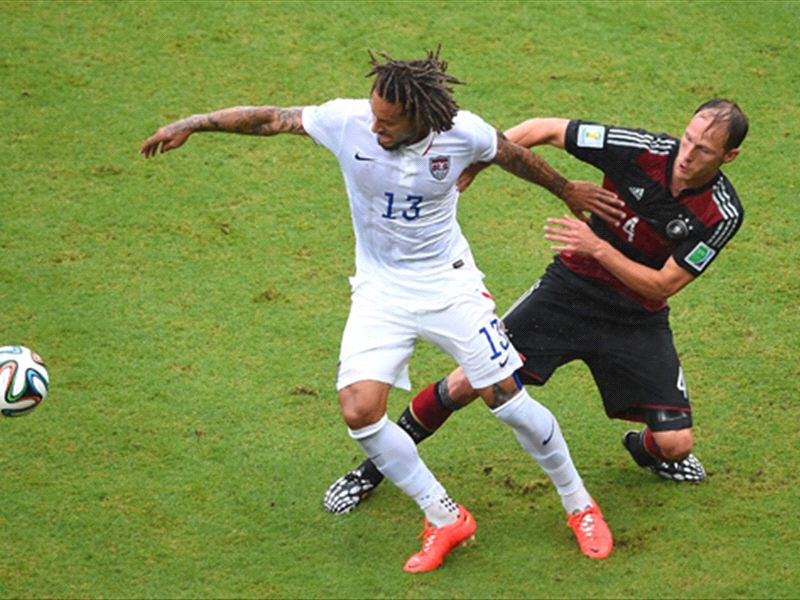 USA midfielder Jermaine Jones could parlay his World Cup form into an MLS contract sooner rather than later.
Goal USA
reported earlier this week that Jones is pursuing a move to MLS
, and it now appears the league is already working on a deal for the German-born U.S. star, whose contract with Bundesliga side Schalke 04 expires next week. Already on his way out at the Veltins-Arena, Jones spent the first half of 2014 on loan to Turkish side Besiktas.
Sporting Kansas City manager Vermes denied his team was specifically targeting the 32-year-old, saying Sporting was "looking at a lot of players at the moment," but did reveal that Jones is in discussions with MLS.
"I have not talked to (Jones) by any means," the Sporting manager said after his team's 1-0 win over Portland on Friday night. "I know the league is talking to him, and we're kind of in the mix like any other team, but right now it's not 100 percent. It's somebody that we would keep on our radar, but it's not a decision that we've said 'hey, this is the guy we want.'
"You also have to consider the allocation ranking. Toronto has it right now, so anybody that comes back as a national team player, they have the first rights unless they want to trade that away."
Vermes, a former U.S. national team player who scored in the 1990 World Cup, also had words of praise for the Sporting KC pair of Matt Besler and Graham Zusi, who recently made their World Cup debuts for the United States.
"From the club's perspective, we're very proud of them," he said. "Not only have they come through the system, but more importantly, they've evolved into very good international players and true professionals.
"It's definitely proud for all of us who have been a part of their progression, but those two guys are really really good pros and it's one of the reasons why not only are they there, but more importantly since they've been on the field, both of them had a true impact on the success of the team."