A
Major League Soccer
player's job does not only take place between the touchlines.
In addition to the long hours training and studying to be the best player possible, and putting those skills to use on the field, players are also ambassadors. Each individual in MLS represents his club, his league, North American soccer, and indeed himself.
Two years ago, MLS realized that while players were receiving plenty of training on how to win games, they weren't receiving any guidance when it came to their ambassadorial roles.
"We collectively decided after sitting in a meeting with our PR groups and asking them how many had gone through media training in the last 12 months. Only two or three had gone through it," MLS executive vice president of communications Dan Courtemanche told
Goal
.
"We said, 'You know what? Let's put together a program that we can offer to our clubs. We'll fly out, we'll cover all the costs and all they have to do is get the players and coaches, if they want, or even executives to the session,'" Courtemanche added.
In 2012, Courtemanche says only four or five teams took part in the two-hour sessions. This year, he estimates 14 or 15 teams participated, with the remaining clubs using outside firms for their media training.
The sessions are led by Courtemanche, MLS PR man Gabe Gabor, MLS director of social media Amanda Vandervort and Brian Dunseth, a former MLS player and current TV analyst for, among others, Real Salt Lake,
Fox Sports
,
NBC
and
ESPN
.
"I got a call a few years ago asking if I could bring a former player's perspective to media," Dunseth told
Goal
. "How I've kind of handled it as a player and how I've utilized media in a positive way, to kind of make that next step into a post playing career."
The sessions include a slide entitled "Why media training?" The answer is laid out in three parts:
1. To better prepare you to interact with journalists.
2. To share ideas for communicating more effectively.
3. Media friendly players and executives tend to have more sponsors, a better connection with fans, and often more career opportunities.
Dunseth is the shining example of part three. After his playing career ended in 2006, he parlayed relationships he made during his time in the league into a broadcasting career.
"Probably 75 percent of my current income comes from personal relationships that I built with interns," Dunseth says. "Guys that were interns when they came in the league and now are in positions with the league, positions within different television companies, different broadcast partners, different teams."
THE MASTER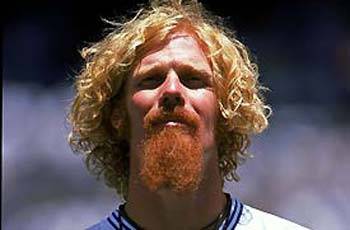 Dunseth says he learned how to be more media friendly from Alexi Lalas when the two of them played together in New England in 1997.

The rookie followed the U.S. national team star and current ESPN analyst into a TV interview to observe how it was done.

"They asked him a question and he just turned on a light, he turned into this different person," Dunseth recalls. "I'd never seen anything like it. I was just watching how he was excited, he was telling stories, he was taking shots at himself, making himself look human and it was all super interesting to me. I was actually standing next to one of the media members up there in Boston and I was like, 'Man, I want to learn how to do that.'"
Another example of a player making the most of his media relationships is former MLS player and current ESPN analyst Alejandro Moreno, who has taken part in a few of the media training sessions.
Courtemanche tells the story of how in 2008, Moreno, then with the Columbus Crew, was summoned by ESPN to do an interview with teammate Guillermo Barros Schelotto for a game broadcast. Moreno, then the team's leading scorer, was excited for a chance at the national spotlight. When he arrived to shoot the interview, however, he got a bit of an unwelcome surprise: ESPN only wanted him as a translator for his teammate.
"He could have just stood up and left," Courtemanche says. "But he just worked with them."
After the interview, a producer told Moreno that he did a great job, and that they would keep in touch. A couple seasons later, ESPN contacted Moreno and had him try out as an analyst. Moreno worked during the MLS playoffs while still an active player and now, a couple years later, the now-retired Moreno is a full-time soccer analyst at the "Worldwide Leader."
Of course, media training isn't all about networking. Much of the session gets into the nitty gritty details of interacting with media members, including every player's contractual requirement. As stated in the league's collective bargaining agreement:
Section 8.4. Media Appearances: A Player shall cooperate with reasonable requests of television, radio, newspaper, magazine and other news media representatives and agrees to cooperate with MLS and the Team, separately and together, to be available for and participate in such news media photo sessions and interviews and other media appearances as may reasonably be required.
Although there is no specific punishment for players that shirk media responsibilities, players could risk running afoul of their own locker room.
"As a player I would be furious if I watched teammates who wanted to step in front of the microphone when they scored the game winner or got the shutout but they would be the guy who sneaks out of the locker room after a tough loss or a bad game," Dunseth said.
"That's one thing I really harp on the players for. I tell them over and over, 'Don't be the guy who steps in front of the camera when everything's right, be the guy who steps in front of the camera when everything goes wrong as well.'"
The players are shown a video of then-Sporting Kansas City goalkeeper Jimmy Nielsen being interviewed in 2012 after Houston knocked his team out of the playoffs for a second straight season.
"He stepped up and answered questions articulately, intelligently and provided some great insight," Courtemanche said. "We say, 'Guys, when your team just lost a tough game and the season is over, you need to be this guy.'"
Another section goes through the media access rules. Unlike nearly every other league in the world, MLS opens its locker rooms to media.
"We need to go through those types of things with players," Courtemanche said. "I remember during the early days of the league, hearing stories about the first MetroStars game. The head of PR said, 'I remember opening the door to the locker room and all of a sudden Roberto Donadoni looked like a deer in headlights because the media came in.'"
Mainly though, the training session focuses on what could be considered common sense: Everything is on the record unless specifically requested not to be, asking what material an interview will cover before it starts, speaking less technically so a wider audience will understand, and an overarching theme: Be a good person.
"If you're not a good person, they're not going to want to deal with you," Dunseth said. "And there's an opportunity down the road that if you make a mistake, they're going to hammer you."
The sessions end with previously recorded video clips of mock interviews Dunseth conducts with rookies — always a crowd favorite.
"We just have fun with it and I make it super awkward and make it so they don't know what to do," Dunseth said.
"He'll ask the players, 'Hey I know you guys have a big locker room, but who's the one player that you want to stay away from in the locker room?'" Courtemanche added.
It's all part of a rookie's initiation into a league that's growing every year, and a first step toward being ready to fulfill their duties — on and off the field.
Follow SETH VERTELNEY on

or shoot him an

email