NEW YORK -- In February, Landon Donovan arrived in Cambodia trying to figure out whether or not he still loved the game of soccer.
He was burned out and burdened with external pressures, as he explains, and wanted to see if he still had that spark. After spending eight days in the Southeast Asian country, Donovan can recall a moment when he knew he still had plenty to offer to the game.
"Kids were out playing soccer one day and I realized that I wanted to play with them," Donovan told Goal. "That's a feeling that I should have and that's a feeling that I have back now."
Donovan on U.S. team snub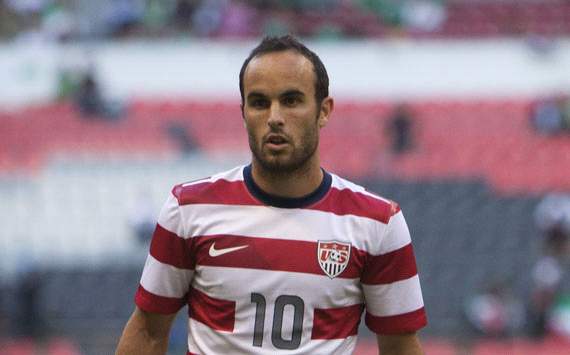 "I think for a lot of years, I got the benefit of the doubt. If I wasn't playing well, I'd still get called in. It's a nice feeling to have to earn it."
- Landon Donovan

The moment unintentionally drew headlines stateside, once images surfaced on Twitter. Donovan explains that there wasn't a specific reason why he chose to go to Cambodia, he just wanted time to be alone and evaluate his future. Still, when the game was stripped down to its purest form, Donovan realized that he was passionate about soccer.
"It was more about me getting to place where I could see things differently. Not get caught up on all of the negative stuff that and get back to enjoying the stuff that I liked when I was five years old," Donovan said. "I'm back there now."
Donovan might have resolved his career uncertainty in Cambodia but his decision to step away from the game for a brief period carried some negative consequences. The five-time MLS Cup winner lost the captain's armband with the LA Galaxy after missing the team's preseason and opening five games. And Donovan's status with the U.S. national team has also been affected.
Donovan, the United States' all-time leader in goals scored, wasn't called up by national team boss Jurgen Klinsmann for the upcoming crucial World Cup qualifier matches in June against Jamaica, Panama and Honduras. Considering the United States' current struggles with scoring, Klinsmann created a stir when he declared that he sees a few players ahead of Donovan.
Despite having to field questions about the snub on an almost daily basis and hearing "U.S. reject" from fans at opposing stadiums, Donovan actually praises Klinsmann's decision and he insists that he's motivated to get back into the national team fold.
"No one is entitled to anything in this game. That's become very apparent to me," Donovan explained. "I think for a lot of years, I got the benefit of the doubt. If I wasn't playing well, I'd still get called in. It's a nice feeling to have to earn it."
He added: "Do I want to be there? Absolutely. Do I think I can help? Absolutely. But in the end of it's not my choice. If and when I get called up again, I'll be ready to go."
There has been a lot made of Donovan's relationship with Klinsmann since the former Germany head coach took over the U.S. post in 2011. The two men were thought to be fairly close and Klinsmann took Donovan on loan at Bayern Munich while he was the coach there. However, since Klinsmann's joined the U.S. national team, things haven't exactly gone to plan between the two.
Donovan has only played in eight of Klinsmann's 25 matches in charge due to either injury, preparing for the MLS Cup or his brief time away from the game. Considering Donovan's elite status within the national team, it is widely speculated that Klinsmann is frustrated with the Galaxy star.
Donovan, however, doesn't believe that he is being singled out. He points to the recent exclusion of U.S. veteran Carlos Bocanegra as an example of Klinsmann's expectations. Bocanegra hasn't been called up to the past two national team camps and has since seen his captaincy passed on to Clint Dempsey.
"Jurgen's made it clear that no one is guaranteed anything and I think that's good for the group," Donovan said. "When you make a statement like that as a coach, usually players think, 'Well, he means that except for these four guys.' But when he then shows it, you need to be playing and you need to be playing well. With my situation, he's made it clear that I have to work my way back in."
Donovan used his recent top-drawer performance against the Philadelphia Union as an example. He had one goal and two assists in the Galaxy's 4-1 win over Philadelphia.
"Playing against Philly, in the back of my mind, I'm thinking I have to perform well and that wasn't always the case in the past," Donovan said.
Seeing Donovan motivated to prove himself again is good for U.S. soccer and its fans, but questions over his future still remain. Donovan's contract with Los Angeles ends after the season and he wasn't willing to elaborate much on what he expects to do.
"I have some ideas of things I want to do once I'm done playing [this year] but I haven't decided yet," Donovan said. "I'm going to enjoy this year, see where I fall out after all of it. When the time comes, I'll make that decision."
When pressed specifically on whether or not he'd like to stay with MLS after this season, Donovan replied, "I'm just trying to get through tomorrow."
So in a few months' time, it'll be back to speculating over what Donovan will do next. But at least for now, fans of MLS and USA can sit back and enjoy one of America's all-time soccer greats -- if not the greatest -- trying to prove himself and showcase that he still has plenty left.
Donovan spoke with Goal as part of his Sun Blunders campaign with The Skin Cancer Foundation and Energizer to raise awareness. Read more here.
Follow Alex Labidou on