Mikkel "Mix" Diskerud is a pure playmaker who likes to create easy scoring chances for his teammates.
In limited opportunities for the United States men's national team, Diskerud hasn't shied away from heroics. The attacking midfielder displayed his creativity in his debut against South Africa by threading the ball past a defender in the penalty box to find Juan Agudelo for the game winner. In his second appearance a year later, Diskerud followed that feat by scoring the game-tying goal against Russia to help the U.S. to secure a hard fought 2-2 draw on Russian soil.
So why isn't he featuring more for the United States?
One would think that Diskerud's style of play fits in perfectly with Jurgen Klinsmann's well-stated desire to play aggressive, possession soccer. Yet, under Klinsmann, Diskerud has only featured twice for the senior side, both in substitute appearances. The lack of playing time under Klinsmann has magnified a bigger issue at hand.
Diskerud is a dual-national who is still eligible to play for Norway due to the fact that he hasn't played for the U.S. in an official competition. There is a growing concern that he could spurn the Red, White and Blue for more playing time.
The 22-year-old acknowledged that Norway was interested in having him play for the Under-21 side in this summer's European Championships, but wouldn't confirm or deny if he would like to join the Drillos.
"I would rather not address the issue publicly," Diskerud stated to Goal.com in an email. "And I have not done so to the Norwegian press either."
While Diskerud wouldn't reveal his intent, it is clear that he would prefer to remain a U.S. international if given a chance. The Rosenborg star is very complimentary of his experience with the U.S. even in limited chances.
"The U.S. national team has allowed me to shake Nelson Mandela's hand, and to listen to his advice live. They have let me pull an equalizer against Russia in Russia while Putin allegedly spilled hot coffee on his tie," Diskerud wrote in his email. "The USMNT has both surprised me, and let me surprise them. Looking back, before I look forward, I bet we are not through surprising each other."
International football is the pinnacle for most soccer players, especially with the World Cup just around the corner. Though Diskerud would like to play for the U.S., Norway also has a chance of making next summer's competition. The team is only four points away from Group E leader Switzerland in World Cup qualifiers with five matches remaining.
Considering Diskerud's strong run with Norweigan side Rosenborg to open the season, it is safe to assume that he wouldn't turn down a chance to help Norway make the World Cup if he's not factoring in to the U.S. national team. Part of the problem has been trying to find a fit for Diskerud. He prefers to play behind the striker in an advanced role but the position is currently manned by Clint Dempsey. The U.S. has tried Diskerud in central midfield but that has magnified the weaknesses on the defensive side of the ball as noted by Klinsmann.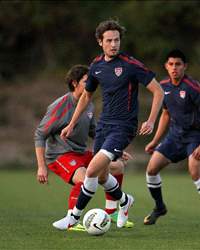 "Mix brings a lot of qualities, but he also needs to learn to become more robust, to become more physical, to not be kind of just moving around and not getting into real battles," Klinsmann explained to reporters.
However, don't expect another Neven Subotic situation, U.S. fans. Diskerud is a part of the U.S.'s plans moving forward.
According to a source within U.S. Soccer, Klinsmann will reach out to Diskerud about playing this summer. The source wasn't specific about whether or not he'd play in the upcoming friendlies against Belgium and Germany or the Gold Cup. If Diskerud plays in the Gold Cup, he'd would become officially cap-tied to the U.S.. The Norweigan-born player explained that he would love to play in this summer competition if Rosenborg allows him.
"I love to compete. Besides that, I will always consider it a great honor to be asked to represent my country," Diskerud explained. "But I belong to a very dedicated club as well, and the interests to both the club and myself always have factored in the contracts I have voluntarily entered into."
Based on his comments, it is clear that Diskerud sees himself as an American citizen and he came very close to living in the country for the first time in January. The Portland Timbers almost signed Diskerud on a free transfer earlier this year.
There have been various reasons given as to why the Timbers move didn't pan out. Most media reports pointed to Portland's owner Merritt Paulson being unwilling to give Diskerud a Designated Player deal and rating the Timbers' eventual signing of Argentine Diego Valeri higher.
Diskerud has a very different account of what happened.
"In MLS, you have a group of owners that collectively have ruled it unacceptable for example for people like me to join one specific MLS team only, and with a right to continue a career in Europe after let's say three years depending on the player's choice," Diskerud explained.
Diskerud's explanation reflects on a frustration with the MLS contract negotiation process. However, some of Diskerud's statements lead to more questions: Did he want a short-term contract with the league or an exit clause? Diskerud wouldn't reveal.
A spokesman for MLS revealed to Goal.com that Diskerud's rights were traded to Portland, which was indeed his preference. Where the deal fell apart was in negotiations with the league, not Paulson, and that's where Diskerud's frustrations likely lie.
"I, for sure, want much more to belong to a team and a city than to be 'owned' by a league," Diskerud said. "Especially when the league puts so many restrictions on what kind of non–economic agreements the club and the player can make. The economic constraints I understand and accept, so it's not that."
Despite a failed move to MLS, Diskerud had nothing but praise for the Timbers organization and particularly Caleb Porter, whom he played for with the U.S. Under-23 team that failed to reach the Olympics.
"Portland Timbers have everything a great football club should have: A dedicated owner, passionate, good, crazy and loud supporters, and an inspiring coach," Diskerud said. "Caleb Porter is going to evolve as one of those coaches that time and again can get almost all of the potential out of his 'soldiers'. Let us check his status in 15 years. I am willing to place my bets now."
Just don't expect Diskerud to join MLS anytime soon.
"As far as I am concerned, I think the MLS policies of today are tailored to a little older players who accept to limit themselves to end their careers in the U.S./Canada and MLS," he said.
Follow Alex Labidou on

Free Kicks:
-Diskerud is off to an impressive start at Rosenborg - even if the club has gotten off to a slow start this season. After opening with three wins and one draw to begin the season, the team has lost twice and drawn once over the past three weeks. Still, Diskerud has impressed with two goals and two assists to open the season.
Diskerud believes his form as well as the team's is a result of the team's new 4-3-3 system. While he has adapted quickly to the new tactics, most of his teammates are still used to 4-4-2 which had been employed for the past few years. Diskerud is happy with his performance so far and believes things will turn around for Rosenborg.
"It can be healthy for a lot players to get new tasks, both mentally and structurally," he explained. "It sounds as if it is smart to wander a little bit outside my established 'comfort zone' when it comes to what I accept as new responsibilities concerning what to achieve on the pitch.
"Time is going to go by – and by the end of the season we will probably have received no more and no less than the results we deserve. In the meantime – all we can do within the team is to make all of us happy enough to be willing to sacrifice that little extra for each other."
-Stay tuned for an interesting U.S. international player interview in this week's
Stoppage Time
.