It's been almost a year since Tim Ream joined Bolton Wanderers in a $2.75 million move from the New York Red Bulls. In that period of time, things haven't exactly gone to plan.
A string of poor results have led to Bolton being relegated from the Premiership last season. This year isn't much better. The Wanderers sit in 18th place in the English Championship even though the team kept most of its players from the previous season. Furthermore, Ream's role has been uncertain with the club, as he has been in and out of the starting lineup and his position alternates between his natural center back position to playing defensive midfield.
Ream on U.S. national team struggles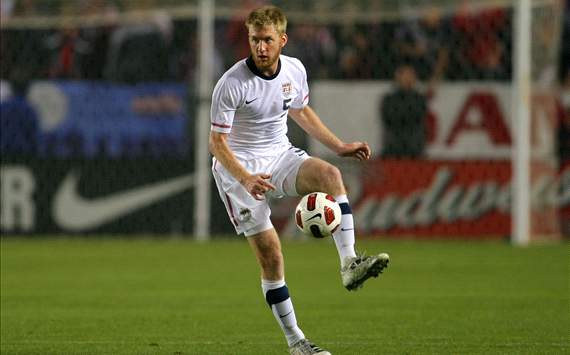 "You play well and expectations start to rise and then you start to put higher expectations on yourself. I don't know if I was ready for that at such an early stage of my professional career."
- Tim Ream

Overwhelming to say the least, but in spite of all of those factors Ream remains committed to Bolton.
Ream is loyal to the team that gave him a chance in Europe and will not seek a move in January's transfer window. Instead, he hopes to prove his ability to Bolton and the team's fans.
"I'm not looking to make a move," Ream told Goal.com in a phone interview. "I've only been here for a year and I want to stay through my contract and help the team."
That choice does come with some risks.
Ream's professional career, not to mention his status with the United States national team, could be severely affected if Bolton suffers another relegation. Ream was once considered to be the future at the center-back position for the U.S. just two years ago but has fallen to Geoff Cameron, Omar Gonzalez and Maurice Edu in the depth chart. Despite Bolton's struggles, Ream insists that he has matured as a player as a result of dealing with adversity.
Ream admits that he wasn't initially ready to handle the pressures of being a full-time starter on the U.S. team, which is why he struggled in key moments for the Stars and Stripes both in the Gold Cup and later in a friendly against Ecuador. Although Ream was thrilled to be recognized at the time by Bob Bradley for his strong performances for the New York Red Bulls, he explains that the moment might have came too soon. Prior to his first cap with the national team, he never featured for the U.S. on any of its youth teams.
"When I was in there, you play well and expectations start to rise and then you start to put higher expectations on yourself. I don't know if I was ready for that at such an early stage of my professional career," Ream said.
"I was ready to get a taste but I don't know if I was full-time ready yet,"
Since moving to England, Ream insists that he has become more comfortable with expectations and states his positioning as a center back is an area of his game that he's improved in. He states that he's a much more consistent player now.
"I've learned in order to do that you have to be consistent, you have to be mentally and physically strong," Ream stated. "Mentally and physically, I am where I want to be. I'm definitely ready for another chance to get in there and show what I'm capable of."
Follow ALEX LABIDOU on

Now that he is more prepared to deal with the responsibilities of playing for the national team, Ream hopes that he will have a chance to show his talent at his natural position in the backline.
Owen Coyle, the manager who brought Ream to the Premier League, was dismissed after Bolton's poor start to the new season. Under the team's new man in charge Dougie Freedman, Ream's role has been less assured. Ream has been in and out of the starting lineup since Freedman's arrival on Oct. 25, and his position alternates between the midfield and defense.
Even if Ream believes that he can be more useful at center back, he wants to get consistent minutes and have an impact.
"Right now, I've been training at defensive mid at Bolton and I think that's where they see me helping out the club. So it just depends on where I'm getting consistent minutes," Ream stated. "You see a guy like Mo [Maurice] Edu, whose a defensive center midfielder, transitioned to sometimes playing a center back role with the national team. So I think it all hinges on me getting games no matter where it's at."
He continued to explain that "it can go both ways [whether or not his national team chances are affected]. I can't really worry about it."
Ream's priority is to help Bolton turn its season around. The former St. Louis University standout hints that attitude not talent is responsible for Bolton's poor form this year.
Ream points to players on the team who are vastly talented but don't have the drive to get results. The 25-year-old isn't necessarily criticizing his teammates but Ream feels like there has been a bit of relegation hangover after Bolton was relegated during the last game of the 2011-2012 season.
"It's the way they were brought into the sport. They've all started at such a young age. They come in expecting certain things" Ream explained. "It's not everyone, it's one, two or three guys here and there."
He added: "Things have kind of fallen into place for them where they think it will last forever. It's very different from the work ethic that guys in the States have where guys have worked their entire lives to get that shot."
It is that mentality along with the cultural changes of moving from the New York City area to Greater Manchester that Ream claims has been his biggest adjustment to life in England. Aside from the obvious lifestyle changes that come with moving from a major metropolitan to rural England, Ream is for the first time also experiencing public scrutiny common for a player in the UK.
In New York, Ream lived in relative anonymity as a soccer player. While Bolton might be Manchester's version of the Buffalo Bills versus United's Giants and City's Jets, Bolton's struggles are not only well-documented in the local papers but on the radio stations and television broadcasts as well.
What has kept Ream grounded during his first year in England is his personal relationships.
Ream got married just before his move to Bolton and generally maintains a very private lifestyle. He keeps a small group of friends that include Bolton's starting center back David Wheater, fellow U.S. international Stu Holden and their respective families.
But most importantly, Ream has his wife Kristen who he has been with since their days in college. Kristen put her promising career in New York on hold to join Ream in England and he is always appreciative of that fact. It is that foundation that allows him to deal with some of the uncertainties that he has faced over the past year.
"I think it's vitally important," Ream said of the support he receives from Kristen.
Ream knows fairly well how fortunes can change. It wasn't too long ago where his talents were questioned on the Red Bulls by a certain unpopular Mexico international teammate. That was before West Brom, Bolton and even Arsenal were scouting his talent. If his form picks up, even if its at defensive midfield, he believes he will factor in Jurgen Klinsmann's plans again.
"If I'm getting games, I'm right there on the brink of getting another call. Being involved again," Ream said.