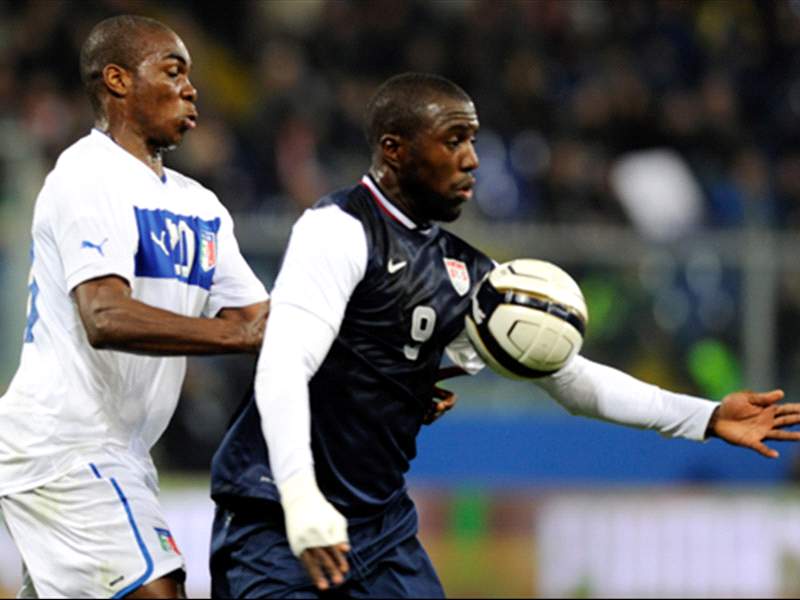 The Jozy Altidore-less period for the U.S. men's national team lasted all of a month.
Altidore was left out of the U.S. team for last month's World Cup qualifiers against Antigua & Barbuda and Guatemala in controversial fashion, with his tremendous club production at Dutch outfit AZ Alkmaar failing to offset his misgivings on the international stage in U.S. manager Jurgen Klinsmann's eyes. Even though Klinsmann was uncharacteristically pointed with his comments about Altidore's absence and what he had been lacking in his comments following the October roster release, he welcomed back the 23-year-old striker for Wednesday's friendly against Russia in Krasnodar.
"We are happy having Jozy back in the group," Klinsmann told U.S. Soccer's official website. "Obviously, he was left out of the last games against Antigua & Barbuda and Guatemala because of the way he played in Jamaica and maybe a couple other things from the previous months that I wasn't so happy about. I mentioned it to him, and now having him back in the group gives us an opportunity to talk through that stuff and also to see his total commitment on the field."
Altidore did not let the omission get the better of him for his club, scoring three goals since the U.S. roster snub. His most recent goal this past weekend was his 12th in 13 games across all competitions and not only helped his team to a valuable point but was also a display of smooth technique in front of goal. He flicked the ball to himself before nailing a close-range side volley with his weaker left foot to leave the goalkeeper no chance.
Altidore last scored for the USA in last year's November friendly, doing so from the penalty spot against Slovenia, and the disconnect between his club success and country struggles has been one of the curious developments for the Americans over the past year. With his international struggles coupled with the emergence of Santos Laguna striker Herculez Gomez and Klinsmann's penchant for playing Clint Dempsey in a forward role, the last 12 months have been trying times for the still-improving and World Cup-tested forward. After a strong signal from Klinsmann that his place on the USA roster should not be taken for granted, this week provides a chance to be a turning point for Altidore, both on the field and in getting a stronger understanding with his international manager.
"He's an important player for us. He's fighting his way through the Dutch league and doing well there, and we hope he brings the same energy into our group," Klinsmann said. "We often forget that Jozy is not a 30-year-old player that you already expect to be kind of perfect and mature. He's still going through ups and downs, which is totally normal. So when a down period comes and I leave him out of the roster, that's not the end of the world. But it's also a little signal to say 'Hey Jozy, maybe there were things we didn't like before.' Now we can catch up and see how it goes."


Follow AVI CREDITOR on