What motivates Landon Donovan?
Still arguably the face of American soccer, there isn't much that Donovan hasn't accomplished during his time with Major League Soccer and the United States aside from winning the World Cup.
One aspect about Donovan that is barely discussed is that the 30-year-old has a big decision heading into next year. According to Donovan, his contract with MLS expires at the end of the 2013 season. Donovan admits that he has to decide whether or not he still wants to play before choosing between remaining with MLS or pursuing opportunities abroad.
"At the end of this season, I'm going to re-evaluate everything and see how I feel," Donovan told Goal.com. "If I want to keep playing, I'll keep playing. If I don't want to keep playing, I won't keep playing. If I want to go elsewhere, I'll try to make that happen. If I want to stay here, I'll try to make that happen. I don't know the answer to that right now."
Donovan retiring at 31 years old? He's joking right? Not according to the midfielder, who insists that the possibility could be a reality next year.
"Why wouldn't I [consider retirement]?" he asked.
It is hard to imagine Donovan, who became a national icon during the United States' run in the 2010 World Cup, would turn down a chance to play in arguably the world's greatest sporting event for a fourth time. Yet, Donovan has become increasingly introspective in the midst of his 13th year as a pro soccer player.
"When I was younger, I was motivated by different things," Donovan explained. "I wanted to score all the time. I wanted to be famous, I wanted to be popular. I wanted to make money, I wanted to do all of those things but at the end of it all, those things don't do a lot for you."
He added: "There's no promise that I'm going to be alive when the World Cup comes around. So I'm not going to live my life in a way that only points to the future. I enjoy being really present [in the moment], trying to do well every day."
Follow ALEX LABIDOU on

Donovan's maturation from an ambitious young player expected to lead American soccer into new heights to a contemplative veteran who leads the U.S.'s all-time charts in goals scored (49) and assists (48), might be a different transition than expected. For example, Los Angeles Lakers star Kobe Bryant remains as boastful as he was when he entered the NBA at age 17 in 1996. Still, the results suggests that Donovan's mindset developed from his experience has benefited the forward.
In the past three years, Donovan has won an MLS title with the Los Angeles Galaxy in 2011, the U.S. Soccer Athlete of the Year award twice (2009, 2010) and an MLS MVP award in 2009. Donovan also excelled in two loan spells with English Premiership side Everton in 2010 and 2012. The California native states that removing expectations, only focusing on day to day progress, has been beneficial.
Donovan the next U.S. captain?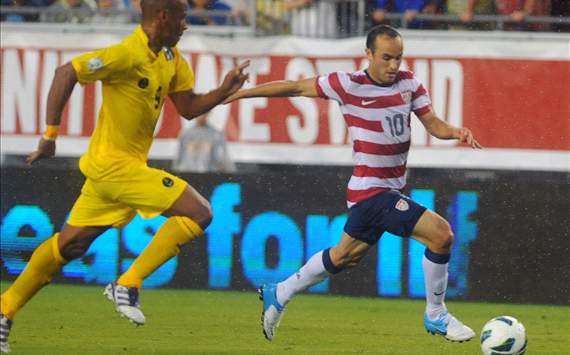 "I've always wanted to be the captain of the national team. I think that's a great honor...But I'm also very appreciative of what Carlos has done over the past few years."
- Landon Donovan

"I'm kind of different from other athletes in that respect, I don't really set those kind of goals," he said. "For me I guess, I'm in a deeper scale of my life. I just want to be good at what I'm doing every day - no matter what it is. The rest of the stuff will kind of fall in line."
Although Donovan remains uncertain about what's next in his career, he will have no shortage of suitors over the next few months.
He continues to be linked with Everton, a club he refuses to close the door on. With the Merseyside team reported to have received over 16 million pounds in its agreement to sell promising young midfielder Jack Rodwell to Manchester City, there is speculation that Donovan could return to Everton in January in permanent deal.
Donovan's agent, Richard Motzkin, declined to respond to an email addressing those rumors but another one of his clients, Tim Howard, signed a long-term extension with Everton last season. It wouldn't be unreasonable to assume that Motzkin would be interested in pairing the American stars at the Toffees, as Donovan has a strong record in his previous two appearances at Everton.
If Donovan decides against Everton, there could be options with MLS, Mexico and South America.
Donovan has previously stated that he would be open to playing in Mexico and told an Argentinean radio station that playing for Boca Juniors would be a "special" opportunity. Donovan could also just decide to finish his career as a member of the Los Angeles Galaxy, retiring as arguably the greatest player in MLS history.
While some critics will say that Donovan should try to move to a more difficult league to cement his legacy like Howard or Clint Dempsey, he has made it clear that his next decision won't be to affirm his ability.
"I've never been the type of player to try to prove things," he said.
However, after some prodding, there is one thing that Donovan admits he would still like to achieve before he calls it quits.
Despite having over 140 caps on the international level, Donovan has never been named as permanent captain of the senior United States men's team. He admits that he is appreciative of the work that current captain Carlos Bocanegra has done since Bob Bradley gave him the role in 2006, Donovan hopes to have the honor at some point of his career.
"I've always wanted to be the captain of the national team," Donovan said. "I think that's a great honor, the few times that I have in my career, I've played well and the team has responded well. But I'm also very appreciative of what Carlos has done over the past few years."
Looks like there's still a few accomplishments left to motivate the American star.
Donovan spoke with Goal.com as part of Gatorade's Beat The Heat campaign, which hopes to educate more athletes on hydrating properly.
For more details, check out some information here.