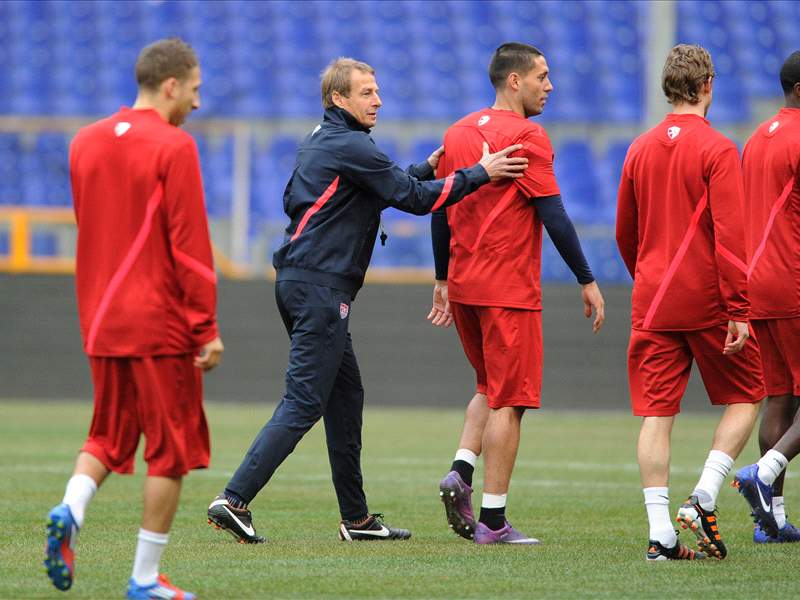 As soccer evolves in the United States, so does its fan base. With a large number of influences, varying backgrounds and different opinions, the U.S. might always be a nation debating the best playing style for the national team.
But there are two things that USA fans agree on: the U.S. national team needs to win and it has to use a style of play that fits the players at its disposal. No one knows this better than Jurgen Klinsmann, and the coach believes that the American mentality itself is why the style of play his team employs should be a "proactive" one.
"The game should always reflect the culture of who is playing the game, and I think the American culture is more proactive," the German legend told Goal.com. "It's not a culture that's waiting on the world and then it does something. You're always on the front foot of things. You're always trying to find the next edge on whatever it is. The United States is very fast paced. So it is not surprising in talking to coaches and players that there is a desire to play more of an attacking, proactive style."
Getting there is a process, Klinsmann points out. But that process can be successful given the growing quality of players throughout the country as well as the ones raised in other countries who are eligible to represent the United States.
"When we play the top national teams in the world, we are still in a position where they will have more players than we do competing daily at clubs playing at the highest levels," Klinsmann said. "This means the odds are still against us consistently beating the top national teams. But, as we recently showed against Italy, we have the capability of winning. And the quality of the players on our national team is improving.
"Most of the current squad is playing in Europe, and MLS is getting better every year. So we can challenge the better nations of the world, if we play them eye-to-eye, keep a high-paced rhythm and enjoy ourselves as well."
Klinsmann understands that the transition from former coach Bob Bradley's defensive style to a more attacking style will take time, and says that it's as much mental as it is physical.
"This style takes a lot of work because the more we're proactive, the more we have to be prepared to run on both sides of the ball," Klinsmann said. "But it's not only the physical side. The mental side also requires more intensity and focus. We have to anticipate the game and execute faster. We constantly have to stay in the game and can't allow little breaks in our concentration. This mentality does not come over night. This is a process that has to develop in the minds of the players. They have to be willing to make the commitment to go through the process. They have to put a lot of hard work into that like the players on the best teams do."
Many American players are still in transition to that mindset, says Klinsmann.
"Again, this is not surprising," he added. "We are all a product of our environment. The environment at Man United or at Barcelona is different than ours. Our process, therefore, includes introducing our players to a Man United- and Barcelona-type environment where the players are challenged because training is intense, where there is competition for playing time and positions, where self responsibility is emphasized, and where the love of the game comes from within. And we push the players out of their comfort zone and see how they respond."
While Klinsmann is implementing his concepts related to style of play and mindset with the U.S. national team, he is also very interested in integrating these types of concepts into the youth development system.
"Obviously when I came on board, the new U.S. Soccer youth curriculum was already out there, thanks to the leadership of Claudio Reyna and Javier Perez, who are members of the U.S. Soccer youth staff," he said. "I reviewed the youth curriculum, and I thought they did a very good job providing a framework for player development as well as a platform to create discussion throughout the soccer community. Continued discussion is a good stimulus.
"What works? What doesn't work? What should we do and what shouldn't we do in terms of youth development? I see myself as a person who always wants to be involved with these discussions. I want to share my thoughts and experiences, and I want to listen to other people's thoughts and experiences. I want people to be able to disagree as well as find common ground. And I always want to respect everybody's opinion because everybody sees soccer differently and that's a wonderful thing. Rarely are two people initially on the same page. And, that's why we need to have these discussions.
"So, the whole youth infrastructure, the youth development programs, the youth curriculum are always topics that are being discussed with our national team coaches, with U.S. Soccer officials and with coaches wherever we go - such as the recent U.S. Youth Soccer annual meeting. Obviously, my highest priority is preparing the national team so we qualify for Brazil and then do well in the World Cup. But I'm always also available to discuss youth soccer. I'm not saying that I know all the solutions, but I love to be part of the discussion, particularly with people who are enthusiastic about it."
The enthusiasm for the sport can come from many areas, but Klinsmann knows that it's coaches at the youth level that have the biggest job to do.
"I think our job as coaches is to inspire our players," he said. "If you're a youth coach, you've got to inspire the kids so they stay and grow with the game. If kids love the game and stick with it, then success will follow."