Among the multitude and somewhat amorphous strands that make up soccer fan groups stateside - each hinting at what fandom in this country will become once it reaches maturity - one of the more interesting is the Free Beer Movement.
Even the name gives away some of the attributes expected from this subgroup of American soccer fans: hip, witty, decidedly adult, relevant.
The goal of the FBM is simple: to proselytize the good word of soccer using the delicious nectar of beer as a holy bribe. Offer a soccer non-believer a brew and she just may sit and watch a ball game. During that time, sanctified by free swill, she just may convert to the Church of Soccer.
The idea is gloriously simple. Still, I wanted to know more, so I reached out to FBM founder Dan Wiersema. A slightly edited transcript of our email correspondence follows.
Goal.com:
Obviously we could just read the about section on your website, but could you sum up what the Free Beer Movement is?
Wiersema:
The FBM is, we think, the best way to build soccer in the United States. It is a silly idea, that a soccer fan buys beer for a newbie to encourage them to watch the game and educate them, but it has a serious goal of growing the economic base of fans in this country. The more fans of American soccer means a greater investment in the teams, development academies, marketing, stadiums, etc. to build the sport.
Its about energizing, educating, and enabling American soccer fans to take pride in our domestic version of the world's game – to do something beyond just being a supporter of American soccer, and to be an ambassador for the sport.
Just like we appreciate soccer, the FBM is also a beer appreciation society. We want quality crafted beer (but we don't look down on mass-market beers) to be a part of the soccer-building equation, but not some excuse to get wasted at games.

Goal.com:
The ultimate goals seem utopian – a cold brew, some ball, new bros. I was wondering if there are any hard and fast goals. For instance, are there any achievable milestones you're currently chasing?
Wiersema:
The FBM is a bit amorphous in that we're not searching for "x" percent increase in average attendance at MLS games or whatever. Essentially we're looking for acceptance that the "FBM philosophy" is a real and viable way to grow soccer in America. We want to energize every soccer fan in the United States to become ambassadors for the sport to their friends, family, and co-workers, so that at some point in the future people are making a real choice about soccer. Not just discarding from a point of ignorance.
Before the next MLS season we're launching a new website, looking to begin a monthly newsletter of soccer and beer news, and seeking sponsorship opportunities from breweries to help spread the FBM-philosophy.
Follow ZAC LEE RIGG on

or shoot him an email.Goal.com:
You're loosely aligned with the America Outlaws. How did that relationship start and what does it look like currently?
Wiersema:
I met Korey Donahoo (President of AO) and Justin Brunken (Vice President of AO) in college through a mutual friend who went to Nebraska with them. Several years later I learned they started up AO, and I happened to attend the first match they organized as AO (USA vs. Brazil in Chicago in 2007) although not as a member of AO. Not only are Korey and Justin great leaders of AO, I count them as two great friends of mine.
AO has a reputation as being great pre-game partiers (beyond their obvious in-stadium presence) and as a member, a chapter head (the Austin, Texas, AO chapter), and a regular attendee at AO events and U.S. games, this is true. It was a perfect partnership in the sense that any new fan of American soccer is also a potential new member of the Outlaws, so, since they have the soccer fans and the beer, they've got the ingredients to follow the "FBM philosophy" in growing the game.
AO has been amazing in supporting the idea of the FBM and helping promote us on their site and through social media and letting their members know that this is a way their chapters and membership base can grow. They've really bought into the idea and our goal of being taken as a legitimate marketing force for soccer in America.
Going forward FBM has been working with AO to develop a "Bar Program" that puts free beer in the hands of soccer newbies that doesn't always come from the wallets of the AO members. The idea is in the early stages of development, but buying beers for loads of people on your own gets expensive (trust me ... ) and whether the bar or a brewery helps pay for it we're working on partnerships that can energize people to take more advantage of the FBM-way.
Goal.com:
Was there an aha! moment that led to the FBM's creation? If not, could you make one up?

Wiersema:
There was another soccer writer back in 2005 who lamented the lack of growth in MLS and he basically decided that he was going to bribe everyone to come to games. His site called it the "Free Beer Movement" and I stumbled upon his treatise and was swept up with the idea, but for a while did nothing with it. His site died out (he later wrote a book about beer in Belgium and lives in Costa Rica now) and so did the idea.
I lived abroad for a bit in Honduras and experienced what it meant to live in a soccer-mad country. When I returned to the United States in 2009 I was intent on doing something to help build soccer beyond myself. The idea of the FBM came back to me and I launched the FBM site (with the original author's permission) to provide a home for the idea and promote American soccer and its culture.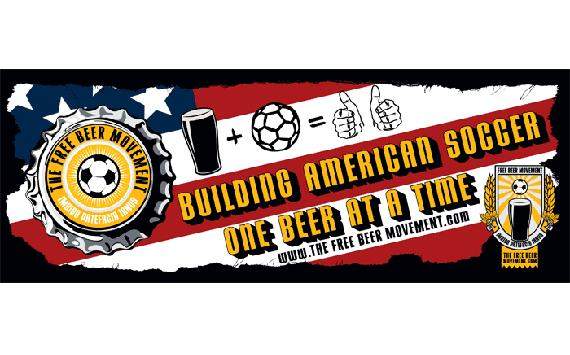 Goal.com:
What about recovering alcoholics? How are you going to convert them to soccer?
Wiersema:
I've often said that "beer is the medium, soccer is the message." In the end the beer part is irrelevant; it's just a means to the end. I hope that once someone gets through the gates of the stadium or sits down in front of the TV the sport will speak for itself and the soccer fan will do his or her part in educating the newbie. So, if by chance, you had an alcoholic friend, buying the ticket instead of the beer would be great alternative and afford them the same opportunity to learn from the game of soccer.
Goal.com:
Why bother converting anyone at all? Most people seem pretty intent on soccer making inroads into mainstream culture. What are the benefits of that?
Wiersema:
Because even hipsters like being first with something, before it got big. When soccer becomes more mainstream (and it will) those that were here first, helping building it, will have the most bragging rights. Not to say we rub it others faces, but a sense of pride that we are soccer missionaries, evangelizing the game in a place that was unfamiliar with the sport.
Goal.com:
I imagine you have many favorite beers, suitable for differing circumstances, but what's your staple?
Wiersema:
Since starting the site, the Facebook, and the Twitter for the FBM I've really make it my mission to try as many different styles of beers, from as many different breweries, in every state and country. It's hard to pick favorites, but I'm partial to IPAs and my favorite is Bell's Brewery "Two Hearted" IPA from Michigan. I can't get that in Texas where I live, but I always buy cases of it when I stop back home in Wisconsin.
IPAs, though, are not the best game-day beers because they get you pretty drunk, so I like to stick to a Pale Ale or a lighter (and dare I say) mass-market beer to survive an all-day event.
Goal.com:
What was the ideal beer for the MLS Cup?
Wiersema:
America's top soccer event deserves America's best beer: Russian River Brewing Company's "Pliny the Elder" Double IPA (Santa Rosa, Calif.).
Goal.com:
Any words of admonishment to David Beckham for his atrocious choice of Budweiser?
Wiersema:
I'll be nice to Sir Becks. He'd just won a championship. I'm sure in that moment he wasn't thinking about making a serious choice in his beer, but I imagine that's probably what he would've chosen anyways. Besides, a giant trophy isn't the proper glassware for some other beers, but it works for a Bud.