It's 2:30 on a Friday afternoon in the Atlanta suburb of Decatur, and Jason Longshore is looking out over more than 40 elementary school students in McLendon Elementary's small gymnasium.
In the corner, one boy is telling his friends, over and over in a singsong voice, "We're going to kick their butts." Others stand, run over to their friends, say a few words, then run back to their original place. Longshore only has to ask them a couple of times to sit and settle down. Having worked as a substitute teacher for a little, I can tell you that for the end of the school year, in the afternoon, on a Friday, it's no small feat. Of course, it's easy to see why: He's holding the ball bag.
Longshore works as the communications director for the Atlanta-based nonprofit organization Soccer in the Streets, but as with the two other staff members, his title is really the barest bones description of what he actually does. Today, he and executive director Jill Robbins and program director Ricardo Montoya are at McLendon for the school's season-ending small-sided tournament, more in the role of event organizers — with the help of some teachers and volunteers — than actual coaches. The night before, I visited Longshore and Robbins at a practice for a U19 team they've formed in College Park, just south of Atlanta.
Soccer in the Streets was founded in 1989 as the outreach component of the Atlanta Attack professional indoor team. By the World Cup in 1994, the organization was running soccer clinics for inner-city kids in every city that was hosting a World Cup game, but Longshore says the organization had trouble making their soccer lessons stick.
"Doing a six week clinic in an inner city area was cool, but when you went back there, those kids hadn't touched a soccer ball since you left." So Soccer in the Streets has switched to a narrower yet deeper focus, working in fewer cities to provide year-round programming that their motto says, "uses soccer as a medium to make the kids employable adults," teaching them responsibility, respect and teamwork on the field.
Easier said than done. I'll admit I was skeptical; I worried before I saw the staff in action with the kids that these life lessons would come across as heavy handed, that the education would trump the fun, that soccer would be forever associated by the kid participants with preachiness.
But Longshore, Robbins and Montoya make sure their curricula never trump the soccer at the heart of the program they offer. Robbins and Longshore both refer to soccer as the program's "hook," the draw that brings the kids in to places where they are able to be helped. It's also the program's one constant.
"Every community we're in is completely different," Longshore says. At McLendon, the majority of the participants in the final day's tournament are black; some come from refugee families living in the Clarkston area. And of course, they're all in grades one through five. In College Park, all but three of the players are Hispanic, and range in age from 13 to 18. Whenever possible, Soccer in the Streets lets its older participants help out with the younger kids, coaching teams, refereeing games, or organizing tournaments.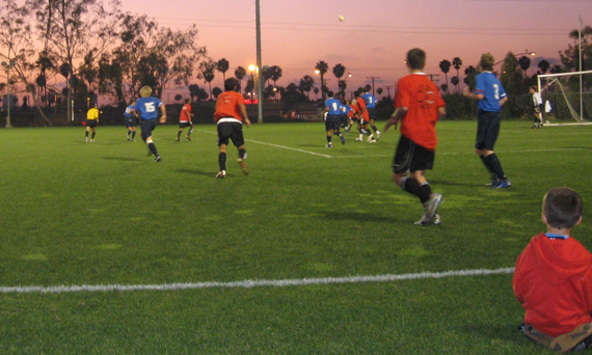 "We've grown up along with the kids," Robbins adds. "We listened to what the kids are asking for. They may not say, 'I need life skills.' What they say is, 'Coach, I need a job. I need money. And you think, well how come he can't get a job? Somebody with a little more support throughout their life may take for granted what these guys need to learn.'" When several members of the College Park U19 team entered their senior year in high school last fall, their coaches put on a college prep night.
The U19 players organize themselves: At the practice I attended, that team breaks out into small-sided warm-up games with minimal prompting. They police themselves: When two players get into a scuffle over a late tackle during the end-of-practice, full-side scrimmage, Longshore stays on the sidelines while their teammates quickly separate them and calm them down. They substitute…not exactly by themselves: Longshore has to do everything short of drag them off to get some players to give up their spot on the field.
Nearly 30 kids have showed up on this particular Thursday evening, so that means Longshore has a lot of subs to make. It's a popular practice spot, he tells me, since most of the players on the team can walk or bike to here, and he keeps the practices open to whichever kids want to come because, in his words, "it's a way to keep them in a positive place."
Lack of facilities in the Atlanta area can cause problems. Soccer in the Streets holds games and practices in school gymnasiums and public parks, on high school practice fields, and in their own, specially constructed Street-Boxes: low-maintenance, soccer-specific facilities built in neighborhoods to give kids a place to play within walking distance of their homes, the soccer equivalent of the neighborhood basketball court. The first Street-Box opened in 2002; currently they have seven scattered throughout the city, many built on old tennis courts or similar surfaces.
Much of the money to do things like build Street-Boxes comes from individual donors and partnerships with businesses and local government; people, Robbins says, "who believe in our mission and want to make it happen." Other capital is raised through fundraisers. When the organization celebrated its 20th anniversary last year, it did so with what has quickly become its own signature fundraising event: a black-tie soccer game.
Participants had to raise $500 in order to play. The nineteen players raised nearly $15,000, then donned formal wear — coats with tails, powder blue tuxedos, and cut-off dress pants — for the game itself, held in Atlanta's Piedmont Park along with a Soccer in the Streets barbecue. "It was hysterically funny," Robbins says. "People walking through the park stopped to watch." The event was such a success that they're going to do it again this October.
"These kids love it," Longshore says of the U19 team, "They're not chasing a scholarship or a pro career. They're not going to get burned out." In other words, they're the ones who are going to stay soccer fans for their entire lives, for whom the game is a source of enjoyment, not a chore or a ladder to fame and fortune. All they need is the ball, something Soccer in the Streets is working to provide to as many kids as they can.
Have an idea as to what constitutes America's Game? Send an e-mail to americas.game.book@gmail.com.


Become a fan of Goal.com USA's Facebook fan page for all the latest news and insight into everything related to the beautiful game.