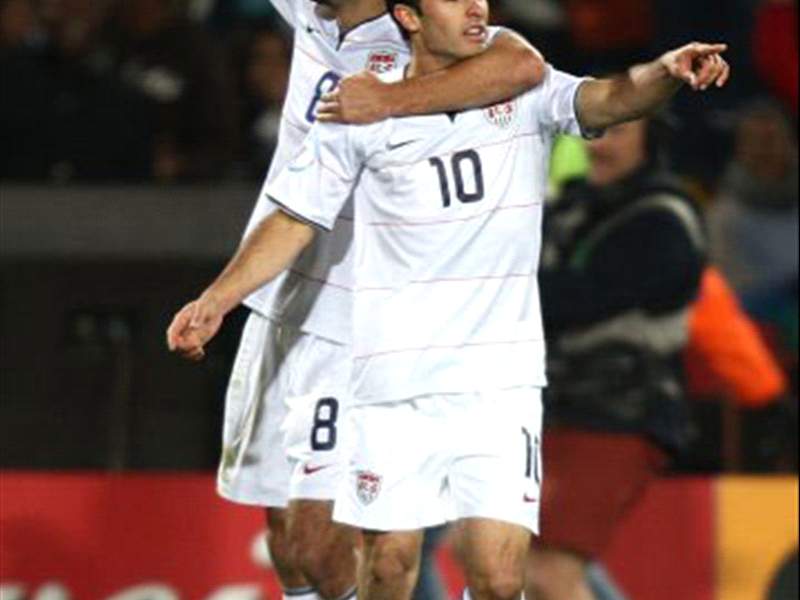 By
Greg Lalas
JOHANNESBURG—There's a moment in any game against Brazil when they seize the momentum. It's as inevitable as the hangover is after a night of caipirinhas. Sometimes it comes at the opening whistle, at which point the game is all but over before anyone has even broken a sweat. Sometimes it comes in the last minutes, arriving in frenzy of motion and vicious attacks.
Whenever it comes, you can't help but think of Maximus's directive in Gladiator: "On my command, unleash hell."
In the Confederations Cup final against the United States, Brazil unleashed hell 41 seconds after halftime, when Luis Fabiano spun with lightning speed and flashed a shot through U.S. defender Jay Demerit's legs and past goalkeeper Tim Howard. From then on, it felt like just a matter of time before Brazil wore down the suddenly reeling U.S. defense and got the equalizer. And once Luis Fabiano put away the second goal, the winner was fully expected.
Now, there is no shame in losing to Brazil. This is a well-worn refrain in the soccer world, uttered by the likes of Italy and Argentina as often as it is by the likes of South Africa and the United States. And considering what the U.S. did at this tournament, Bob Bradley and his players are rightly holding their heads high. "The boys are proud," captain Carlos Bocanegra told
Goal.com
. "This was a special night for us. These things don't come along too often for us."
Nonetheless the U.S. players were also incredibly frustrated not to get the win after holding a 2-nil lead. As U.S. striker Landon Donovan told me after the game, holding your head high and receiving the respect of the world doesn't put any hardware in the trophy case.
"Respect doesn't mean anything," he said. "We need to get to the point where we're winning in these kinds of tournaments."
Donovan and his teammates are sick of moral victories. If the U.S. showed anything against Spain in the semifinals, it's that the time is coming very soon when they no longer merely endure against the superpowers, but actually prevail, to borrow a sentiment from William Faulkner. The U.S. did everything right against Spain in terms of handling the pressure, both physical and mental. They executed a perfect game plan: close down the space defensively, attack intelligently, never let Spain's vaunted midfield dictate the game. And the Americans were justifiably praised from every corner of the world.
The next leap in the evolution is the ability to put in these kinds of superior performances consistently, to beat Spain and then still have enough in the tank to beat Brazil. Because international tournaments like the Confederations Cup and the World Cup, with many games in a short period of time against top-level sides, are as much about consistency as they are about talent.
"It's not good enough just to go for 45 minutes," Donovan said. "It's not good enough to lose 3-2 and say 'Good try.' If we were a little better in a few areas, we would've won this game."
The U.S. is close. So close. Which is why this loss hurts so much. Clint Dempsey, who played like a man on a mission in the last three matches, wept as he received his runner-up medal. Bocanegra spoke to the press in a daze, the dejection thrumming in his voice. "We're going to be disappointed for a little while," he said. "But that's football. You have to pick yourself up and get over it."
How the U.S. reacts to this loss will ultimately be the measure of this team. What lessons will they learn? What will the do differently so as to be "a little better in a few areas" the next time some footballing giant unleashes hell?
The answers to these questions will only emerge over time. But the questions themselves show just how far the U.S. have come in these two weeks. And just how close they are.

Greg Lalas is editor of
Goal.com Magazine
.