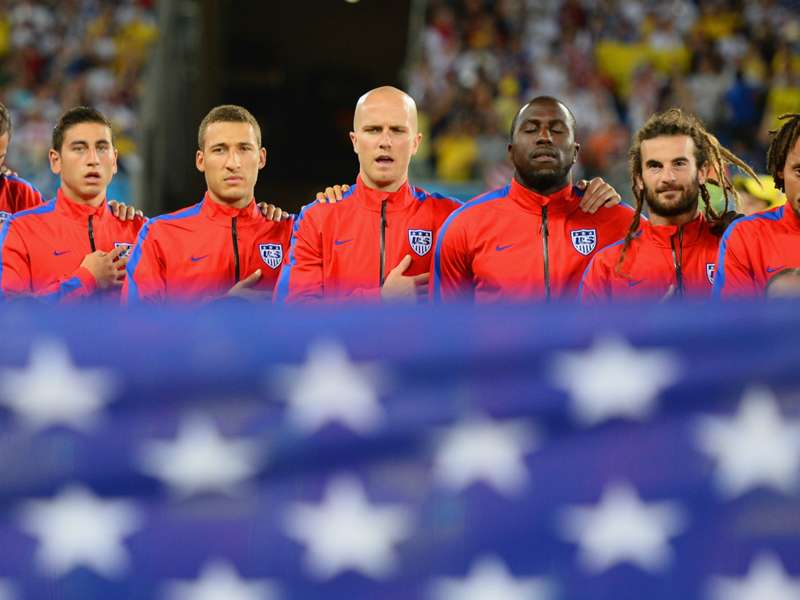 KANSAS CITY, Mo. — Whenever "The Star-Spangled Banner" plays before a United States match, the emotions of American fans are heightened along with the anticipation of another chance to see their team take the pitch.
For some time, there has been one problem with that otherwise perfect picture, at least in the eyes of some American fans. While almost all U.S. national team players put their right hands over their hearts during the national anthem, one starter stands with his hands behind his back.
That player is Jozy Altidore.
Altidore's unwillingness to cover his heart with his hand during national anthems isn't some form of protest or evidence of any sort of unhappiness with his native country. In an interview with Goal USA, Altidore was eager to clear the air and publicly reaffirm his love for the U.S.
"I was raised as a Jehovah's Witness. My mom is a Jehovah's Witness and there's just certain things we don't do," Altidore told Goal USA. "Birthdays, holidays, stuff like that, so (not putting my hand on my heart) has nothing to do with me being against the country, or being any less American.
"I love my country. I'm very American," he added. "I love playing for the U.S., and I hope people understand that that's why I don't do it."
Altidore's anthem routine, which normally consists of him placing his arms behind his back, has become a source of consternation among some sections of the U.S. fanbase, and it stands out more because, in many cases, he is the only American player not covering his heart during the anthem.
Altidore hasn't been oblivious to the questions raised among U.S. fans about how he stands during the national anthem.
"People ask me that all the time," Altidore said. "Angry fans ask me that all the time, and I just want them to know why I don't do it."
Altidore has endured a difficult CONCACAF Gold Cup as he struggles to work his way back into full fitness after missing a large part of May with Toronto FC with a hamstring injury. He acknowledged feeling slow in this tournament, but he believes in the depth in attack and insists the team will be fine even as he works his way back to full fitness.
"I've been saying for a while now that it's not just about me, it's about this team," Altidore said. "We have a lot of great players who can step up, and we've seen that and I think we'll keep seeing that."
It is unclear whether Altidore will start against Panama on Monday, but if he does, he will stand the same way he always has — with his heart uncovered, but his love for his country unwavering.