It goes without saying the Gold Cup was a one-team tournament from the very start and it didn't take long to hush down the skeptics. The magnificent Mexicans swept their way to Pasadena and quite frankly performed one of the most entertaining finals in Gold Cup history. Without further ado, I give you the Gold Cup Best XI:
GoalkeeperTim Howard, United States:
One of the most consistent players for the Yanks throughout the tournament. There were talks of a lot of players underperforming, or going though a minor drought but not this guy. Solid in group stages, knockout rounds, unlucky in the final.
DefendersSteve Cherundolo, United States:
The right back played all six games for the US without earning a single yellow. Brilliant composure from him in every game. Ran up and down the field, involved himself in much of the play on the wings and proved a difficult test for attackers.
Demar Phillips, Jamaica:
Was rock-solid for the Reggae Boyz in their Gold Cup run. Kept his backline organized and focused and even miraculously managed to nod in three goals himself.
Rafa Marquez, Mexico:
The amount of experience Rafa brought to this Mexico squad was incredible. A captain with all the right characteristics deserves nothing less than another Gold Cup medal.
Carlos Salcido, Mexico:
Placing Salcido in the Mexican backline was almost like putting puzzle pieces together. Like Marquez, connecting his experience with a crafty attacking set of players seemed like the perfect recipe for success.
MidfieldersPablo Barrera, Mexico:
The 5'9" winger scored three goals in his six appearances for Mexico and was deeply involved in creating countless threatening situations for Mexico.
Gabriel Gomez, Panama:
Was the running engine for the semifinalists throughout the tournament. Appeared in every game for the Panamanians and netted two goals for himself. Excellent defensive awareness as well.
Andres Guardado, Mexico:
Guardado was one of the spectacles of the tournament without a doubt. His volley against Costa Rica in Chicago certainly ranks up amongst the goals of the tournament. Brilliant off the ball movement and excellent attacking vision.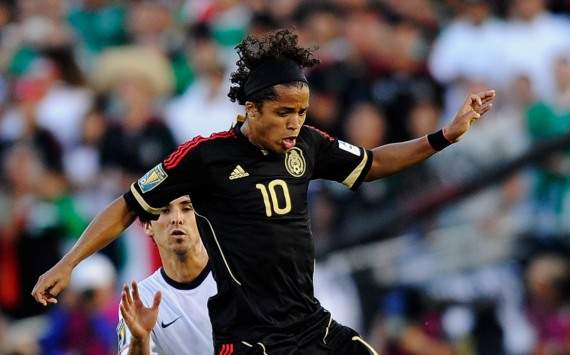 Giovani Dos Santos, Mexico:
The heart and soul of this Mexican team. His technique and ability to run at players was second to none. Managed to find the back of the net a total of three times and recorded two assists as well.
ForwardsRodolfo Zelaya, El Savlador:
Scored four times in four games for La Selecta. Definitely one of the dark horses of the tournament that makes it clear why multiple clubs are now after the prolific striker.

Javier Hernandez, Mexico:
From day one Chicharito was the center of attention. His prodigious statistics speak for themselves as to why he is the MVP of the tournament. The little pea collected seven goals, two assists, and put away 27 shots. A force to be reckoned with is now crowned a Gold Cup Champion.
Howard
Salcido-Marquez-Phillips-Cherundolo
Guardado-Gomez-Barrera
Dos Santos
Chicharito-Zelaya

Honorable Mentions:
Donovan Ricketts (Jamaica), Freddy Adu (USA), Aldo De Nigris (Mexico), Carlo Costly (Honduras), Clint Dempsey (USA)