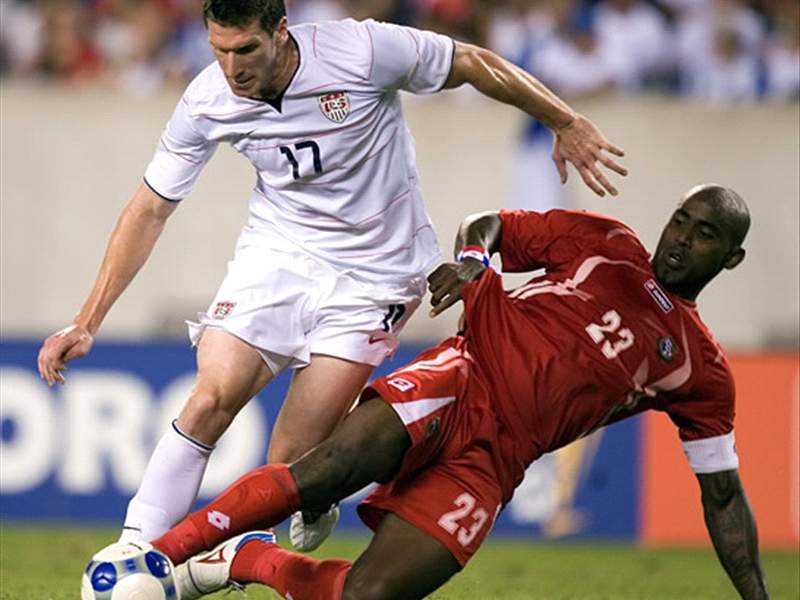 USA Troy Perkins 8
His finger-tip save to Chavez's left-footed volley in the first half may be the single best moment of goalkeeping in this competition. Controlled his box well, quick off his line, and full of sharp saves, Perkins fully earned his clean sheet.
Heath Pearce 7
Linked up well with Rogers once again, but also made some crucial plays on defense. Solid match.
Chad Marshall 7
Perhaps the best way to explain Marshall's role is to say that he made Costly anonymous in this match.
Clarence Goodson 7
Hardly left any scraps to deal with in the back, Goodson moved into the attack to make his mark, scoring the first goal off a corner.
Jay Heaps 6
Looked far more composed than earlier matches, but Heaps still fails to deliver anything to the attack.

Robbie Rogers 7.5
After a dip in form, Rogers was back to his bright best. Aggressive and active, the winger used his pace to torture Medina. With better finishers up front, he might have had a handful of assists.
Kyle Beckerman 6
His yellow card wasn't deserved, but he didn't impose himself on the match as he has been in this competition.
Logan Pause 6
Made a couple steely plays to prevent counters, but found himself overrun on several occasions.
Stuart Holden 8
Imposed himself more as the game progressed, Holden provided both assists and bright, positive play on either flank.
Davy Arnaud 5
Couldn't come to grips with the pace of the game after being clattered several times early on. Arnaud picked up a silly yellow late on to reinforce a poor display.
Brian Ching 6
Takes his lumps up front, but is impotent in front of goal. His holdup play created the game's second goal.
Substitutions
Santino Quaranta 6
Had a couple crisp additions to the U.S. attack late on.
Kenny Cooper 7
Another late sub appearance, another goal. Bob Bradley can't ask him for too much more.
HondurasDonis Escober 7
Curiously didn't take any goalkicks, the sheepish-looking 'keeper pulled off a series of quality saves to keep his team in the hunt when the U.S. was peppering his net to open the second half.
Nery Medina 5
Give this man some aspirin; Rogers gave him quite the headache, pinning him back helplessly.
Osman Chavez 6
With his composure and size, he needed to impose himself on the backline more.
Erick Norales 6
Exchanged some battering plays with the American strikers, and didn't come out on top.
Carlos Palacios 6
Helped push Holden into the middle, which probably didn't help the Honduran cause. His forays into attack had moderate success.
Marvin Chavez 7
Honduras' brightest midfield outlet, Chavez gave a potent combination of pace, ball control, and delivery.
Mariano Acevedo 6
Had a somewhat quiet game trying to hold down the midfield for Honduras.
Melvin Valladares 5
Was guilty of a cheap turnover that began the play that led to the game's opening goal.
Carlos Will Mejia 5
Spent far too much time tucked in and keeping shape when he should have run at Heaps. When he moved into the forward line after Martinez was substituted, he almost immediately created a solid chance for Costly with a cleverly chested ball.
Walter Martinez 6
Somewhere in the middle of the second half, the Honduras captain decided he was going to give the match a go. He should have played with that passion and pace all match long.
Carlos Costly 5
After some slick touches early on, Costly struggled to get any service let alone past Marshall.
Substitutions
Roger Espinoza 6
Created Honduras' best chance upon coming in, a delicate chip through to Costly.

George Welcome N/A
Allan Lalin N/AZac Lee Rigg, Goal.comVisit Goal.com for more coverage of the CONCACAF Gold Cup.