PASADENA, Calif. — When Juan Carlos Osorio finishes the group stage, his Mexico managerial career will tick into the double digits.
It's one of the least remarkable stats of the still-fledgling era, but it's one that's easy to forget.
Mexico lifted the CONCACAF Cup with Osorio looking on in the Rose Bowl just months ago. Even then, he wasn't yet directing the team. He was a man who had never coached an international team and wasn't lighting the Brazilian league on fire with Sao Paulo FC. It could've been a catastrophe.
Instead, Osorio has picked up where his predecessor Miguel Herrera and the interim who bridged the gap, Ricardo "Tuca" Ferretti, left off. Mexico comes into Thursday's Copa America Centenario game against Jamaica on a 10-match wininning and 20-match unbeaten streak. Those last eight games make up the entire Osorio era.
MORE: Neymar's Hollywood mansion | Could Trump ruin U.S. bid?
The players have so far bought into what Osorio is trying to teach, adjusting to not getting the starting lineup until a few hours before a match and playing in a system that sometimes requires them to do things they are capable of but perhaps not used to.
"I think the toughest thing has been winning the confidence of the guys, the most important thing, not the toughest, because with out a doubt it's through them that we can execute what we've planned" Osorio said in his prematch news conference Wednesday. "We knew that it was going to take some time, and we think we're still working on this responsibility or we have this responsibility with the current group, attracting them with the manner in which we work, making everybody feel like part of the group, giving hances to everyone and every time seeing the team gets stronger.
"We're not big on praising ourselves. We believe and are convinced that all the credit goes to the great group of players we have."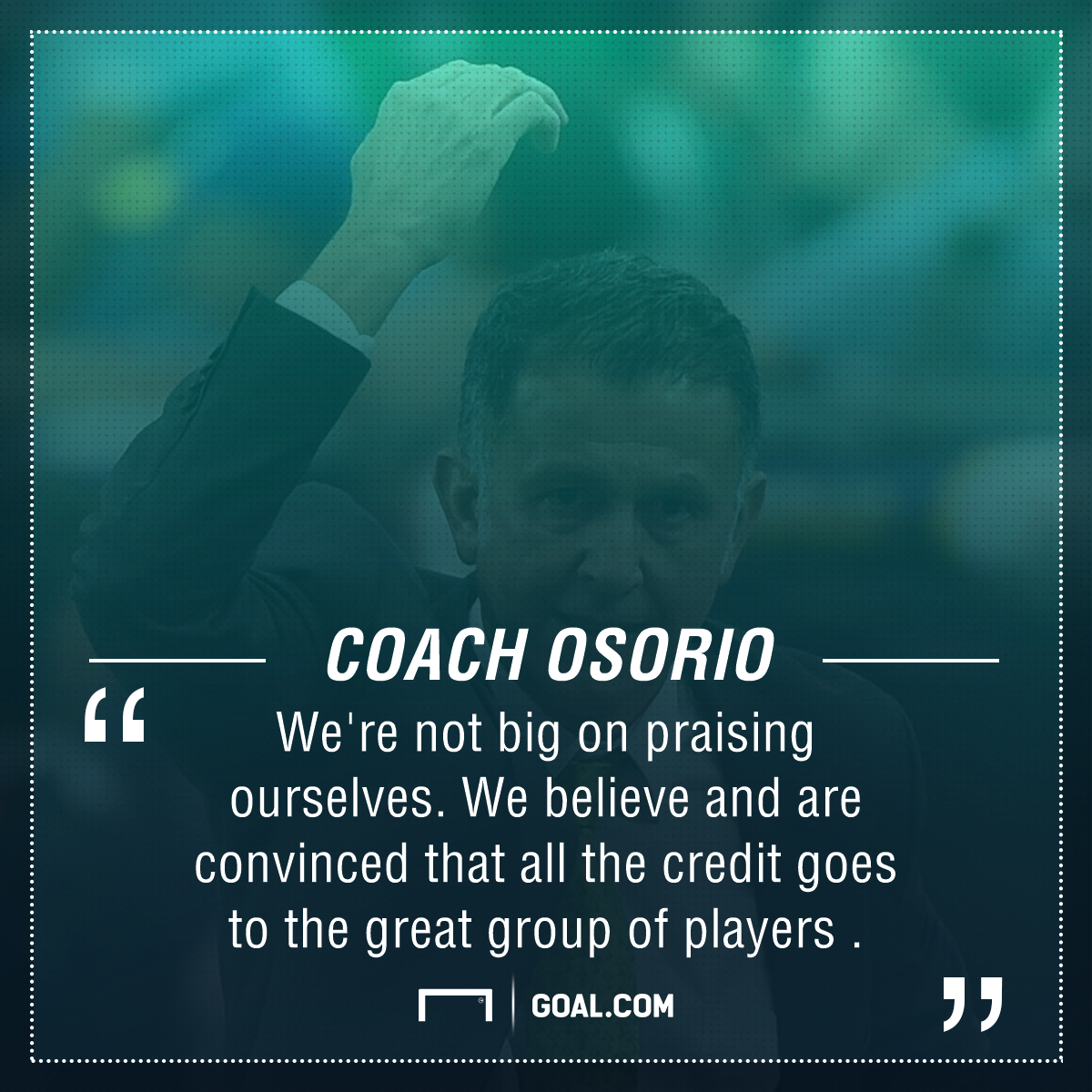 That may sound like false modesty, but while Osorio and his coaching staff have made some intelligent moves with their tactical decisions so far, they're also smart enough to realize that they inherited a Mexico side with a load of talent.
One of those talented players, center back Hector Moreno, believes having players like himself, his PSV teammate Andres Guarado, Javier "Chicharito" Hernandez and the trio of Mexicans at Porto all arriving in good form has been a big boost for this tournament. But he also credited the time before the tournament as an essential period for the team to acclimate to the new manager's methods in a way they haven't been able to during the previous camps - all of which were much shorter.
"From the moment that coach Osorio arrived with his group up until now, there's been very little time," Moreno said. "But right now, in the Copa America, being together for more time, we've understood a lot of the concepts, ideas and methodology of his game. That's helped us a lot. Little by little the team is understanding what they're looking for out of us. And we as players come in, the majority of us, at a great level with our clubs and that lets us be able to be ready to do what the coaching staff wants for the national team."
The confidence from players is important with the quirks Osorio brings. The manager plans to make changes in each match, aligning his team in the formation and deploying the system he thinks will trouble the opposition the most.
He's even hinted he might change goalkeepers Thursday. Guillermo Ochoa perhaps holds an edge over Alfredo Talavera because the Malaga goalkeeper is better with his feet, though the Toluca man's aerial prowess could see him retain the starting role. Osorio said in Wednesday's news conference that he'll play his most athletic side possible against a quick, athletic Jamaica team. That means starting six players he considers to be "very good in the air."
It's a different approach than the one previous manager Herrera took. Herrera led Mexico to the 2015 Gold Cup title, but his team never had the synapses firing like Osorio's does. Jamaica manager Winfred Schafer coached against Herrera in the Gold Cup final, and was diplomatic when asked if Mexico was a better team under the Colombian than under the ex-boss. But the German tactician is clearly impressed with his new opposite number.
"If I tell you now the team is better, that's not good for the coach before," Schafer said. "I will say it's a very good team. When you win against Uruguay 3-1, then you have a very good team."
Osorio knows he has a good team - partly inherited but partly infused with a bit of his character. For better or worse, that transition will continue. The team will keep reflecting the manager. So far, it's been a good thing for El Tri. Only time will tell, though, if Osorio can continue racking up the matches in charge of Mexico. At the moment, it appears double digits will only be the beginning of a long career.