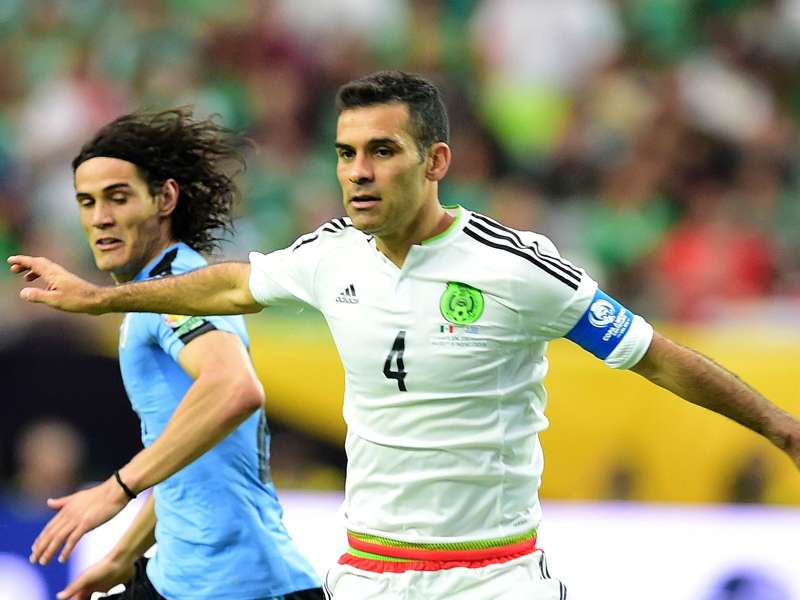 GLENDALE, Ariz. — It's a new era for the Mexican national team. There's a new coach and new players coming through, but the old generation isn't going anywhere at the moment. That was on display Sunday as Mexico topped Uruguay 3-1 to get its Copa America Centenario campaign off to an excellent start.
COPA AMERICA: Fan fights in Glendale | Wrong national anthem played
For starters, center back Rafa Marquez seems eternal.
With Osorio, who made his debut as Mexico coach in November, opting to go with a three-man back line, it was Marquez in the middle. He showed no signs of rust and also reminded fans how much skill he has in the attacking end. It wasn't his pinpoint passing that he flashed in the victory, but the calm he has when given an opportunity to score, putting in the second goal with a finish that would've made El Tri's forwards proud. That goal put Mexico back ahead of an Uruguay side that had picked up momentum in the second half. El Tri never looked back.
Rafa Marquez's first goal for #ElTri since scoring vs Croatia at the 2014 WC gives Mexico a late lead! #MEXvURU https://t.co/XUtTrENHpd

— FOX Soccer (@FOXSoccer) June 6, 2016
Mexico fans know what the 37-year-old Marquez brings, but it was 20-year-old Pachuca midfielder Hirving Lozano who set up that Marquez goal with an incisive entry pass and the insurance goal from Hector Herrera that followed. He nearly had another assist, putting a beautiful low cross in to Javier "Chicharito" Hernandez, but the forward was thwarted by Uruguay goalkeeper Fernando Muslera.
Lozano has been one of the biggest beneficiaries of Osorio taking over. The Colombian tactician puts wide play at a premium, and while Lozano has played centrally at various times during his career, he excels on the wing. He and Javier Aquino, who he replaced in the 55th minute, darted up and down the line, getting as wide as possible while still being on the field of play.
It stretched Uruguay's back line, one that includes Atletico Madrid fixtures Diego Godin and Jose Maria Gimenez. But Mexico mostly avoided the La Liga stars, instead driving at Alvaro Pereira. The Getafe star couldn't cope.
"I think that over the 90 minutes we were superior against a great opponent and we're very happy with the result," Mexico coach Juan Carlos Osorio said in the post-match news conference.
Uruguay wasn't hapless, though.
Marquez was called into action often, and while Mexico will rejoice that its long unbeaten streak continues, the streak of not conceding in the Osorio era came to a close. That won't be of too much concern. The team said before the tournament that winning matches was far more important than extending any streak other than their winning one.
But it's notable that Marquez is still an option for Osorio. At times during the Liga MX season with Atlas, Marquez looked far more like a liability than an asset. There's no doubt he's not as quick as he was when he won championships in Europe or even with Leon. But his timing hasn't left him. He went to the ground to make blocks when he needed and made sure a back line that wasn't playing in a typical way knew what it needed to do.
"Obviously, it fell to me, but this group is full of leaders and important people," Marquez said of his leadership. "I'm happy with this result for the group."
Marquez is Mexico's past, Lozano its future.
But it's the present, the blend of those two players and the handful of peers each has, that should have Mexico fans excited. El Tri got the result they needed Sunday. The path now gets easier. Jamaica and Venezuela aren't slouches, but neither can point to the number of Europe-based talent that Uruguay can. The tournament is off to the start Osorio, Marquez and Lozano all were hoping for. The near future could bring even more joy.