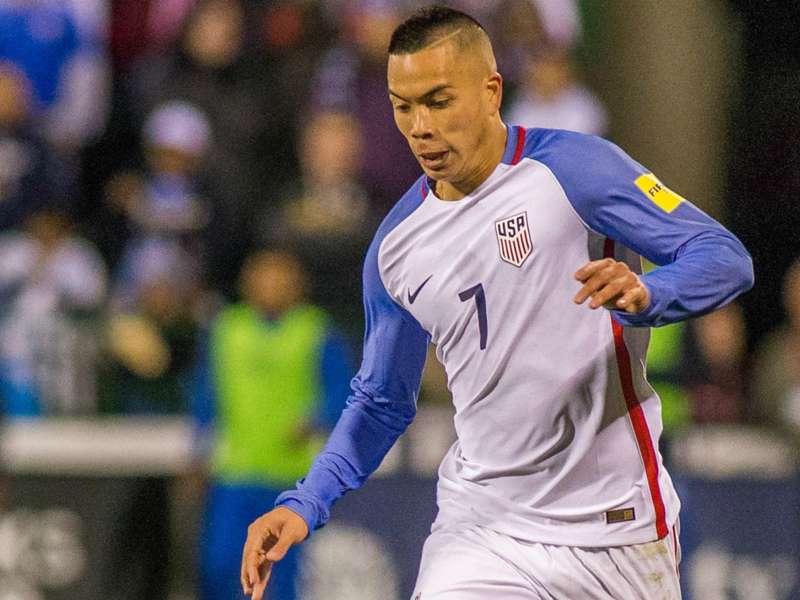 From the dynamic attackers to athletic defenders, and even down to the bright yellow jerseys, Ecuador is the perfect opponent to get the U.S. national team ready for its Copa America opener against Colombia two weeks from now.
You can argue that Ecuador isn't quite as dynamic as the Colombians, and don't boast a creative midfield threat like James Rodriguez, but the Ecuadorians will provide challenges in the very areas Jurgen Klinsmann will want to see tested out in Wednesday's friendly.
You want some wingers who can give the U.S. fullbacks fits? The tandem of Antonio Valencia and Jefferson Montero is certainly a good preparation for the likes of Colombia's Juan Cuadrado and Edwin Cardona, which is what the U.S. needs considering DeAndre Yedlin is still growing as a right back and Fabian Johnson hasn't played left back in months.
You want a striker to be a handful for the U.S. center backs the same way Carlos Bacca is sure to be? Ecuadorian striker Enner Valencia can be just that, and he'll challenge whoever Klinsmann chooses to deploy in central defense in Geoff Cameron's absence (he is nursing a hamstring injury).
Want a physical defense that will make things tough for Bobby Wood as he prepares to be the showcase U.S. forward this summer? Ecuador can certainly offer that, much more so than Puerto Rico did Sunday.
Ecuador is the toughest of the three warm-up opponents the U.S. has prior to the World Cup, and Klinsmann has to see this as his best chance to look at what will be his starting lineup against Colombia.
Wednesday's friendly should give us some real insight into the system Klinsmann plans on using, and how he plans to construct his midfield, which has a plethora of options.
Klinsmann could deploy a 4-4-2 diamond, with his wide midfielders playing in an advanced role: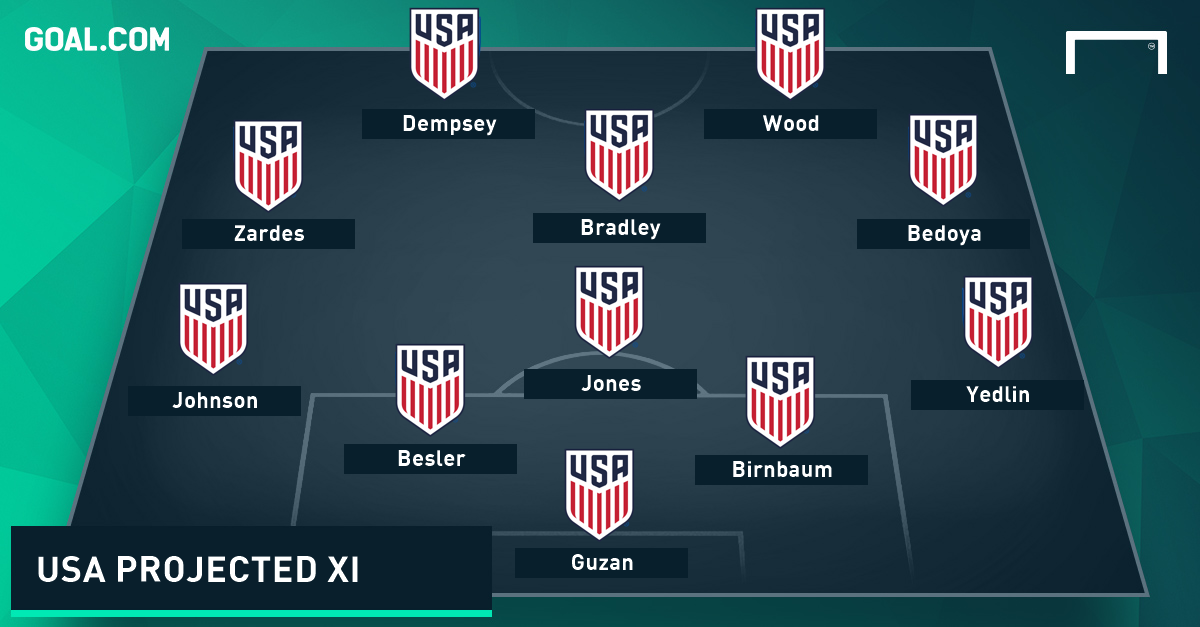 This is a setup we could definitely see during the Copa America, particularly against the likes of Costa Rica and Paraguay. In this setup, the big question is what sort of roles Michael Bradley and Jermaine Jones play. Klinsmann has seem inclined to keep Bradley in an advanced role, with Jones in a more defensive position.
These days, Bradley is playing defensive midfield for Toronto FC while Jones as been handed freedom in an attacking midfield role for the Rapids. Will Klinsmann consider their success in those club roles when constructing his own midfield, or will he stick with his own preferences?
Colombia's biggest threat is Rodriguez, who could chew up the U.S. central midfield if there is any uncertainty in roles, and if there isn't enough defensive commitment in the middle. That should lead us to consider the possibility that Kyle Beckerman is a good bet to start the opener as the stay-at-home defensive midfielder who does the dirty work for the rest of the group.
Would Klinsmann really consider sitting Jones, or are we in for a midfield with Beckerman, Jones and Bradley? If Klinsmann sees it being his most effective system to deal with Colombia, then absolutely. And if so, here is the lineup and formation we could see against Ecuador: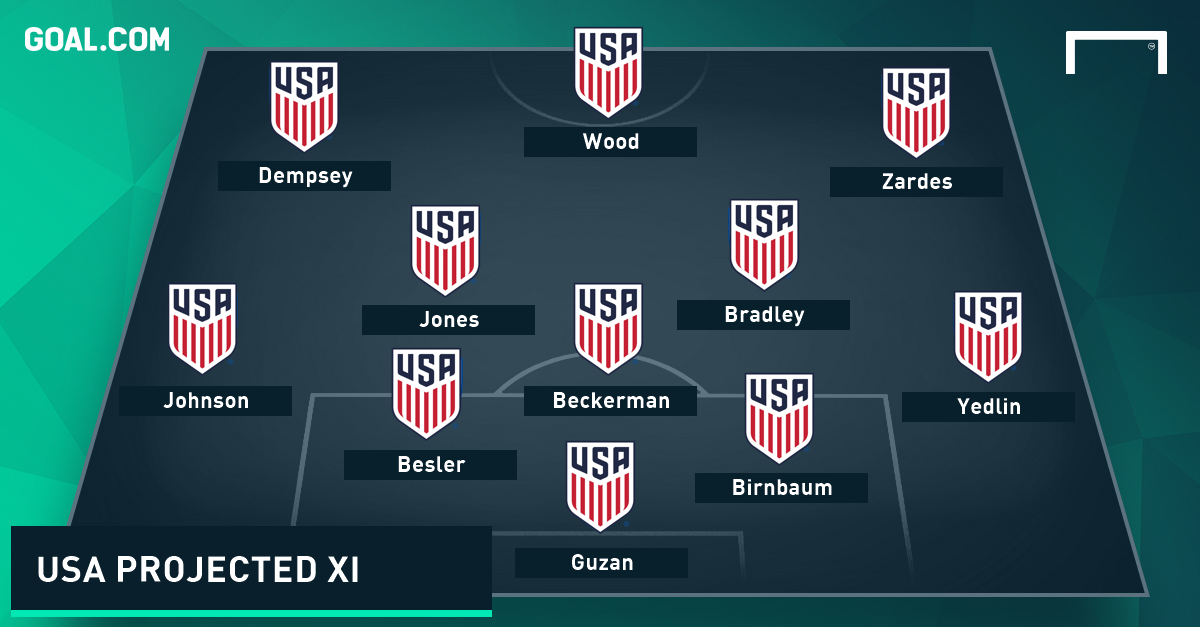 In this setup, Jones and Bradley would have the ability to float into the attack, while being able to support the wings as well as pinching in when the opponent presses through the middle.
You will notice Bobby Wood as a lone striker, where he could serve as a sort of "false 9." This is a role we could definitely see Wood take on now that Jozy Altidore is out of the picture and there is no true target forward to deploy.
There is a good chance we will see Wood partnered with Dempsey, as in the first lineup shown here. The question is: Just where will Klinsmann use Dempsey? Does he think Dempsey still has the legs to handle a wide role on the international level, or will he find a way to keep him as a second forward? Might he even consider sitting him in favor of Alejandro Bedoya? If Klinsmann decides he needs Beckerman, Bradley and Jones together, it means one established regular in the attack is going to wind up on the bench.
Steve Birnbaum gets the nod at center back in place of the injured Geoff Cameron. He has shown well in his national team appearances, and also has some experience against South American competition, having played against Chile. Another interesting alternative could be to play Brooks and Besler together, though Klinsmann has chosen to stay away from that pairing of left-footed center backs in the past.
If Fabian Johnson winds up having to sit because of his groin injury, Klinsmann will be short on options, and will likely have to hand Kellyn Acosta a start even though he isn't on the Copa America roster. With Timmy Chandler having just played for Eintracht Frankfurt on Monday, it's tough to see him taking part on Wednesday night, and using Michael Orozco out of position is the only other viable option on the roster. It could be a baptism by fire for Acosta if he is matched up against Valencia, but Klinsmann has never been shy about testing young players.
Speaking of young players, Christian Pulisic will be one to watch Wednesday to see how much he plays and what sort of role Klinsmann sees for him. He is a natural attacking midfielder, but was used almost exclusively on the wing by Borussia Dortmund. How much he plays Wednesday should shine some light into how much we can realistically expect to see of the 17-year-old when the Copa America kicks off June 3.