Jose Pekerman was speaking ahead of Colombia's game against Greece in Belo Horizonte at last year's World Cup when a journalist reminded him he had described Lionel Messi as "a blessing for Argentine football" in 2005. "Thanks for remembering that," he replied. "Because most people only remember that I left him on the bench against Germany!"
He was right. Whatever Pekerman goes on to achieve in the game, football fans in his homeland will always look back on that day at the 2006 World Cup when his suspect substitutions arguably cost the Albiceleste a place in the semifinals and possibly a third title in football's greatest competition.
The 2006 World Cup was wide open. There were no strong favorites going into the competition and after the group games, many were backing Pekerman's Argentina to go all the way.
The South Americans beat Ivory Coast 2-1, thrashed Serbia & Montenegro 6-0 and drew 0-0 with Netherlands to top the group and seal a last-16 match against Mexico which was won in extra time thanks to a stunning strike by Maxi Rodriguez.
That meant a meeting with host Germany in the quarterfinals, but even though Jurgen Klinsmann's side was gathering momentum on home soil, this was no vintage Mannschaft. The feeling was that Germany could be beaten and Argentina was the favorite to emerge victorious in Berlin.
Argentina should have. With Juan Roman Riquelme in fine form, the side went ahead four minutes into the second half as Roberto Ayala headed home a corner from the playmaker. Chances to make it two came and went and Pekerman was forced to make a change after 71 minutes as Leo Franco was sent on for the injured Roberto Abbondanzieri in goal.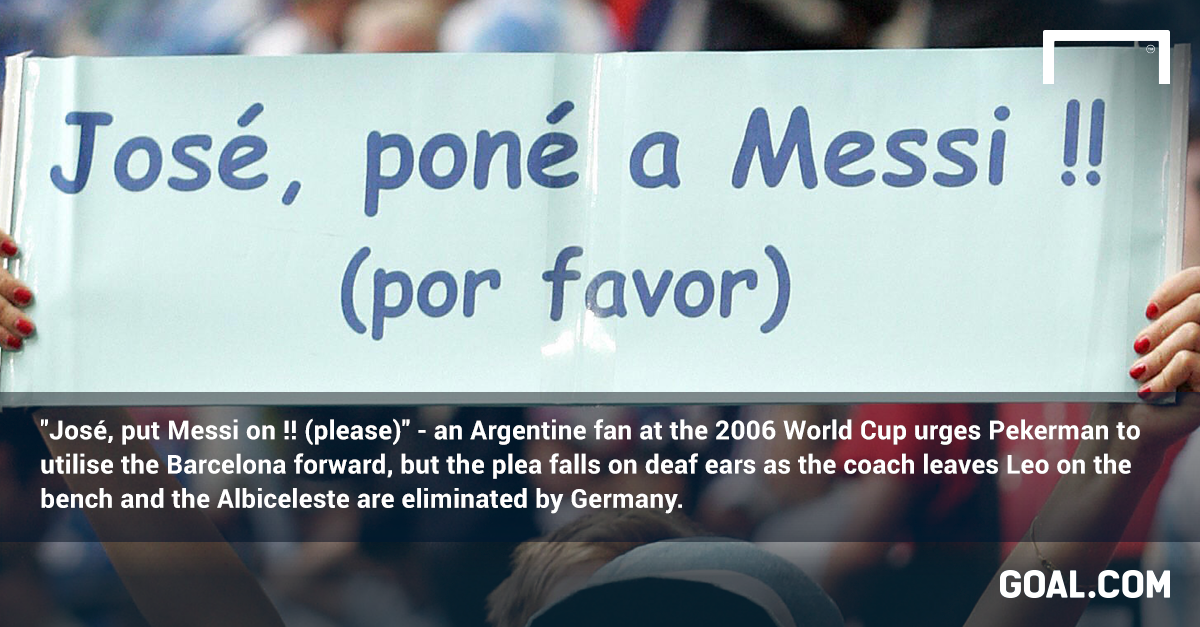 But in the following minutes he made two more substitutions that have left many Argentines annoyed ever since. First, he replaced Riquelme with the more defensive-minded Esteban Cambiasso after 72 minutes in an attempt to shore up the Argentina midfield. Then, with 11 minutes remaining, he sent on striker Julio Cruz for Hernan Crespo.
Almost as soon as the Inter man ran onto the pitch, Germany equalized through Miroslav Klose. Suddenly, everything had changed and Argentina, in order to avoid penalties against a shootout specialist in front of its own fans, now needed both creation and inspiration.
With no Riquleme and no Messi on the pitch, however, it unsurprisingly never arrived and the Albiceleste ended up losing 4-2 on penalties. Back in Argentina, Pekerman - predictably - was slated. Three times he had led the nation to Under-20 World Cup wins, but failure on the biggest stage is what people remember.
Messi had turned 19 days before the Germany game and was playing in his first World Cup. The Barcelona forward had ended the season with an injury but recovered to make Argentina's squad and came off the bench to score a great goal in the rout against Serbia & Montenegro. It was the start of something special.
"I couldn't believe what I was seeing when I first worked with Messi," Pekerman explained last year in Brazil. "I had no doubts about what Lionel would become - I always dreamed he would go on to achieve what he has. We knew we were looking at a player who was going to be the biggest star for the next few years."
Ahead of Colombia's showdown against Argentina in the quarterfinals of the Copa America on Friday, he added: "If I could speak to him before the game, I would tell him that I have always admired him and that I always dreamed he would go on to become all that he has. But I would tell him we have to win this game."
Unfortunately for Pekerman, however, he won't be able to leave Leo on the bench this time.
Follow Ben Hayward on