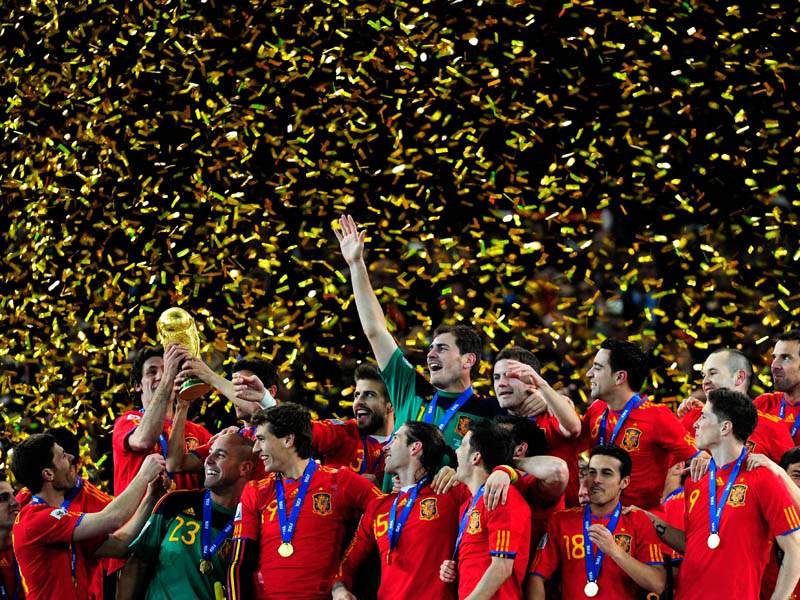 Iker Casillas
says he still gets goose bumps when he thinks about his save against
Arjen Robben
that helped
Spain
win the 2010 World Cup.
The Real Madrid keeper managed to turn away the Netherlands winger's effort in the second half of normal time, before Andres Iniesta gave La Roja the victory with his extra time winner.
And after returning to Johannesburg, the memories remain crystal clear for Casillas.
"I just remembered how we celebrated inside the dressing room. The memories came flooding back as soon as we stepped into the changing room," he told reporters. All of us have different memories and anecdotes which we have been sharing amongst ourselves. As time goes by, you tend to forget things like that [save on Robben], but when I see it again on television, it all comes back to me.
"Watching it again still gives me shivers – I held out for as long as I could and got my right toe to his shot to steer it wide, I was lucky."
Though his play showed he belonged on the pitch, Casillas insists he was thrilled just to be a part of Spain's first ever World Cup-winning side.
"I just feel very happy to have been part of that group of players in that side and being able to make the people back home feel proud of being Spanish."
While Casillas has fond memories of that day, he refuses to accept the title of a 'god' given to him by the Spanish public but rather is happy to be able to share the triumph with the fans.
"We know that, on that day, we marked an historic point in Spanish football history. It was an historic moment for Spanish sport and for the country – moments that we never thought would happen to us, but they did.
"We don't feel like we are gods, we have to defend our national team. Whenever we do win a trophy, we're happy that our people can enjoy it with us."
Despite being relegated to a back-up role with Real Madrid, the 32-year-old remains focused on the possibility of more great moments to come.
"Nobody knows what is going to happen tomorrow. You have to live in the moment and that moment, three years ago, was marvellous – just like so many times I have enjoyed at Real Madrid and with Spain," he said. "Let's hope that if you ask me the same question in another five months, my club will have won the league, the Copa del Rey and the Champions League and Spain, the World Cup."